Class of '22 Commencement Speaker Jaqueline Martinez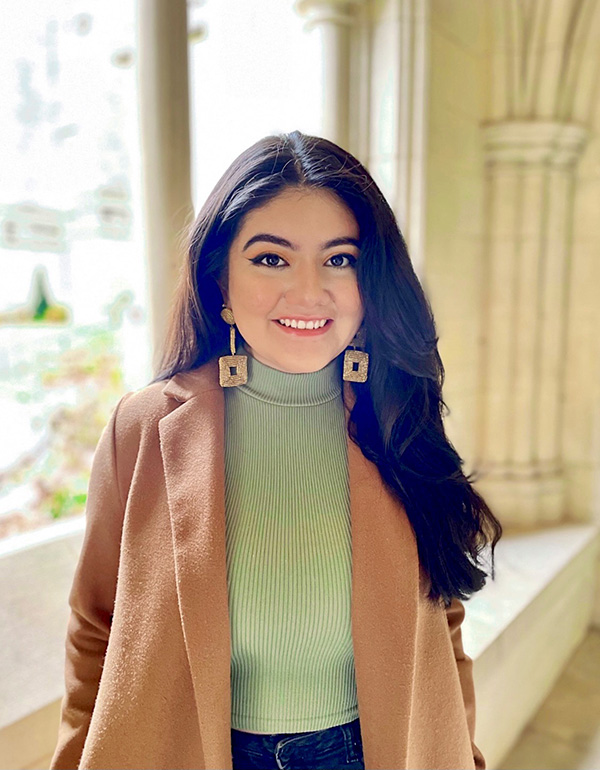 2022 College of Arts and Sciences undergraduate commencement speaker Jaqueline Martinez has made the most of her time at American University. 
Martinez, a first-generation student, is graduating this weekend with a BA in Public Health and a certificate in Leadership and Ethical Development (CAS LEAD). As a Public Policy and International Affairs Junior Summer Institute Fellow at the Humphrey School of Public Affairs, she researched racial disparities in incarceration rates and the impacts of COVID-19 on undocumented farmworkers. She did her Senior Public Health Capstone internship at DC's Housing Up, working to develop affordable housing and offer support services to homeless and low-income families.  
In February, Martinez began work as an intern at the Substance Abuse and Mental Health Services Administration. She is focusing on health topics that serve communities through the intersection of behavioral health and immigration, criminal and juvenile justice, and intimate partner violence. 
"Accomplished, Ambitious, and Intellectually Driven" 
At American University, Martinez served as a peer health educator, a conduct council member at AU's Student Conduct & Conflict Resolution Services, a transition enrichment program assistant at the Center for Diversity and Inclusion, and a contributing writer for The Blackprint. As an alternative break leader, she helped plan a weekend trip to Chicago in spring 2021 with the theme, "School-to-Prison Pipeline: A Public Health Crisis." 
"Jaqueline is an incredibly accomplished, ambitious, and intellectually driven ethical leader," says Nabina Liebow, director of the CAS LEAD Program. "I admire her deep commitment to her communities and her brave ability to speak the truth when it needs to be said. I couldn't be prouder of Jaqueline, and I know she is a fantastic role model for other students in the CAS LEAD program.
As commencement approaches, we asked Martinez to share her thoughts about her time at American University, her commitment to public health, and what's next for her after graduation.  
How, and why, did you choose American University?
I felt that AU valued my lived experiences, saw my potential, and was committed to helping me succeed as a first-generation college student. Particularly, the Center for Diversity and Inclusion's Summer Transition Enrichment Program, as both a student participant and STEP Assistant the following year, really showed me how invested AU was in supporting my academic endeavors and wellbeing. The community of amazing and knowledgeable professors, mentors, and students I got to interact and grow with throughout my time at AU confirmed that I made the right decision.   
Why public health?
Naturally, my upbringing as a Southside Chicagoan and daughter of Mexican immigrants has inspired my lifelong commitment to addressing inequities through the extension of community involvement and policy influence. I witnessed the challenges faced by predominantly lower income Black and Latinx residents on the South and West Sides of the city, from the 50 public school closings in 2013, to the city-led 2020 coal plant implosion, and the closing of half of the city's mental health clinics to name a few.
These societal punches seemed to be part of daily existence for neighboring residents and me. Eventually, I would begin to formulate the language to articulate the health challenges and traumas of communities. These experiences in particular have encouraged me to organically empathize with residents rather than villainize and ostracize, frequently consider adverse childhood experiences and social determinants of health, and center experiences from my city at American University.
Our society often blames individuals for poor health outcomes, instead of considering hundreds of years of racist policy, state-sanctioned violence, and community neglect. I see public health as an interdisciplinary field that provides us with comprehensive frameworks and practices that meet people where they are at, while acknowledging systems in place that have shaped current structures and disparities.
What would you like to do after graduation?
I am currently waiting for news on job offers as I pursue my next steps following graduation. I would like to pursue an MPH-MPP dual degree in the next year or two. I am drawn to the intersection between public health and advocacy work for women and young people who come into contact with the criminal legal system. 
Public health has, and will continue to, provide me with comprehensive knowledge, along with the ability to participate in reducing and eliminating health disparities. Through a focus on the social and environmental factors that play such an important role in health, I hope to help create and cultivate healthy communities.