Achievements
AU Honors College of Arts and Sciences Faculty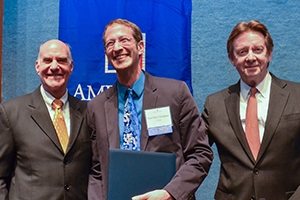 Each year American University recognizes outstanding faculty who have made significant contributions in the areas of teaching, research, and service. Three College of Arts and Sciences professors received awards for the 2013-2014 academic year:
Max Paul Friedman, Scholar/Teacher of the Year
Robert Blecker, Outstanding Service to the University Community
Yuliya Gorenman, Outstanding Teaching in an Adjunct Appointment
"These three colleagues are exceptional teachers, scholars, and mentors," said Dean Peter Starr. "We are proud of their work and dedication, and of the way they so strikingly contribute to the College's tradition of excellence."
Max Paul Friedman
Max Paul Friedman, professor of history, won the 2014 American University Scholar/Teacher of the Year Award, the university's highest faculty award.
Friedman specializes in 20th-century U.S. foreign relations. He was a Woodrow Wilson Postdoctoral Fellow and is a 2013-2014 John Simon Guggenheim Fellow. The Society for Historians of American Foreign Relations awarded him the Bernath Article Prize and Bernath Lecture Prize for his scholarship published in journals specializing in diplomatic, intellectual, social, and cultural history.
"Max Paul Friedman is our 2014 Scholar/Teacher for his pathbreaking and award-winning scholarship, brilliant teaching, and extraordinary service to AU, the profession, and beyond," said Pam Nadell, chair of the Department of History. "I consider it a privilege to have worked with and learned from him. His wise counsel, sound judgment, keen diplomatic skills, and grace are the hallmarks of the ideal of the AU Scholar/Teacher."
Friedman's first book, Nazis and Good Neighbors: The United States Campaign against the Germans of Latin America in World War II (Cambridge University Press, 2003) won the Herbert Hoover Prize in U.S. History and the A.B. Thomas Prize in Latin American Studies. His most recent book is Rethinking Anti-Americanism: The History of an Exceptional Concept in American Foreign Relations (Cambridge University Press, 2012).
Most recently, Friedman received a Fulbright Specialist Grant to spend a month in Argentina this summer, where he will lecture at the embassy and the Universidad del Salvador and conduct research at the Foreign Ministry and National Archives.
Robert Blecker
Robert Blecker, professor of economics, received the 2014 University Faculty Award for Outstanding Service to the University Community for his work as co-chair of the Middle States Accreditation Self-Study Steering Committee.
As co-chair of the committee, Blecker led a sweeping two-year review of AU's administration, governance, budgets, faculty, student recruitment, programs, and teaching. The report served to re-accredit American University and served as a blueprint for making recommendations for improvement.
"Robert was instrumental in the success of the Middle States accreditation. He has an incredible knowledge of AU and did a great job of helping the committee to focus on the key issues facing the university," said Karen Froslid Jones, director of the Office of Institutional Research and Assessment (OIRA). "In the midst of all he had going on with his research and teaching, he never hesitated to chip in when something needed to get done. I really appreciated his sense of humor, positive outlook, and commitment to excellence."
Blecker's research interests include international trade, open economy macroeconomics, the value of the dollar and the US trade deficit, economic integration in North America, the Mexican economy, the limits to export-led growth strategies in developing countries, and U.S. trade policy.
He is the coauthor of Fundamentals of U.S. Foreign Trade Policy: Economics, Politics, Laws, and Issues, the author of Taming Global Finance: A Better Architecture for Growth and Equity, and editor of U.S. Trade Policy and Global Growth. His articles have appeared in many refereed journals.
Yuliya Gorenman
Yuliya Gorenman, musician in residence in the Department of Performing Arts, received a University Faculty Award for Outstanding Teaching in an Adjunct Appointment.
The internationally acclaimed musician has been called a "pianist without fear." She has performed with the National Symphony Orchestra, the Baltimore Symphony Orchestra, and the Royal Philharmonic of Flanders, amongst others. She has appeared at the Kennedy Center, the Herbst Theatre in San Francisco, the Palais des Beaux Arts in Brussels, and many other venues, earning praise for her artistry and virtuosity.
Gorenman performed the entire cycle of Beethoven piano sonatas in a series of recitals named the Gorenman Beethoven Project. Her current series, the Gorenman Piano Project, explores masterpieces of piano repertoire in eight concerts. Her two remaining recitals will be dedicated to the great works of French composers on October 18, 2014, and Russian composers on March 21, 2015.
Gorenman's father was a professor of economics, and her mother was a professor of piano at the Conservatory of Music in Almaty, Kazakhstan. She grew up surrounded by teachers and students, and believes that teaching is a calling. "My mother, who passed away in 2011, was my first teacher," she said. "I brought my father to the awards ceremony because I knew how much it meant for him to be there with me."
The winners were honored at the annual Faculty Recognition Dinner at the National Press Club on April 27.
Retiring Faculty and Years of Service Honorees
Two retiring faculty were also recognized for dedicating their careers to American University.
Ali Enayat, emeritus professor of mathematics, is retiring after working at American University since 1987. He is currently a professor of logic at the University of Gotenburg in Sweden.
Edward Smith, assistant anthropology professor and founder and co-director of the American University Civil War Institute, will be retiring after 45 years at American University. A third generation Washingtonian, Smith is also a study tour leader, a visiting classics tutor at St. John's College in Annapolis, and a lecturer for the James Madison Memorial Foundation.
The following Years of Service Honorees will also be recognized for their years of work at American University.
45 Years of Service

Robert Charles Karch, SETH
Barry W. McCarthy, Psychology
Roberta Rubenstein, Literature
Larry B. Sawers, Economics
Edward C. Smith, Anthropology
40 Years of Service

Alan M. Kraut, History
Scott R. Parker, Psychology

35 Years of Service
James E. Girard, Chemistry
John A. Willoughby, Economics
25 Years of Service

Bryan D. Fantie, Psychology
Robert M. Feinberg, Economics
David Haaga, Psychology
Jeffrey L. Hakim, Mathematics and Statistics
Caleen Jennings, Performing Arts
Robert I. Lerman, Economics
Mieke E. Meurs, Economics
John P. Nolan, Mathematics and Statistics
Amy A. Oliver, World Languages and Cultures
Virginia "Lyn" Stallings, Mathematics and Statistics