Research
First-Ever "Virtual" Mathias Conference Winners Announced Thirtieth Annual Student Research Conference a Special Experience and Online Success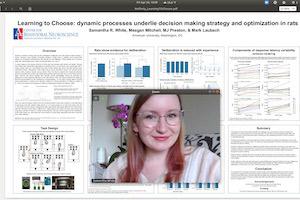 The winners have been announced for a very special Robyn Rafferty Mathias Student Research Conference, one of the College of Arts and Sciences' most important forums for students to present their scholarship and creative works to faculty, judges, and peers.
This year, the conference planning was moving ahead as usual when the global COVID-19 crisis began. Conference organizers reached out to participants, and the consensus was clear: students overwhelmingly wanted to move ahead and make the event a remote, virtual conference.
American University listened, pulled together its first online Mathias conference, and more than 60 students competed remotely on April 18 via the video app Zoom.
"I'm incredibly thankful that the College of Arts and Sciences put such an incredible effort into moving the Mathias conference online. It was fun to escape the news about COVID19 for a few hours and see my student colleagues present the things they're passionate about and worked so hard to accomplish," says Samantha White (pictured above).
White (PhD Candidate, Behavior, Cognition, and Neuroscience) won a first-place award for her poster, titled Learning to choose: dynamic processes underlie decision making strategy and optimization in rats. "The 30th Anniversary will certainly be remembered as a great success, and as a testament to the flexibility and dedication of the organizers and student presenters," she says. "I'm grateful to have been a part of it."
Hard Work and Connection to Others
Students say that they were eager to share their research online, but also a bit tentative at first. "As I excited as I was about the initial Mathias Symposium, I was a bit hesitant about the prospect of doing it virtually," says Benjamin Feder (MA candidate, art history), who won a first-place award for his poster titled Jupiter, Mercury and Virtue: An Amalgamated Masterpiece.  "However, after seeing how hard my fellow presenters worked and the effort that went into making this event happen, I am glad to have been part of it."
Like most students who participated in the conference, Feder talks about the event as a special opportunity to reach out and connect with fellow students and academics. "In these trying times, it becomes very easy to shut oneself off from the world, so to be given a chance to reconnect with my peers in a meaningful and substantial way was a gift," he explains. "Of course I'm honored to have been awarded first place in my section, but in all honesty, just having the opportunity to be a part of something bigger than myself at a time where many of us feel more isolated than ever, was truly gratifying. 
Poster Award Winners
Poster Q&A Session 1: "Explorations into the Mind: Studies in Neuroscience and Psychology" moderated by Laurie Bayet
Anna Vlachos, Senior, Neuroscience and Statistics (Minor) "The Aversive Effects of Methylone," First Place, Average Score: 5.5
Marissa Marko, PhD Candidate "Effects of cerebellar tDCS on reading," Second Place, Average Score: 5.46
Hayli Spence, Senior, Neuroscience "Modulation of the cerebellum regulates functional brain networks in autism," Third Place, Average Score: 5.34
Poster Q&A Session 2: "Scientific and Global Trends" moderated by Victoria Connaughton
Samantha White, PhD Candidate, Behavior, Cognition, and Neuroscience "Learning to choose: dynamic processes underlie decision making strategy and optimization in rats" First Place, Average Score: 6.04
Angelo Barberio, Senior, Biology Mikayla Crowley-Perry, Postbaccalaureate Pre-medicine Erica Winston, Senior, Biology and Pre-medicine Jude Zeino, Junior, Pubic Health and Pre-medicine "Transient developmental exposure to bisphenol-A alters zebrafish optomotor response." Second Place, Average Score: 5.85
Rachel Bernardo, Senior, Public Health and Biology (Minor)"Transient developmental exposure to tributyltin (TBT) alters short-term visually guided behaviors and morphology in larval zebrafish (Danio rerio)," Third Place, Average Score: 5.52
Poster Q&A Session 3: "Social Trends and Human Innovation" moderated by Ethan Mereish
Benjamin Feder, MA Candidate, Art History "Dosso Dossi's "Jupiter, Mercury and Virtue": An Amalgamated Masterpiece," First Place, Average Score: 6.17
Hannah Fuchs, Applied Statistics and Public Health (Minor)"Estimation of manufacturing-related workplace injury risk through a point-based risk score prediction model," Second Place, Average Score: 6.08
Marnina Hornstein, Senior, Public Health and Psychology (Minor)"Applying the Socioecological Model to Interventions and Protective Factors that Improve LGBT Youth's Mental Health"AND David Kalwicz, Senior, Psychology and Applied Statistics (Minor)"Comparing perceptions of indirect bullying against different social minority groups: a mixed- methods study" Tie for Third Place, Average Score: 5.73
Panel Presentation Winners
*A First Place Winner has been selected for each Panel Session; an Honorable Mention has been acknowledged in Sessions that included six or more presentations*
Session 1, Panel 1: "Emerging Technologies and the Humans Who Use Them" moderated by Cameron Bassiri
1. Corinne Kacmarek, PhD Candidate, Clinical Psychology "Computer-Delivered Therapy vs Traditional Therapy for Alcohol Use Disorder: A Cost-Benefit Evaluation," First Place, Average Score: 6.13
Session 1, Panel 2: "Connecting Research to Challenges in Health" moderated by Elizabeth Brandley
Shalini Ramachandra, Sophomore, Statistics and Public Health "Mammography Adherence and Breast Health Awareness: A Randomized Control Study of Lower-Income Latina Immigrants," First Place, Average Score: 6.4
Katherine McManus, MS Candidate, Clinical Psychology "Evaluating Contextual Body Image, Eating, and Exercise Behaviors in College Athletic Samples," Honorable Mention, Average Score: 6.28
Session 1, Panel 3: "Conversations about Inequality" moderated by Angie Luvara
Cristian Mendoza Gomez, Freshman, Public Health and Sociology "Mindfulness-based intervention strategies to improve health and well-being and HIV outcomes among female sex workers living with HIV in the Dominican Republic," First Place, Average Score: 6.34
Session 2, Panel 1: "Questioning and Reshaping Received Knowledge" moderated by Ellen Feder
Shay Sullivan, Senior, Literature, German Studies, and Anthropology (Minor) "Feminine Spaces: Women at the Heart of the Modern Metropolis," First Place, Average Score: 6.1
Alejandro Hirsch Saed, Senior, Literature (Transcultural Studies Track) and SIS "Reacting to the Big Man: An Analysis of Kenyan Literature," Honorable Mention, Average Score: 6.04
Session 2, Panel 2: "Society, Institutions, Power and Resistance" moderated by Marianne Session
Magdeline Vasatka, Senior, Literature (Literary Studies) and Justice Law and Criminology "Becoming Jane Rochester: Charlotte Brontë's Victorian Poststructuralism," First Place, Average Score: 6.63
Session 3, Panel 1: "Translational and Experimental Sciences" moderated by Laurie Stepanek
Kathryn Asalone, PhD Candidate, Behavior, Cognition, and Neuroscience "Functional Analysis of the Mysterious Germline-Restricted Chromosome in Zebra Finch (Taeniopygia guttata)," First Place, Average Score: 6.58
Kadidja Conde, Junior, Psychology and Data Science (Minor)"The Impact of a Western Diet on Approach Avoidance Decision Making," Honorable Mention, Average Score: 5.8
Session 3, Panel 2: "Cultural Politics: Art, Images, and Things" moderated by Nika Elder
Claire Sandberg, MA Candidate, Art History "Sofonisba Anguissola's "Bernardino Campi Painting Sofonisba Anguissola" and the Construction of the Cortigiana," First Place, Average Score: 6.3
Dana Stevenson, Senior, History and Secondary Education "As Dangerous as Enemy Bullets": Gendered Bodies and Republican Anti-venereal Campaigns during the Spanish Civil War, 1936-1939," Honorable Mention, Average Score: 5.95