Alumni
Historic Moment Between Netanyahu and Former AU Student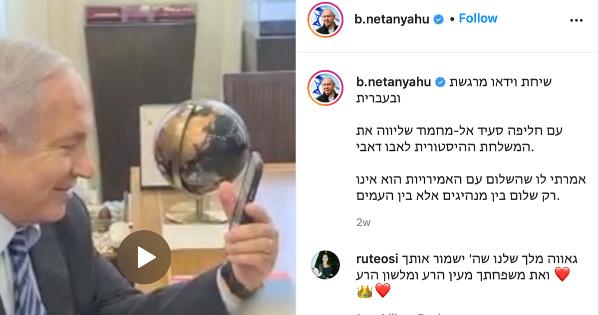 It's been a historic week in the Middle East, with Israel signing diplomatic agreements to officially normalize relations with Bahrain and the United Arab Emirates (UAE).
But there was another historic moment earlier this month, captured on video and shared across the world, also signaling hope for Middle East peace. It involved Israeli Prime Minister Benjamin Netanyahu and a former American University student named Khalifa Said-al Mahmoud who has returned to live in the UAE.
Netanyahu called Said-al Mahmoud on September 1 after the two countries signed an agreement on banking and finance. During the video call, which Netanyahu shared on Instagram, the prime minister praised the Emirates' contribution to peace and stability in the Middle East. Said-al Mahmoud responded in flawless Hebrew, surprising Netanyahu, who asked where he learned to speak the language.
"I studied Hebrew over Zoom, sir," said Said-al Mahmoud.
Netanyahu then invited Said-al Mahmoud personally to visit Israel, stressing that peace must come from below, from the people of both nations.
Fond Memories and a Spark
Said-al Mahmoud studied at American University and still has fond memories of AU. He credits one course in particular for sparking his interest in Israel and for helping shape his career. It was The History of Israel, taught by Michael Brenner, the Seymour and Lillian Abensohn Chair in Israel Studies and Director of AU's Center for Israel Studies.
Said-al Mahmoud and Brenner have stayed in touch over the years, and Brenner was thrilled to see his former student speaking with the prime minister of Israel. "It is always a professor's dream to hear that our classes can inspire our students and perhaps even change their lives. Khalifa wanted to learn more about Israel and began studying Hebrew. I think we will still hear from him in the future."