Humanities
AU's New Humanities Truck Hits the Road Gathering Stories in DC communities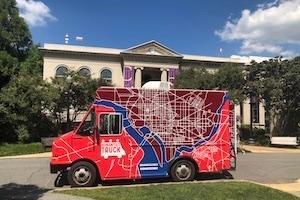 The DC Humanities Truck that arrived on campus last week is not just any truck. It's a recording studio, mobile workshop space, and gallery for pop-up exhibits, featuring built-in speakers, a flat screen television, a roll-down screen and projector, and even an exhibit wall. The truck's exterior is designed by Carly Thaw, who recently graduated from AU with a major in graphic design.
Starting this semester, faculty and students will drive the truck to DC neighborhoods to interview residents on their own turf. The purpose of the project is to document the stories of diverse, underserved communities throughout the DC region.
But collecting information is just the beginning, says Dan Kerr, director of American University's Public History Program. "What makes the truck project unique is that scholars and city residents can work together to interpret and curate these stories—to create web-based projects and a digital repository," he says. "These end products can then be exhibited and circulated within and beyond the communities where they were created."
Funding and Themes
The DC Humanities Truck will be housed within the College of Arts and Sciences and administered by the Public History Program. It was made possible by $225,000 in funding from the Henry Luce Foundation, which supported the purchase and customization of the truck, the technology for community documentation and exhibition, supplies, website development, and project staffing.
The first projects will focus on stories of communities where the tensions between dwelling and mobility are especially poignant. These will include people experiencing homelessness, recent immigration, or the difficulties of living in neighborhoods undergoing or threatened by significant transitions and dislocations. In the early spring semester of 2019, the project will solicit proposals from faculty and graduate students for second-year projects.
Mobilizing the Humanities
Kerr says the truck is a mash-up of "old-school people's history projects with the latest tools and techniques that inform the digital humanities today." The project will push the boundaries of what is possible in collaborative, community-engaged, research projects.  
Kerr is ever mindful of the importance of collecting and interpreting stories of ordinary people. "At American University, large numbers scholars dedicate our lives to understanding the human experience from a broad array of disciplines. Our desires to pursue these questions, however, are not unique to us," he says. "People everywhere have an interest and are engaged in understanding the world around them and their place within that world. They bring their own insights and knowledge to their explorations. By using the truck to create new conversations that bridge the chasm between the university and communities, both sides can gain from learning from each other."