In Remembrance of Jack Child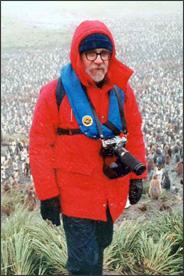 From Phyllis Peres,
Senior Vice Provost and Dean of Academic Affairs
With great sadness, I write to inform you that Jack Child, University Professor of Spanish and Latin American Studies, died Saturday, June 18, of complications following open-heart surgery for valve replacement. He was 73 years old.
Dr. Child was born of American parents in Buenos Aires and lived in South America for 18 years. Following graduation from Yale, he entered the US Army and served for 20 years as a Latin American specialist until his retirement at the rank of lieutenant colonel. While on active duty, he earned his master's degree in Latin American area studies and PhD in international relations, both from the School of International Service (SIS) of American University.
In 1980 he joined SIS as assistant dean. Two years later he moved to the Department of Language and Foreign Studies, where he achieved the rank of professor in 1989. Dr. Child also served as Director of the English Language Institute, 1984-1985; founding director of the Center for Teaching Excellence (now CTRL), 1998-2001; and affiliate professor of international relations in the School of International Service since 2002. In 2009 he was awarded the distinction of University Professor.
Dr. Child's research focused on cultural studies and conflict resolution in Latin America with a focus on Antarctica and the Falklands/Malvinas, and peace-keeping and confidence-building measures. Supported by grants from the US Institute of Peace, the Tinker Foundation, the International Peace Academy, and the Organization of American States, among others, Dr. Child authored more than 100 articles and chapters, and 13 books, including major works on the military geopolitics of South America, the Central American peace process, competing strategic claims in Antarctica, and the semiotics and politics of Latin American postage stamps. He was also a highly skilled Spanish translator and interpreter. Dr. Child's book , Introduction to Spanish Translation, now in its second edition, has sold more than 10,000 copies and has been adopted for courses at more than 20 universities.
His interest in high latitudes took him on 14 trips as staff lecturer and guide aboard expedition cruise vessels to Antarctica and sub-Antarctic islands, including South Georgia and the Malvinas/Falklands. Dr. Child's photographs of penguins are displayed in several AU buildings. He traveled to each Latin American nation at least twice, with the exception of a single visit to Cuba.
Known as an engaging, innovative, and dedicated teacher, Dr. Child designed and taught the General Education course Latin America: History, Art, Literature, and developed numerous seminars and colloquia on Latin American topics in addition to Introduction to Spanish Translation. His students benefited from his commitment to using visual images and computer-assisted learning.
Dr. Child won the University Award for Teaching in the General Education Program in 1998, the University Faculty Administrator Award (for outstanding service as founding director of the Center for Teaching Excellence) in 2001, and the SIS Alumnus of the Year Award in 2006.
His colleagues valued his wide-ranging contributions to teaching, scholarship, and service at all levels, and they will remember him especially for his professionalism, collegiality, integrity, generosity, and good humor.
Jack Child is survived by his wife, Leslie Morginson-Eitzen, his sons Andrew and Eric, his daughters-in-law Susan and Christine, five grandchildren, a sister, a brother, and his faithful dog, Frida.
In lieu of flowers, donations may be made to the Spanish and Latin American Studies Restricted Fund in the College of Arts and Sciences at American University.
Jack Child will be buried at Arlington National Cemetery, and a memorial service at AU will be scheduled for the fall.