On Campus
Accelerated Summer Language Studies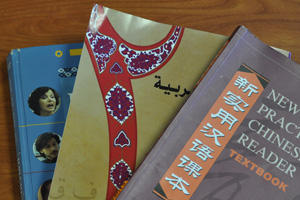 "Classrooms, ideally, need to be small in order for real progress to happen," says Russian language professor Julia Belopolsky. "Every student needs to be addressed individually." This notion is the driving force behind the intensive summer language courses that have been offered in the College of Arts and Sciences each summer since 2010.
This summer, students can choose from elementary Chinese, intermediate Russian, and elementary, intermediate, advanced, and Levantine colloquial Arabic. Each course is ten credits, except for advanced and Levantine colloquial Arabic, which are eight credits. Courses occur three or four evenings per week, and they last until the end of the second summer session. "Classes are at night," explains Professor Gail Riley, the foreign language pedagogy project leader in the Department of Language and Foreign Studies. "We've found this to be most beneficial, because this way students can do internships or even hold full-time jobs during the day and can then devote the evenings to studying a language."
The summer courses offer an opportunity for students to fulfill their language requirement rather than waiting to see if there's room in their fall schedule when the elementary I class for each language is offered. "Plus, this gives them the opportunity to accelerate a year. If they're taking elementary in their freshman year, then doing an intermediate course in the summer," says Riley, " they can take a third-year course as a sophomore and start counting those credits toward a major, since only 300-level courses count toward a major."
These courses allow students to learn an entire year's worth of content in one summer. "Courses like this really take all of a student's attention," says Riley. "In terms of actual coursework, students aren't taking any other academic courses. They're so focused on the language study over the summer."
Belopolsky taught intermediate Russian last summer, and she emphasizes how beneficial it was for her to spend so much time with students. "I knew each of them very well," she says, "every weakness, every strong point, their dedication. It was a very small class, and I had a chance to work personally with each student."
The small class size fostered camaraderie between students and made the demanding task of learning an entire year's worth of material seem a little less like work. "They had an enormous amount of fun while acquiring seriously difficult concepts," says Belopolsky.
After two years, the courses seem to be well received by students and professors alike. "When I have informal conversations with the faculty over the summer and after the courses have finished, they're very pleased with the caliber of the students that they had in their classes and with the kind of things they could accomplish," says Riley. "The fact that they were seeing students night after night andthe students were totally focused on the language study, so it stayed very fresh in their minds made it a very rewarding experience."