Humanities
Aeronautics Intern Flying High at Air and Space Museum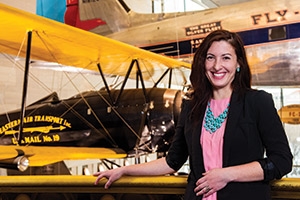 This is how dedicated Kristen Horning is to studying the history of early twentieth-century female pilots: high over a small airport in Gaithersburg, Maryland, she assumed the controls of a Piper Arrow 4 and (briefly) steered the plane through the sky.
"In order to understand and write about women aviators, I wanted to experience what it was like to fly," says the San Diego native, who hopes to earn her pilot's license.
In the meantime, Horning will continue working as an aeronautics intern at the Smithsonian National Air and Space Museum. She first visited the country's most popular museum in 2008 during her inaugural trip to Washington. Immediately, she knew it was the perfect place to combine her passions: museums and the history of flight.
Her main project has been cataloging navigational instruments and methods invented by US Navy officer Philip Van Horn Weems. It's not hard to get excited about your job when legendary aircraft like the Wright Flyer and Spirit of St. Louis hang just outside your office.
"What I really like about this museum is that it combines historical research with innovation. So it's not only looking to the past, but also to the future."