Social Sciences
Lavender Languages: Linguistics and Culture for the LGBTQ Community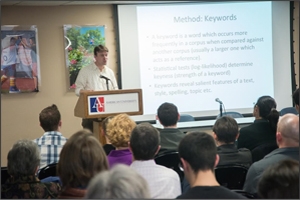 In the Taiwanese language, there is no word for "gay" or "lesbian." In fact, there are no words identifying individuals as anything other than heterosexual. Instead, the language has adopted English terms, but native speakers are continuing to search for a Taiwanese word – or words – that suit queer language.
This is the subject of the featured panel at the upcoming 21 Lavender Languages and Linguistics Conference to be held here at American University in February. It is one of many talks designed to feature the intersection of LGBTQ linguistics and culture, covering subject areas from hip hop to film to sports.
"Language is a definition of who human beings are in the world," says conference coordinator and AU anthropology professor William Leap. "And if we understand how people talk and put things into words we have a better understanding of how people experience the world in their own terms." The early years of the conference revolved around life stories, narratives, conversations, and examples of real-world language in use at the time the conference was taking place. Now, the list of issues it covers has expanded.
"For so long research on queer people was done by people who talked for us, and what a language-centered approach does is it lets queer people talk for themselves," Leap says. "But the concern [for his conference] has always been to understand who people are in their own space and time. And looking at the language that people use in those spaces is one way to do that."
Among the recent shifts in the field of study that Leap has seen through the conference's history is an increased focus on including younger scholars. " We have undergraduates coming to the conference to get ideas for their senior work," Leap says, "And maybe because of this there's been a move towards challenging and enhancing mainstream linguistic claims and developing a body of theory that can now be called 'queer linguistics' in its own right."
Lavender Languages takes its name from a desire to avoid questions of who the conference would or wouldn't include. Leap explains that they wanted to create a space for everyone who was interested in language and sexuality studies. 'Lavender' happened to have ties to sexual diversity—as well as royalty, Leap explained, tongue-in-cheek-in–in Western traditions, and the phrase seemed like it would be inclusive, either offensively or inoffensively. The name stuck, and became synonymous with the inclusive relationships it has sought to build.
"We can give ideas to people [attending the conference] who have interests in sexuality projects. We can give them ideas for method, for ways to phrase research questions, or ways to form intervention," Leap says. "But it's really important for people from sexuality research to come to the conference because then they ask us questions instead of us just talking at them. They see things that we don't see, make connections we don't make and when they bring that up it starts a really interesting dialogue."
The conference encourages dialogue and conversation in what is above all else an informal setting.
"We have a tradition, which I call 'no attitude'," Leap says. "We don't allow people to think that they are 'holier than thou'. Everybody works together and people make friends and contacts, then they come away saying it's the friendliest conference they've ever been to."
As some of the work done at the conference becomes increasingly accepted in the mainstream, the conference seeks to continue to think about its purposes. Right now, Leap feels its purpose is working with students and keeping the conference student-centered. After that, Leap says, the conference is looking to a pilot in England in 2015, with the possibility of a full conference in England the following year, which would replace the AU conference for that time.
"Our European colleagues are very interested in language and sexuality studies, and there is no central entity or conference like [Lavender Languages] where our British colleagues, for example, can gather," Leap says. "It would be interesting to see if such a thing were to unfold in England. The idea that one's identity is invested in one's sexuality is very American."
The Lavender Languages Conference is the longest running lesbian/gay studies-oriented conference in the US and, perhaps, in the world. It began at American University in 1993, in conjunction with the March on Washington, DC, for lesbian, gay and bi equal rights and liberation. It is the only conference in the US dedicated to discussions of lesbian, gay, bi, trans, queer and similar language themes.
This year's conference will be held February 14-16 at American University. Panel topics will include transgender linguistics; queer language in French, Spanish, Taiwanese, and more (including a French documentary screening); anti-homophobic discourse; erotic/porn socialites; language and Salvadoran LGBT immigrants; and a variety of cultural examinations from hip-hop to Greek, Madagascan, and Lebanese societies. More information can be found on the conference website.