Literature
Where Literature Meets Film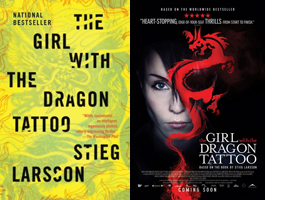 As long as the cinematic medium has existed, the movie industry has looked to literature for both inspiration and content. From early films of theatrical plays to classics like The Wizard of Oz and Gone with the Wind to modern-day adaptations including the recent Girl with the Dragon Tattoo, films have continuously brought a wide variety of stories to life on the silver screen.  
AU literature professor Despina Kakoudaki has spent her career examining film and its history and development and says that the desire to bring books to life has been strong since the medium's start. "Many of the first films were adaptations of classic stories the filmmakers knew the audiences would be familiar with," says Kakoudaki. "You would see films illustrating things like the life of Christ, because the medium was about presenting the story in a visual way." 
Kakoudaki, who teaches the undergraduate courses Critical Approach to Cinema, as well as various selected film topics including Alfred Hitchcock in Context, says the tendency to make film adaptations of books stems largely from the desire for a guaranteed audience. "When you look at films such as the Spiderman or Batman movies, or really any superhero movie, there is a built-in audience that is definitely going to see the films," says Kakoudaki. "And with movies like the Harry Potter series, you have the intense following of fans who are participating in online communities where they are debating the stories and interacting on another level. With adaptations like this, the director has to take this fan base into account." Several of the directors of the Harry Potter films have been known to look at online Harry Potter communities such as MuggleNet.  
Professor Erik Dussere, who also teaches Critical Approach to Cinema and a new topics course in French cinema, emphasizes that while much discussion centers around adaptations that aren't seen as living up to the literature on which they are based, there are many adaptations that actually enhance an existing story or completely supersede it. "You have a movie like Fight Club, which is a brilliant movie from an okay novel," says Dussere, "or Clueless, which takes a novel from 1815 and makes it relevant to the modern day." Clueless, released in 1995, sets the story of Jane Austen's Emma in the context of a Beverly Hills high school.  
Dussere says there are some things that film can portray that books simply cannot and vice-versa. "The best adaptations are the ones that use film to do what film does best," says Dussere, "rather than simply trying to reproduce the book." While print may be able to tell the reader more in terms of a character's thoughts, film helps viewers to better understand the environment they are in, and to visualize the story.
According to Dussere, while adaptations of books have been made worldwide, they are definitely more prevalent in the United States than anywhere else. "Hollywood does more in the way of adaptations than most other national cinemas do," says Dussere, who has studied French cinema extensively, as well as film from a variety of nations. "American film is oftentimes driven by the constant pressure to get a new product in the market, which is what has led to the predominance of sequels, adaptations, etc. French cinema is a lot less commercial, and is a lot less involved with money." 
Kakoudaki emphasizes that this quest for films that will do well at the box office can sometimes lead to poor adaptations. She specifically points out that films such as 1993's Super Mario Brothers and a variety of straight-to-video films based on video games don't seem to fare well with audiences. "They are very different mediums," says Kakoudaki. "It's very difficult to go from an interactive medium to the screen."  
Kakoudaki emphasizes that adapting movies into video games, however, is a completely different experience. "There are movies like The Bourne Identity, James Bond, and Inception that lend themselves extremely well to video games," she says. "When you look at things like the time code of the film, the idea of sending a character back in time to complete a task, as is seen in Inception, this is definitely easily translated to a video game." 
Kakoudaki emphasizes that any adaptation ultimately has to be satisfying for the audience it is targeting. "Characters like James Bond can be infinitely reinvented for a new audience with new actors and plotlines," says Kakoudaki. James Bond has been played by a variety of different actors featuring several different plotlines but has continued to be an extremely popular franchise with audiences. 
"Making a good adaptation is about using the language of film to convey what the language of literature doesn't or can't portray," says Dussere. "It's not about simply presenting the story; it's about creating something entirely different."
AU's literature major now gives students the opportunity to pursue a cinema studies track, allowing students to gain insight as to how to approach cinema with a critical lens and to examine its significance within American and international society. In addition to traditional literature courses, cinema studies students take courses in the theory of film, how to approach it from a variety of perspectives, and how film differs around the world. Students can also minor in cinema studies.