Social Sciences
New Book Documents Americans "Living on the Edge"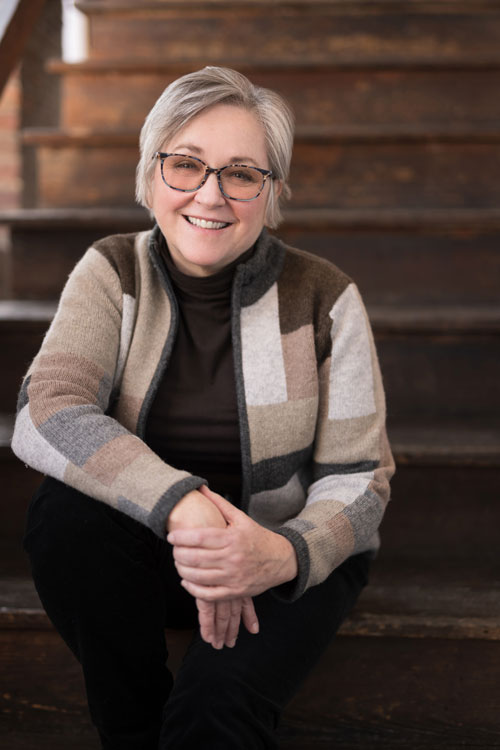 American University Professor of Sociology Celine-Marie Pascale has just published her latest book, Living on the Edge: When Hard Times Become a Way of Life (Polity Books,) which documents the lives of people across the nation who are juggling multiple low wage jobs while facing the squeeze of stagnant wages and rising costs of living. More than half of US workers have trouble paying basic bills, even though their incomes are well above the official federal poverty threshold of $26,200 for a family of four, or $12,760 for an individual.
In writing Living on the Edge, Pascale's expertise as a sociologist was enriched by her own experiences with poverty. When she was nine years old, her father became severely disabled, and her mother entered the workforce to support their family of six. She found a minimum wage job working the graveyard shift as a nurse's aide at a state psychiatric hospital. "In 1966, my mother earned $1.25 hour — in today's dollars, that is equivalent to $10.53, or $21,060 per year," Pascale says. "It wasn't enough. It wasn't enough to pay all of the bills and it wasn't enough to keep adequate food on the table. If the minimum wage had kept pace with productivity, it would now be over $24 an hour. But it didn't. The current federal minimum wage is $7.25 an hour ($15,080 a year)."
For Living on the Edge, Pascale spoke with people throughout Appalachia, at the Standing Rock and Wind River reservations in the Dakotas and Wyoming, and in the city of Oakland, California. Across the country she met people who were not able to make ends meet but had not given up: many of them described themselves as "the struggling class."
"They're hard-working people who know from experience that the current system is unsustainable," Pascale writes. They described their needs for a living wage, affordable housing, accessible health care, immigration reform, and free education.
Holding Down the Struggling Class
Though Pascale fills the pages with individual stories, Living on the Edge examines the social and economic factors that created this crisis — and which keep people trapped in economic struggle. The book also takes a complicated look at how racism, sexism, immigration status, Trump, and the COVID-19 pandemic have affected vulnerable working people. Pascale explains that fundamentally "the problems of inequality, affordable housing, accessible healthcare, environmental devastation, civil rights, and the climate crisis are all interconnected — we can't solve this in pieces." Pascale believes we need a national reckoning with these realities, a reckoning that will not come from the top down, and she hopes that Living on the Edge will contribute to these efforts.
The book is already resonating with early readers. Elizabeth Catte, author of What You Are Getting Wrong About Appalachia, calls Living on the Edge, "a rare book that combines a humane accounting of lives lived in hardship with a robust and data-driven critique of the policies that caused their dysfunction."
David B. Grusky, professor of sociology and director of Stanford University's Center on Poverty and Inequality, writes, "In a trenchant analysis, Celine-Marie Pascale shows how low-income workers' everyday lives expose a deeply unfair system. A brilliant account of 'hard-knocks egalitarianism.'"
Chase Iron Eyes co-director and lead counsel for the Lakota People's Law Project says the book is, "Required reading for anyone who wants to understand, in a way that is both supremely accessible and thoroughly researched, the systemic inequalities designed to hold down 'The Struggling Class.'"
A Sociologist's Calling
Pascale has won national and international awards for her scholarship that examines how language and representation are used to create and normalize systemic inequalities. Living on the Edge is Pascale's first book for a general audience. Readers can get a sneak preview in pieces she has published in the Huffington Post, LA Times, and The Conversation.
Her expertise has been featured by Progressive Radio, KGNU, The Progressive, The Watchdog Morning Show, Public Broadcasting Service (PBS), National Public Radio (NPR), Channel 7/ABC News, Channel 9 Local News, Associated Press, Sinclair Broadcast Group, Counterspin, Fairness and Accuracy in the Media (FAIR), and Metro Networks. Her research has also been featured international media, including International Business Times of Australia, La Nación (Argentina), and France 2—France Televisions.
At American University, Pascale received the College Dean's Award for Outstanding Contributions to an Inclusive Community in the College of Arts and Sciences and the Multicultural Affairs/International Student Services Award for Distinguished Faculty. She also served three years as associate dean of Undergraduate Studies for the College. She was elected president of the International Sociology Association Research Committee 25, Language & Society (2010-2014), to the executive board of the American Sociology Association section on Race, Class & Gender (2005-2008), and serves as an invited editorial board member and reviewer for multiple academic presses and scholarly journals.
Pascale has provided a variety of support for organizations including local schools, the National Children's Defense Fund, City Policy Associates for the Conference of Mayors Hunger and Homelessness Report, the Center for Social Media, and the New Media Literary Project at the Massachusetts Institute of Technology.
This spring she will be teaching Socy 210, Power, Privilege & Inequality at American University.
Follow Pascale on Twitter: @cmpascale.