Professor Max Paul Friedman Wins Prestigious Bessel Award Recognized for outstanding research record and influence in field of history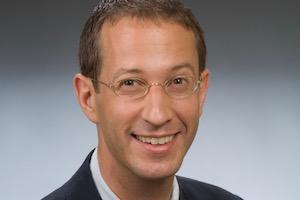 American University Professor Max Paul Friedman has won the Alexander von Humboldt Foundation's prestigious Friedrich Wilhelm Bessel Research Award. Friedman is a professor of history in the College of Arts and Sciences and professor of international studies in AU's School of International Service. He specializes in the history of US foreign relations.
Bessel Awards are granted each year to 20 internationally renowned scientists and scholars worldwide in recognition of their outstanding research records and their influence on their disciplines. The Alexander von Humboldt Foundation is a research branch of the German government, with funding from the Foreign Ministry and the Federal Ministry of Education and Research.
"It's an honor to receive recognition from the Alexander von Humboldt Foundation, named for the geographer who wrote about Latin America with uncommon sensitivity," says Friedman. "The Bessel Award marks past achievements and the expectation of future contributions, so I better get back to work!"
The award is valued at 45,000 euros. Winners are invited to spend a period of up to one year cooperating on a long-term research project with specialist colleagues at a research institution in Germany. Friedman was nominated by Professor Stefan Rinke of the Institute for Latin American Studies at the Free University of Berlin. He will engage in a number of research projects at the university.
A Distinguished Career
Friedman's first book, Nazis and Good Neighbors: The United States Campaign against the Germans of Latin America in World War II (Cambridge University Press, 2003) won the Herbert Hoover Prize in US History and the AB Thomas Prize in Latin American Studies. His second book, Rethinking Anti-Americanism: The History of an Exceptional Concept in American Foreign Relations, was published by Cambridge University Press in 2012. He is co-editor, with Padraic Kenney, of Partisan Histories: The Past in Contemporary Global Politics (Palgrave Macmillan, 2005). He has published 30 articles and book chapters on diplomatic, political, social, transnational, and cultural history in academic journals, and has been a commentator for newspapers and broadcast media across the world.
Friedman has held fellowships from the Guggenheim Foundation, the Fulbright Commission, and the Woodrow Wilson National Foundation, among others. The Society for Historians of American Foreign Relations awarded him the Bernath Article Prize and the Bernath Lecture Prize for excellence in scholarship and teaching in the field of US foreign relations. He is a regular participant as a Public Member of US State Department Selection Boards.
In 2014, AU named him Scholar-Teacher of the Year, the highest distinction offered by the university.
Current and Ongoing Work
Friedman is currently working on his latest book and several other projects. The book, The Containment of the United States: Latin America and the Limits of Principle, explores how small and medium-sized powers in Latin America were able to contain the expansionism of a great power — the United States — over time, by using multilateral diplomacy to reshape international norms.
Supported by a Guggenheim Fellowship and Fulbright Special Grant, Friedman has collected archival evidence from Argentina, Chile, Cuba, France, Germany, Great Britain, Italy, Mexico, the United States, and Uruguay. He published initial findings in the journal International Security in "Soft Balancing in the Americas: Latin American Opposition to US Intervention," co-authored with SIS PhD (2013) Tom Long of Warrick University, in order to connect this historical research to current debates in international relations.
Friedman is also working on two edited collections. The first is The Cambridge History of America and the World, vol. 4 (1945-present), co-edited with David Engerman and Melani McAlister. This volume will bring together 33 essays representing the state of the field of modern US foreign relations history.
The second project is Transnational Humans and Transnationalism in the Humanities: Crossing Boundaries in the Americas, co-edited with Núria Vilanova, associate professor of World Languages and Cultures at AU. Transnationalism can refer to migration, postcoloniality, cosmopolitanism, diasporism, indigeneity, international relations, cultural production, and more. This project aims to analyze contemporary usage of the concept across disciplinary boundaries and foster scholarly exchange on the study of people who live transnationally in the Americas in order to assess the state of the field and advance the theoretical value of the "transnational turn."