Meet the 2023 CAS Commencement Speakers
Isaiah Washington and Milton Garcia, the 2023 College of Arts and Sciences undergraduate and graduate commencement speakers exemplify the best of what the College offers. Read on to learn more about them! 
Isaiah Washington
CAS Undergraduate Commencement Speaker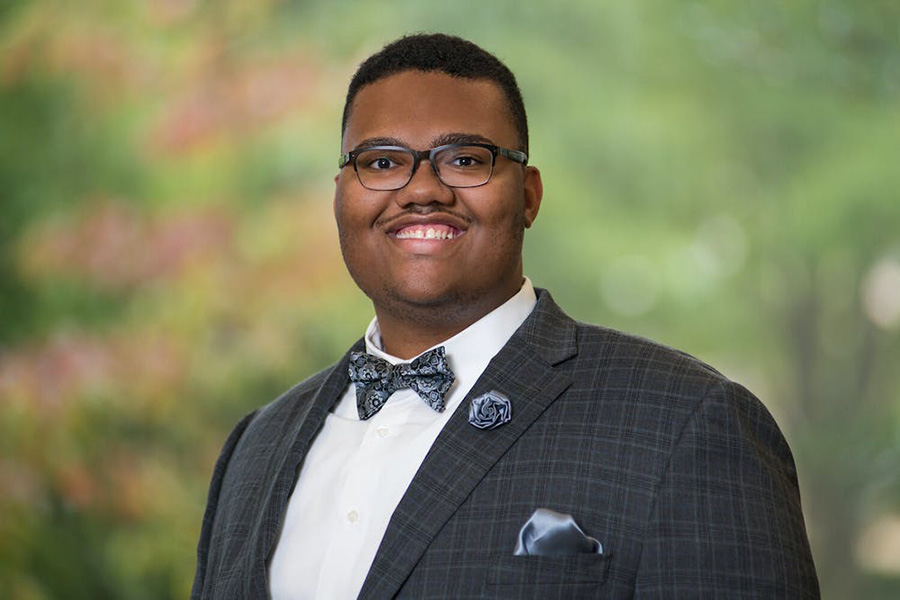 "What defines an AU student is our intellectual electricity and our dedication to community. We are world travelers and authorities on the all-nighter. We have and continue to bloom roses from weeds. Adapting for us has become much more than a skill on a resume; it is something printed right on our DNA." 
Isaiah Washington is graduating with a major in literature and a minor in political science. He is a part of the Honors College and the Frederick Douglass Distinguished Scholars Program. He has served as a teaching assistant for the Honors Program for three years and an AU core leader this semester. He serves as a mentor to young women and men of color in middle and high school, helping them reach their academic goals, as a teaching assistant, and as the executive administrative assistant for the From the Fire and At the Well Leadership Academies.  
Washington is also the co-editor-in-chief for The Blackprint and president of AU's Circle K chapter. He is the programming director for the AU BIPOC Student Affinity Group. He serves on the Department of Literature Outreach Committee. His research has been recognized by the AU Summer Scholars and Artists Program and the Robyn Rafferty Mathias Student Research Conference. He is the recipient of the conference's Best Undergraduate Humanities Workshop Award, the literature department's Best Undergraduate Essay Award, the university's 2022 Academic Achievement Award for Outstanding Achievement in Undergraduate Research, and the Harold Johnson Student Achievement Award.  
Off campus, he worked as a summer intern in Austin, Texas, with the Dow Jones News Fund. He is an Emma Bowen Foundation Fellow, working as a news intern at his local NBC news station.  
What's next? 
Washington has been admitted to Georgetown University's master's program in literature as the inaugural recipient of a full tuition scholarship. As he begins this next chapter, he plans to further explore his penchants for leadership, mentorship, volunteerism, and storytelling.
Milton Garcia
CAS Graduate Commencement Speaker
"Above all, be kind. To yourself, others, and those around you. What comes next can and may change as we self-define, as cultural shifts occur locally and globally, and as Artificial Intelligence and Automation impact the labor market. But how well we treat ourselves and others day-to-day in the face of change is what is most important in this idea of "unconventional success." Class of 2023, continue to learn, practice patience, and be kind: for you, are on your way to success."  
Milton Garcia is a project manager, software engineer, and full stack developer. Seven years ago, as a recent graduate from Grinnell College, he joined American University as a staff employee. He spent several years immersing himself in AU's culture, and he helped co-found the Latino and Hispanic Faculty and Staff Affinity Group as part of the university's inclusive excellence initiative. His pursuit of learning led him to enroll in AU's MS Computer Science program where he used Full-Stack Web Application development to build a Legal Literacy application that people with non-technical backgrounds could use. He also worked as a web programming teaching assistant during his studies. 
Garcia received a Graduate Student Research Award from the College of Arts and Sciences to continue his research. He says that his experiences at American University were at the intersection of supporting students, faculty, and staff and positively defined his opinion that AU is unique place for scholarship, community, mentorship, and friendship.