Achievements
CAS Student Takes Third Place in STEM Entrepreneurship Competition Rising senior Matt Mullin wins prize for innovative business venture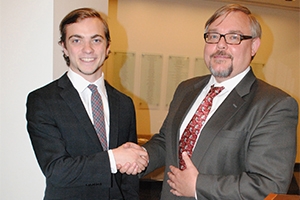 Taking innovation from the classroom to the business world, Matt Mullin won third place and a prize of $2,000 for his drone technology startup Sand Scan at Lab to Launch, a new science and technology entrepreneurship competition established by the American Association for the Advancement of Science (AAAS).
AAAS, the world's largest general scientific society, says it created Lab to Launch as a way of supporting promising DC technology innovators by providing training, networking opportunities, and seed capital prizes. It launched the competition for the first time this year.
The Challenge
After submitting an application and pitch video describing his business venture, Mullin (BA environmental studies, applied physics minor '18) was one of six finalists selected to pitch his idea to a panel of expert judges.
Mullin created Sand Scan as a cost-effective alternative to traditional methods of observing coastal erosion. While growing up in Sandwich, MA, a beach town on Cape Cod, Mullin saw firsthand the damage caused by erosion. "My hometown has spent millions of dollars on replenishing our coastline and on the direct costs of observing the damages of erosion," he said. "The traditional methods can cost coastal communities hundreds of thousands of dollars to use, and the process of acquiring data can take weeks."
By using drones equipped with high-resolution cameras and sensors, Scan Scan improves the accuracy and efficiency of collecting coastal erosion data. Mullin hopes that this technology will allow local governments and private landowners to make fast and informed decisions after destructive storms.
The Process
Mullin developed the business model for Sand Scan while working with Executives in Residence William Bellows and Tommy White in the AU Entrepreneurship Incubator. Last semester, Mullin won first place and $2,000 in "The Big Idea," the incubator's campus-wide competition, and used the award to purchase equipment and begin research on Sand Scan. After refining his model with Bellows and White, Mullin was able to practice pitching his venture to outside investors and other entrepreneurs at several public presentations hosted by the incubator.
"Matt was exceptional in pushing himself through a rigorous preparation, and the results are evident," Bellows said. "His accomplishment at Lab to Launch shows the caliber of our students and the potential of our science and engineering programs to stand toe-to-toe with other schools."
Mullin will continue honing the processes of Sand Scan this summer as a Massachusetts Space & Sea Grant Fellow at the Massachusetts Institute of Technology and plans to use the $2,000 AAAS award to supplement his future research.