Research
NASA Study Led by AU Professor Examines Star That Resembles Our Sun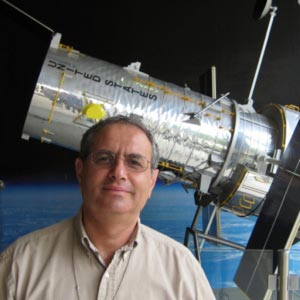 Our Sun, which supports life on Earth, is a whopping 4.65 billion years old. Obviously, scientists can't go back in time for billions of years to learn all about the sun's earliest years. But what they can do is find another similar star, one that is young and shares characteristics with our Sun.
AU's Vladimir Airapetian is doing just this. He has been studying the star Kappa 1 Ceti, which is estimated to be around 600 to 750 million years old. This just happens to be approximately the same age as our Sun when life first developed on Earth — and it offers scientists a novel way to study the characteristics of our own Sun billions of years ago.
"Imagine I want to reproduce a baby picture of an adult when they were one or two years old, and all of their pictures were erased or lost," Airapetian explains. "I would look at a photo of them now, and their close relatives' photos from around that age, and from there, reconstruct their baby photos. That's the sort of process we are following here – looking at characteristics of a young star similar to ours, to better understand what our own star was like in its youth, and what allowed it to foster life on one of its nearby planets."
Airapetian and his colleagues have adapted an existing solar model to predict some of Kappa 1 Ceti's characteristics. It relies on data from NASA space missions including the Hubble Space Telescope. Their work, Airapetian said, is all about "looking at our own Sun, its past and its possible future, through the lens of other stars."
Airapetian works at American University through AU's Institute for Integrated Space Science and Technology (ISSTI). Directed by Associate Professor of Physics Philip Johnson, the Institute was formed within AU's Department of Physics to facilitate interdisciplinary student, faculty, and staff research in astrophysics, astronomy, astrobiology, heliophysics, planetary science, and space technologies. ISSTI supports 17 externally funded research faculty with total grant funding of more than $7 million from NASA, the National Science Foundation, and other sponsors.
 
"Professor Arapetian's research is significantly advancing our understanding of the early solar system, which is a critical piece of the puzzle for understanding the origins of life on Earth," Johnson says.
To learn more about the study, visit NASA's website.