Kim Blankenship New CAS Associate Dean of Research New focus on research funding and excellence at AU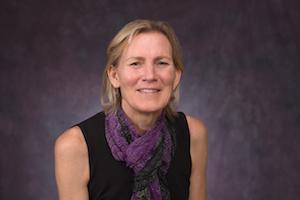 In the past several years, American University has opened the Don Myers Technology and Innovation Building, broken ground on a new Hall of Science, hired prominent new faculty, and established new degrees and concentrations in computer science, data science, information security, and more. At the same time, College of Arts and Sciences faculty have grown their research funding by more than 100 percent, winning nearly 50 awards from the National Institutes of Health and the National Science Foundation.
Research is taking off at American University. As AU focuses on significantly growing its research excellence across the arts, humanities, and sciences, it has named Professor Kim Blankenship as Associate Dean of Research in the College of Arts and Sciences. In her new role, Blankenship will work to increase the amount of externally funded research at AU and enhance the university's reputation for exciting, cutting-edge research.
Blankenship says she wants to create an environment where faculty feel supported in their research efforts and administrative staff are excited to be part of the process of facilitating successful research. "We want to develop policies and programs that will provide resources in support of research," she says. "We also want to design different mentoring programs that will meet the needs of different types of researchers (and of researchers at different stages in their careers) and support research funding and the successful execution of research projects."
Blankenship, an AU professor of sociology since 2010, has served as chair of the Department of Sociology and the founding director of AU's Center on Health, Risk, and Society. Her research focuses on the social determinants of health to create new policies and structural interventions to combat chronic health disparities. She is best known for her work on HIV/AIDS and currently serves as the co-director of the Social and Behavioral Sciences Core of the District of Columbia Center for AIDS Research.
Exciting Time for Research and Collaboration at AU
Blankenship says that the new Don Myers Technology and Innovation Building and the upcoming Hall of Science represent AU's dedication to expanding its reputation in the STEM (Science, Technology, Engineering, and Mathematics) fields. "You can't have good science of any kind without the facilities to support it. There's the collaborative aspect, bringing people together, and space is an important part of that. There's also the technical facilities; you need good space and equipment to conduct research and attract scientists."
Interdisciplinary work is critical across fields, says Blankenship. "Not only do I see this as the best way to generate new, pathbreaking ideas, but also, I see it is the best way to create open minds and good human beings."
She points out several exciting new interdisciplinary partnerships and initiatives taking place across the College:
The Integrated Space Science and Technology Institute (ISSTI), directed by Associate Physics Professor Phil Johnson, is a research partnership between AU and local area institutions, including NASA Goddard Space Flight Center. ISSTI's faculty represent a range of disciplinary expertise, including physics, chemistry, environmental science, engineering, and computer science. Their projects include topics in astrobiology, astrochemistry, heliophysics, and space-related technology development. The institute will also provide opportunities for students to work with faculty on these projects at AU and at Goddard Space Center.
The Center for Behavioral Neuroscience, directed by Psychology Professor Terry Davidson, is another interdisciplinary collaboration that includes faculty from biology, chemistry, health studies, psychology, education, and math, among others. "With support from the Center, they work to increase the breadth and scope of research at AU and increase basic and applied knowledge with potential for improving the quality of life," Blankenship says. "The Center also provides multiple opportunities for students to collaborate with faculty on research projects."
Finally, there is a new initiative being developed to bring together STEM Education, Equity, and Ethics.
"All of these examples signify something that I think is and will continue to be a hallmark of the development of STEM at AU, an innovative and interdisciplinary approach," says Blankenship. "As two other examples, the College just hosted a STEAM fair to acquaint the local and AU community with the STEM work being done here, but we added the "A" to signify the relevance of STEM to the Arts and the relevance of the Arts to STEM. And the Department of Literature just finished a colloquium on Mary Shelley's Frankenstein that included speakers from physics!"
Career Dedicated to Sociology   
Blankenship's own career has focused on sociology and the social determinants of health. She realized her love for the field as an undergraduate at the College of William and Mary. She entered college as a math major, but by her junior year she started to feel as though math was too abstract and far removed from the contemporary issues and struggles that interested her. "I had taken some sociology classes, and they exercised my brain in a different way and seemed to have a lot more relevance to issues that concerned me," she says.
During Blankenship's second year of graduate school at Duke, she received a fellowship as part of a National Institute on Mental Health (NIMH) funded pre-doctoral and post-doctoral training program on immigration and ethnicity. "Through that, I became a part of an amazing group of doctoral students, post-docs, and faculty from a range of disciplines reading, talking about, and applying different theories critically examining the social world in a way that was more compatible with my own world view," she said. "I was hooked and never questioned my decision to get a PhD in sociology."
A Focus on HIV/AIDS
Blankenship chose to focus on HIV/AIDS after finishing her dissertation work on class, gender, and race inequality during the early nineties. She was looking at court cases related to reproductive technologies, and a colleague pointed her in the direction of HIV/AIDS, because poor women of color were either being discouraged from getting pregnant or being encouraged to get abortions if they were pregnant and HIV positive. Intrigued, Blankenship helped conduct a local household survey of designated neighborhoods to find out more about residents' knowledge, attitudes, and behaviors related to HIV/AIDS.
"We organized a group of community members from the neighborhoods to conduct the [survey] work, and, in working with them, I started to learn more about how structures and relations of inequality were shaping their vulnerability. That led me to the New Haven needle exchange program, which was one of the first in the country," Blankenship says. "I learned that there was a group of women using the program who were also engaging in high-risk sex exchanges and who felt like the program was not helping them with that aspect of their lives. So I joined evaluators doing outreach to these women, and that led me to several years of ethnographic work among New Haven sex workers trying to understand, among other things, their vulnerability to HIV and how to address it."
Blankenship believes that sociological thinking is paramont to ultimately eliminating health inequities. "A major concern of the discipline is understanding how inequality is rooted in social relations and social structures. Sociology tells us where to look to understand health inequities and what will need to change if they are to be eliminated," she says. "I think that sociology also reminds us of the importance of prioritizing the elimination of health inequities. It's good to work to improve overall health, but it's important to simultaneously ensure that these improvements aren't disproportionately experienced by the socially privileged while leaving others behind."
What's Next
Blankenship says her upcoming research will focus on JustHouHS — a Justice, Housing and Health Study, which is supported by an NIMH grant and focuses on the intersecting impacts of mass incarceration, housing policy, and housing instability on HIV/AIDS-related vulnerability and inequities. "It includes an analysis of national housing policies and disease rates, as well as a study of low income residents in New Haven, with varying types of connections to the criminal justice system. In addition to continuing to gather and analyze data, we hope to write up findings and work with local and state groups to provide data and analyses that will help them change policies and develop programs to support the housing (and other) needs of vulnerable communities, and thereby support their health."
Between her research, teaching, and her new role as Associate Dean for Research, Blankenship expects to be busy for a long time to come. But at the same time, she's quick to point out the rewards of her work at AU.
"I get to interact with young people — in the classroom, in the halls, and on my research projects. They are curious and thoughtful, full of ideas and open to new ones, and ultimately, the ones on whom we must rely to create a better world. The bottom line is, being a professor means I have an incredibly stimulating job where I never stop learning — from colleagues, from students, from reading, research and teaching. What could be better?"