Achievements
Opening Eyes to Racism, African American Identity, and American Narcissism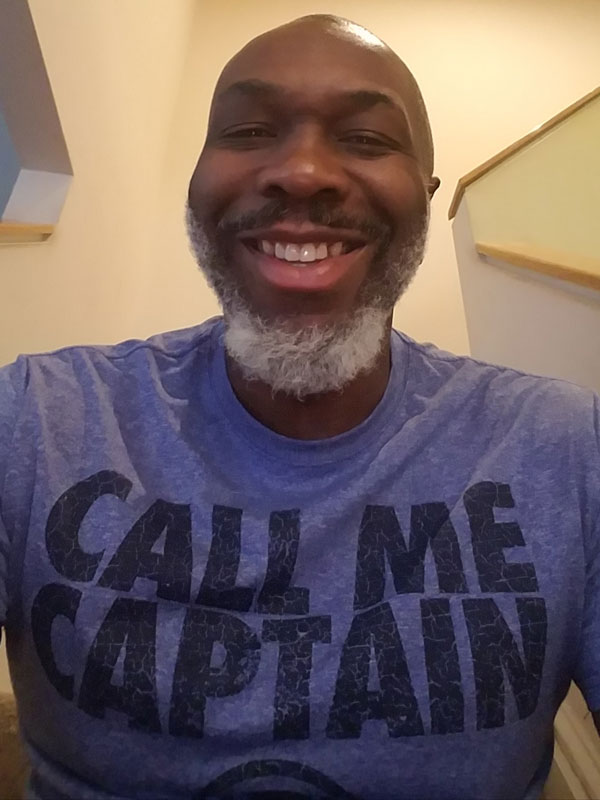 "Quite simply, there is no American joy, no American culture, without Black joy, and no Black joy without Black pain from and resistance to American racism and exploitation," writes AU Professorial Lecturer of History and American Studies Donald Earl Collins.
Collins has been reading and writing about history since he was nine years old, winning his first writing prize for a local newspaper when he was eleven. He continued to write extensively in graduate school and beyond, but in 2014, he decided to do something different: to shift his focus from academic writing to writing for general audiences. He wanted to share his scholarship on US history, race, and African American/American identity as widely as possible—with people he might never have a chance to meet in real life.
He has never looked back. Collins has published two books, the memoir Boy @ The Window about growing up in poverty in suburban New York City, and Fear of a "Black" America: Multiculturalism and the African American Experience, a response to the conservative movement's "Culture Wars" on all things multicultural.
His work has appeared in The Atlantic, Al Jazeera English, The Guardian, Huffington Post, Diverse: Issues in Higher Education, Gannett Suburban Newspapers, Pittsburgh Post-Gazette, Atlanta Journal-Constitution, History of Education Quarterly, The Washington Post, NBC Think, Teachers College Record, Academe Magazine, Radical Society, and the Journal of Hispanic Higher Education. His publications include narrative profiles and stories, op-eds, book reviews, scholarly articles and feature articles, and book chapters.
A Writing and Teaching Life
Collins says that his writing informs his teaching, and his teaching informs his writing, something that is appreciated by his students and colleagues alike. "I am always impressed by Donald's thorough and meticulous scholarship, which truly does inform his scholarship and teaching, not only in his classes, but in other Department of Critical Race, Gender, and Culture Studies classes as well," says Sybil Roberts, playwright and director of African American and African Diaspora Studies at American University. "I am using his article on Black joy and resistance (NBC News THINK, August 2020) in my AFAM 200 class this year as a part of a larger conversation on combatting anti-blackness. We are lucky to have him at AU!"
In his American Studies Life inside a Monument class, Collins' goal to help students understand the full story of the District of Columbia's history and culture. He asks students, "Why is DC the way it is?" and then walks them through stories of imperialism and colonialism, the culture of enslavement, the notion of building big monuments to impress the world, the rise of art and social justice movements, the variety of DC cultures, and of course, politics.
One of his favorite parts of teaching is getting students to understand that writing is not just a talent that some people are born with. "It's hard work, not a natural gift," he says, sharing his personal journey to becoming a writer. He likes to give students real-life writing exercises to sharpen their skills, like writing down the directions from the center of AU's campus to the Tenleytown Metro. "And don't tell me the history of Tenleytown," he tells them. "Get to the point and make it easier for readers to understand that point."
More Honest Views of the World
Another favorite teaching moment for Collins is when a student realizes a new point of view for the first time—when they realize there is a whole new way of thinking about US history and African American history. "I'm amazed when I see folks' eyes open to the way the world works," he says.
Collins' own writing focuses on race, identity, our history, and the ways in which he sees our country moving. It's not always uplifting reading. He has written about the backbreaking and inescapable weight of racism for Black Americans (Al Jazeera), the nearly impossible hurdles of college graduation for first-gen students (Atlantic magazine), and the narcissism in American culture that has fueled the notion of American exceptionalism and given rise to racism, misogyny, xenophobia, and white supremacy (Huffington Post).
Although Americans are fixated on race and the Movement for Black Lives and police reform this summer, Collins points out that these issues are not new in America, and he's been writing about them for years. In The Guardian, for example, he wrote about the futility of police reform back in 2015 after Freddie Gray was shot by police. "Businesses and rich and powerful whites, who want their property and lives protected, are the cornerstone for policing and remain the main constituents involved in police reform," Collins writes. "With the great divide between them and the poor and communities of color, any attempt at reforms are doomed."
Resilience and Joy
In his most recently published piece, American Culture Sees Blackness as the Damage It Did to Us, Not the Joy We Take in Ourselves, published last month on the NBC News THINK website, Collins begins by reminiscing about a Sugarhill Gang concert he attended as a child and the joy he felt there in a large gathering at Van Cortlandt Park in Bronx, NY, surrounded by hundreds of Black Americans. "It was one of my first times experiencing Blackness as joy," he wrote.
Collins then traces the resistance, hope, and even joy that Black Americans have cultivated over the past three centuries in the face of unrelenting exploitation and oppression. "It is true, of course, that — from kidnapping and enslavement to rape, lynchings and debt peonage — African Americans have both endured and resisted centuries of oppression," he writes. "But it is also true that Black folks have salvaged hope and resurrected joy in this wasted land. Blackness in America is greater than the sum of its parts, crafted from struggle and resistance, birthing joy in the process."
Collins looks at his writing as a very deliberate act. When asked why he writes, he says, "I am writing for a world of folks who need to hear what I have to say about racism, American narcissism, and African American identity and how this all evolved. I want to reach as many people as I can; people I will probably never meet in real life."