Education
A Language and Learning Partnership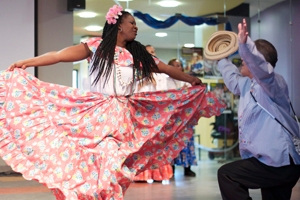 Over the next five years, as many as 10,000 Panamanian teachers will travel to universities in the United States, Canada, and the United Kingdom to develop new teaching skills and a global perspective on public and bilingual education.  
One of their destinations is American University. In fact, AU already welcomed thirty teachers in early January who arrived here as part of the Panamá Bilingüe program, an initiative of the Panamanian president Juan Carlos Varela to improve public education and economic development in Panama.

Bilingual Breakthrough 
AU's School of Education, Teaching, and Health (SETH), the Teaching English to Speakers of Other Languages Program, and the School of Professional and Extended Studies are hosting the teachers for eight weeks. During this time, the teachers are taking classes, visiting local bilingual schools, and making trips to the National Mall, Smithsonian museums, and other cultural and historic institutions. In turn, the teachers are sharing Panamanian culture with their hosts including a celebration of Panama's culture and heritage at the AU tavern in mid-February.  
The visiting teachers take English classes on campus in the mornings, and during the afternoons they learn new teaching skills and methodology from program instructors Amelia Tseng and Rebecca Wilner.  
"We hope that the program helps to increase educational opportunity in Panama and to establish a lasting partnership between AU and the Panamanian government," said Wilner. "Our program at AU is unique in its bilingual component. In addition to learning about best practices and methods in English language teaching, the participants also have the opportunity to observe and practice specific features of bilingual education that may be applicable in Panama. It's been great so far and they've been really excited to learn."  
"Bilingual education affords the opportunity for children to not only develop proficiency in another language, but also to learn about other cultures and increase their world view," Tseng said. Research indicates that bilinguals may be more likely to be flexible thinkers, and that bilingual teaching supports educational success in both languages. It's important for teachers to understand the benefits of bilingualism so that they can best prepare their students for success in a multilingual, global world." 

In-Class Insight 
For many of the visiting teachers, this is the first time they have travelled outside Panama. Though the cold weather has contributed to their culture shock, the teachers have been quick to adapt and engage in life on campus at AU.  
"One of the most interesting parts of the trip was visiting the different schools in DC, and learning how to create an educational environment to motivate the students," said visiting teacher Sabby Vega. "The students produce so much here. It is amazing. Living here is a wonderful experience. Now we are masters of using the metro. It's very different here, but we have adjusted." 
Teacher Sthephanie Quintero said the visits to local classrooms are providing valuable insight on teaching methods. "I like it here—in Panama I learned a lot of theory, but here at AU, I am learning how to apply it in the classroom."

A Promising Partnership 
Wilner and Tseng hope that the skills, experiences, and friendships that the teachers have gained last have a lasting affect. "Our focus is on making the program as sustainable as possible," said Wilner. "So we're training teachers, but we're also training them to train others."
Wilner and Tseng have already learned much from the visiting teachers as well, and have gained valuable insight on how to improve the program. According to the very first group of the initiative, the experience has already been transformative. 
Edna Morena is an elementary school teacher in Panama, and is looking to the future. "I would like to give my students the best I have seen here during these eight weeks. I would like to say thank you to American University. Once you have been an eagle, you will be an eagle forever."