Social Sciences
Paul Winters: The Power of Data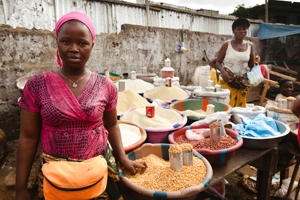 Paul Winters never meant to become an economist—until an encounter with a Nobel Laureate changed everything.
As a non-Western studies major and math minor at the University of San Diego (USD), Winters was an idealist focused on community service and changing the world. He spent his free time volunteering at the Habitat for Humanity in Tijuana, Mexico, and at Los Niños, a Mexican nonprofit that provides services for needy children.
Then he attended a lecture by Muhammad Yunus, the Nobel Prize-winning economist from Bangladesh, on the subject of microeconomics and lending money to the people who need it most. Winters realized that economics could give him a unique opportunity to use both his aptitude for math—and his idealism.
"Professor Yunus explained the economics of how he provided loans to poor women in Bangladesh and how he used social collateral to ensure that credit was repaid," he says. "I knew that if I really wanted to understand poverty and how poverty might be addressed, I needed to understand economics. I walked straight to my mother's office (she was an assistant dean at USD) and told her I was going to get a PhD in economics."
And he did. Winters went on to earn a doctorate in agricultural and resource economics at the University of California–Berkeley. After working as an economist at the Inter-American Development Bank, he returned to academia as an economics professor at American University.
Evaluating Programs, Improving Policy
Winters's current research focuses on the evaluation of development projects, rural poverty, and cash transfer programs in developing countries. He recently received two grants in support of his work to evaluate government programs across the world.
Winters is using the first grant—$106,700 from the Food and Agriculture Organization (FAO) of the United Nations—to analyze data on cash-transfer programs in Africa. He is working with FAO, UNICEF, Save the Children, and other groups to determine the effectiveness of the transfers. Oxford University Press will publish the results of this research next year. 
With the second grant— $321,600 from the Commonwealth Agricultural Bureau International (CABI), obtained in collaboration with the American Institute for Research—Winters will evaluate an innovative program in Kenya called Plantwise. The program sets up plant clinics where farmers can bring ailing plants for diagnosis.
The clinics also monitor geographic data about outbreaks of plant disease. "They are like the CDC. The plant doctors record and report the number of diseases that occur," Winters says. "Now we know if there's a new outbreak of a plant disease, and the government can respond."
Winters says that using data to evaluate the efficacy of these programs can make a real difference in terms of policy decisions. "Countries spend a lot of time and money on economic development, but they don't always know if it worked," he says. "Even if programs are effective, they can always work better. Policies can always be improved."
Real Data in the Classroom
Winters likes to bring his real-world data into the classroom. "My teaching is strongly linked to the research I'm doing," he says. "I believe in teaching students all of the necessary empirical skills, but I am also very practical. I am interested in research that is relevant, and I've found that is true of my students here as well."
He says that he connects with students at AU in other ways as well. "I am pleased with the type of students I teach here. They understand that data is power, and they have a zeal for community service and politics—just like me."