Arts
Audio Tech Student's Tools of the Trade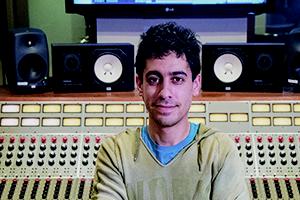 Audio technology master's student Pouria Firouzi shares his must have items.
1. Almost everything requires a cable—they are a real pain for a sound engineer. I hang them to keep them from getting tangled.
2. The Arturia KeyLab25 is a compact keyboard MIDI controller—and one of my favorite music production tools.
3. I brought five bottles of cologne with me from Dubai. Terre d'Hermès is a current favorite.
4. I'm a tea fan: green, black, almost every kind.
5. Akai Professional APC20 is a MIDI controller for Ableton Live, a software to create music. The APC20 is the link between the human and the computer.
6. I use a mix of technology in the classroom (the Apple Watch is my new toy), but pen and paper are still useful for note taking. I'm 31 years old—I'm old school.
7. You always want to record in an acoustic-treated room. The AU studio has the best mics, but I use my AKG-c3000 microphone at home to record samples and guitars.
8. The M-Audio ProFire 610 FireWire audio interface turns my laptop into a little recording studio. It allows me to use my condenser microphone anywhere I can find electricity.
9. I use my iPad as a wireless, touch- screen media controller—for either music production or DJing.
10. I listen to music with my Sony headphones. As a sound engineer, you have to accept every kind of genre, but I'm especially fond of deep house, tech house, and techno.
11. When I was in my country, Iran, five years ago, I used Windows because access to Macs was limited. But Macs are the industry standard—they crash less.
12. The Traktor Kontrol Z1 is a compact, all-in-one controller that works with Traktor software for DJing. I worked as a DJ for 10 years; now it's just a hobby.
Story appeared in the November 2015 issue of American Magazine.