Social Sciences
AU Team Wins Prize from National Academy of Medicine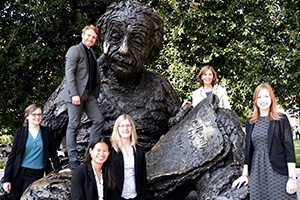 This week, a team of AU public health students won the Harrison C. Spencer Interprofessional Prize in the annual National Academy of Medicine's DC Public Health Case Challenge.
The winning team, led by AU Health Program Director Jolynn Gardener, included the following students:
Kara Suvada (BS, public health '17)
Rain Freeman (BS public health and BS justice and law '17)
Morgan Taylor (BS public health '17)
Lili Zigo (BS public health and BS psychology'18)
Michael DeJesus (BS economics '17)
The event aims to promote interdisciplinary, problem-based learning around a public health issue that faces the local DC community. Teams are given a case that provides background information on the public health problem. They must devise a comprehensive intervention, which they present to an expert panel of judges.
This year, American University competed against six other area universities: Georgetown University, George Washington University, George Mason University, the University of Maryland, Uniformed Services University, and Howard University. American University was the only team composed solely of undergraduate students.
The Challenge
The topic of this year's case was "Urban Change and Impact on Chronic Disease of Vulnerable Populations in DC."
Each team was presented with a 50-page case that explored the impact of urbanization on chronic disease in vulnerable populations in the District of Columbia. Teams were then given two weeks to devise case solutions with a hypothetical grant of $2 million over five years. Each team presented their solution to a panel of six professional judges at the National Academy of Medicine.
A panel of local judges evaluated the teams on the following criteria: analysis of problem, appropriateness/justification of solution, acceptability of solution, implementation considerations, potential for sustainability, creativity/innovation, interdisciplinary/multisectoral, and presentation delivery.
The Solution
The AU team proposed the Imagine Initiative, which focused on primary prevention. It featured a mobile farmer's market, an afterschool and summer peer mentoring program, and advocacy for community and policy change. The Imagine Initiative was located in DC's Wards 7 and 8 and formed partnerships between existing high schools and elementary schools.
"Our students' case solution preparations were incredible. They researched the issue extensively, utilizing every resource they could access in the two-week time frame," said Gardner. "They were all passionate about not only the competition, but also the issues the case presented. The strategies they recommended were comprehensive, feasible, sustainable, and thoughtful. I was honored to be their team advisor!"