Achievements
AU School of Education Students Win Scholarships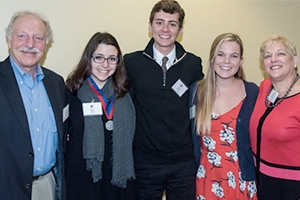 The School of Education announced the spring semester's scholarship winners, awarded to students who will become the next generation of diverse and exemplary educational professionals and leaders. 
Clara F. Londoner and David J. Londoner Scholarship
Clara Londoner (BA elementary education '63) established this scholarship to provide financial assistance to graduate students demonstrating their commitment to the field of special education—and, in particular, to art integration and teaching a diverse K–12 student body.  
This spring, the scholarship was awarded to Catherine Miller, who began studying piano at the age of five. She graduated from Wheaton College with a BA in piano pedagogy and plans to pursue an MA in AU's Special Education Learning Disabilities Program. Ultimately, Miller says she wants to explore how piano lessons can be used therapeutically for children with special needs. She hopes to write piano curriculum and open a private studio for children with learning disabilities. 
Educational Equity Scholarship
The Educational Equity Scholarship, established in 2006, provides support to students from under-represented populations pursuing a graduate degree in the School of Education. Recipients must show strong academic achievement and a record of community service. 
This spring, the scholarship was awarded to Lois Naa Merley Hammond and Kwame Gayle.
Hammond is pursuing an MA in teaching social studies at the secondary level. Hammond and her family moved in 2008 from Ghana to the United States. In 2014, Lois graduated from Methodist University with a BA in political science. After graduating from AU, she plans to teach in DC for several years before pursuing an MBA. Her dream is to build schools in Ghana.
Gayle grew up in Jamaica and graduated from Macalester College, where he completed a BA in anthropology with a concentration in African studies and a minor in American studies. After graduation, he taught English in Japan, and then became a Princeton in Africa Fellow and taught history and geography in Botswana. Gayle then returned to Jamaica and taught English as a second language (ESL) to Venezuelan engineers. He is currently a student in the International Training and Education Program. He is interested in working with international students relating to admissions and on-campus experiences. His career goal is to work as a higher education administrator and professor. 
Ganek Family Student Teacher Awards
The Ganek Family Student Teacher Awards fund was established by Lynne Brenner Ganek, a former faculty member in the College of Arts and Sciences, to support student teachers. The awards provide financial support to student teachers in the development of inventive classroom activities, lessons, projects, and experiments. This spring, they were presented to Grant Conway, Kate Landis, and Caroline Calhoun.  
Conway is studying secondary education, mathematics, and political science. He student-taught mathematics at Washington Latin Public Charter School and Alice Deal Middle School. He interned as an assessment researcher at the Center for Collaborative Education in Boston and as an assistant pedagogue at the Børnehuset Columbus in Denmark. Conway will study biostatistics next year at Columbia University. Following his graduate education, he hopes to teach mathematics and conduct research on the intersection between education and public health.
Landis graduated from AU in spring 2016 with a BA in elementary education and a minor in Spanish. Next year, she will be teaching in a DC public schools in a bilingual elementary school. Besides teaching, she loves to travel and make functional art, such as jewelry and ceramics.
Calhoun is studying graphic design and art education. This fall she will join City Year in Boston for a year of service in Boston's public schools. She just completed a year student teaching at Horace Mann Elementary School, where she worked with fifth graders to complete a mosaic wall as a graduation project. 
Tilley Scher Family Scholarship
The Tilley Scher Family Scholarship was established in 2010 by American University Trustee Peter Scher (SPA/BA '83; WCL/JD '87), and his wife, Kimberly Tilley (CAS/MA '08). The scholarship provides support to graduate students in the School of Education who are specializing in special education and learning disabilities. 
This spring, the scholarship was awarded to Emma Anderson, an AU graduate student who received a BA in elementary education and a minor in psychology at Wake Forest. She currently interns at The Lab School in DC where she teaches reading and math. Anderson recently accepted a job offer at Blessed Sacrament Catholic School in Chevy Chase, Maryland, where she will be teaching 3rd grade.
William M. Vincent Scholarship
The scholarship established by William M. Vincent (CAS/BA '95), via the Clare Rose Foundation, Inc., provides support to students enrolled in the School of Education with concentrations in special education. This spring, the scholarship was awarded to Danielle DiBari, Christina Mills, and Sarah Thompson.
DiBari graduated from James Madison University in 2012 and has dedicated the past four years to working with children as an au pair and a nursery school teacher. She is looking forward to learning how to implement creative learning environments, while exploring the research and best practices in the field of special education.
Mills is a senior majoring in elementary education with a special education minor. Currently, she is student teaching at Oyster-Adams Bilingual School. After graduation, Christina will pursue a master's degree in special education.
Thompson is a graduate student pursuing a master's degree in special education. She attended Northeastern University, where she received a BA in sociology. After working as a residential counselor and special education teacher's assistant, she earned a master's degree in counseling from Winthrop University. She plans on pursuing a career as a special educator, focusing on dramatic language arts and arts integration in relation to classroom behavior.
Congratulations to all the award recipients!