Science
Science Winning Streak Continues at AU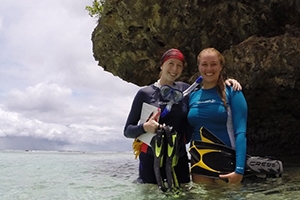 It was another banner spring awards season for College of Arts and Sciences students, who won many of our nation's most prestigious science scholarships and fellowships: the Barry M. Goldwater Scholarship, Fulbright and National Science Foundation grants, a National Oceanic and Atmospheric Administration (NOAA) Scholarship, Boren and Killam Fellowships, Udall Scholarships, and a Gilman International Scholarship.  
"The caliber of this year's recipients is exceptional, and so is the breadth of their interests," said Paula Warrick, director of the office of merit awards. She pointed out that AU students this year have won awards in areas ranging from volcanology to materials science to mangrove swamp conservation. 
"This speaks volumes to the intellectual curiosity of our students, as well as the range of topics that they are able to explore through their courses and faculty-supervised research here at American University," she said.

Tara Shreve (BS mathematics '16)
Barry M. Goldwater Scholarship
Shreve received a Goldwater Scholarship, the premier undergraduate award of its type in the fields of mathematics, the natural sciences, and engineering. Shreve plans to use the scholarship to help her pursue a PhD in geophysics, with the goal of conducting international research in remote sensing techniques and teaching at the university level. 
"Tara Shreve is a highly effective undergraduate researcher, who is both competent in her subject knowledge and comfortable extending beyond," said Michael Robinson, assistant professor of mathematics and statistics. "She is extremely motivated, and makes extremely good use of scientific opportunities that are available to her."  
At AU Shreve has been an active member of the Honors Program, Women in Science group, and the Catalyst magazine editing staff. She served as a teaching assistant in the Mathematics and Statistics Department and as a research assistant in the Physics Department. She also interned in the Global Volcanism Program at the Smithsonian National Museum of Natural History and spent the spring 2015 semester in an intensive language program in France and the summer in Germany with the the German Academic Exchange Service (DAAD). 

Starr Brainard (BS environmental science '14)
Fulbright US Student Scholar
Brainard was awarded a Fulbright scholarship, designed to promote mutual understanding between United States citizens and people of other nations. She will use the scholarship to conduct research comparing the productivity of permaculture agricultural systems to conventional agriculture systems in Alberta, Canada.  
"Academically, Starr is one of the top students I've taught at American University," said Karen Knee, assistant professor of environmental science. "What sets her apart is her sincere love of learning for its own sake, her passion for environmental issues, and her willingness to take intellectual and personal risks. Her commitment to doing high quality work without being too much of a perfectionist is an unusually mature attitude that will serve her well next year, as well as in her planned career as a landscape architect or environmental researcher." 

Susan Vulpas (MS environmental science '15)
Fulbright US Student Scholar
Vulpas won both a Fulbright scholarship and a Boren fellowship this year, and accepted the Fulbright. She will focus her work on mangrove deforestation in Java, Indonesia, where deforestation reported rates vary widely. Vulpas will work with local groups to conduct forest surveys and identify conservation hotspots. She hopes that her study will provide a scientific basis for future policy measures to conserve the coastal ecosystem.  
"I am awed by Susie. She is an intellectual sponge and is wildly curious about everything," said Kim. "She is as energetic as anyone I have known and is always up for a challenge. And when you add the fact that she is a polyglot, it's not surprising that she was selected for these awards." 
Last spring, Vulpas interned with the US Department of State in the Bureau of Energy Resources. She was a formerly a Peace Corps volunteer in Mali. 

Caroline Vill (BS biology '17)
NOAA Earnest F. Hollings Undergraduate Scholarship
Killam Fellowship
Vill received a National Oceanic and Atmospheric Administration (NOAA) Ernest F. Hollings scholarship, as well as a Killam Fellowship this year. She accepted the Hollings scholarship, which is designed to increase training in oceanic and atmospheric science, research, technology, and education. The scholarship includes an internship in the summer of 2016, where Vill will work in a NOAA lab.  
Vill has also interned at Environment America and tutored for the Mathematics and Statistics Department. She is currently conducting research on sea grasses under the guidance of Kim. "I am really proud of Caroline. She has worked really hard in her school work as well as her research in my lab," he says. "She is passionate about the environment, and with the NOAA-Hollings Scholarship, she will be able to explore the intersection between her two interests—biology and mathematics—and help develop new tools to better manage our marine resources." 
In addition, Vill will complete a Killam Fellowship in Canada at the University of Ottawa next spring. She plans use her time at the University of Ottawa to build additional research experience and deepen her coursework in biostatistics and marine biology.

Anthony Torres (BS environmental science and political science '16)
Udall Scholarship
The US Congress established the Udall Foundation as an independent executive branch agency in 1992 to honor Morris K. Udall's 30 years of service in the US House of Representatives. The scholarships are awarded annually to students committed to careers related to the environment, tribal public policy, or Native American health care.  
This year, Torres was one of two AU students who received an Udall Scholarship. He and Dyani Brown (BA public communication '17) were among 50 students across the country who received the award. 
At AU, Torres has held a number of leadership roles related to environmental justice. He was active in organizing the Fossil Free AU Divestment Campaign, and he worked on environmental justice projects in the SPA Leadership Program. He was recently selected to be a member of the SustainUS youth delegation to the UN Climate Change Treaty Negotiations in Paris and an inaugural participant for the US Contemporary Institute of German Studies (at Johns Hopkins University) Transatlantic Exchange Program.  
"Anthony's record of involvement and leadership on environmental issues displays a clear sense of commitment and purpose," said Joan Echols, associate director of the AU Office of Merit Awards. "He is informed and articulate on climate change and energy issues and how these intersect with environmental justice." 

James Schwabacher (BS chemistry '15)
NSF Graduate Research Fellowship
The National Science Foundation's Graduate Research Fellowship Program recognizes outstanding graduate students in NSF-supported science, technology, engineering, and mathematics disciplines who are pursuing research-based master's and doctoral degrees. 
While at AU Schwabacher took on multiple research projects, working in campus labs and National Science Foundation-funded Research Experiences for Undergraduates in Germany and Louisiana. This research built his resume as a scholar of nano-scale objects. 
"James is already developing his profile as a scholar in a way that is mature and forward thinking," said Matthew Hartings, assistant professor of chemistry. "By the time he wrote is NSF proposal, he had a very coherent vision for how to best continue his training as a graduate student. More than anything, I think that the NSF award panel recognized James's foresight and vision for his scientific future."

Science Award Winners and Runner-Ups 
Jessica Balerna (BS environmental science '17), Udall Scholarship Honorable Mention 
Meaghan Cuddy (BS environmental science '15), Fulbright US Scholar Finalist 
Natalie Konerth (BS applied mathematics '17), Goldwater Honorable Mention 
Chenoa Lee (BA international studies and environmental science '15), Congressional Bundestag, Congressional Black Caucus Scholarship, Gilman Scholarship 
Valerie Rennoll (BS audio technology and physics '16), Goldwater Honorable Mention 
Jennifer Verniero (BS mathematics and physics '14), National Science Foundation Graduate Research Fellowship Program 
Eric Vignola (BS computer science '17), Killam Fellowship 
Susie Vulpas (MS environmental science '15), Fulbright US Scholar, Boren Fellowship, Critical Language Scholarship