Research
AU Students Researching Nutrition at DC Public Schools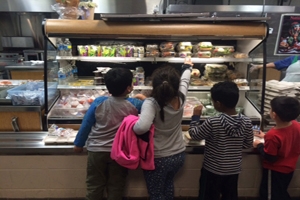 Nutrition in US public schools is a tricky subject—even when schools do provide healthy options, students often reject them. But now Anastasia Snelling, professor and associate dean in the School of Education, Teaching, and Health at AU, is determined to solve this problem—with the help of AU students. 
What You Bring To The Table
Snelling's latest nutrition research project, funded by the US Department of Agriculture's Economic Research Services, focuses on vegetable consumption in 12 public elementary schools in Arlington, Virginia. 
Snelling has enlisted 23 undergraduate and 9 graduate students to help collect data from school cafeterias. "The students come from multiple disciplines," she says. "Many are majoring in public health and health promotion in the College of Arts and Sciences, but others come from the School of Public Affairs and the School of International Service. The degree is less important; what is critical is a person's ability. We will train you to do what we need as long as you have the capacity to work independently, demonstrate attention to detail, and to be reliable." 
In The Field
The AU student data collectors are positioned next to the trash cans at each elementary school during the lunch period. After the elementary students finish their food and carry their trays to the cans, the data collectors use a phone app to record the fruits and vegetables that were consumed, partially consumed, or left untouched. 
"It's a great opportunity for the students to learn about this type of independent research, data collection, and the responsibility they have, not just of representing AU, but of collecting data that will be used for answering research questions on the best approach for encouraging healthy food options," Snelling said. 
Snelling believes this research has the potential to provide not only important data, but also a valuable experience for the students involved. "It's a lot of responsibility," she says. "They are collecting data that will be used to answer the specific aims of the study. We have a great group of students, and we have entrusted them to be a part of an important research study. They have to think on their feet when they go into the cafeteria."
To Yasha Ghamarian (MS health promotion management '16), the study research assistant, the experience is a unique one. "You learn to work with a partner and with a team, and how to manage and organize data," he says. "The lunch monitors at my school would move the trash cans all at once, and it was really hard to record the data. So I told them about our research, and when they realized we were doing this for a good cause, they were more than willing to work with us."
Ghamarian says that he and his fellow data collectors have already gained valuable experience. "For many of the students, it's their first time out in the field. During the interview process, it was clear to see how passionate and interested they were in becoming part of this study. I can see some of these students doing something related to this research in the future."
Making a Difference
"Students are very interested in community," said Snelling. "It's a very different generation of students. At age 18, 19, 20, they see themselves working in grassroots efforts. They want to make a difference in a community, and this is that opportunity." 
Ghamarian agrees. "I go to the cafeteria manager before and after every lunch period and thank her for all the extra work she's doing," he says. "In the end, we're all trying to do the same thing, which is to encourage kids to eat healthier in order to reduce childhood obesity and improve overall health." 
AU Data Collectors:
Jen Fields: MS health promotion management '16 
Rohit Bangera: MS health promotion management '16
Sierra Adami-Koll: MS health promotion management '16
Kirstie Breland: MS health promotion management '16
Yasha Ghamarian: MS health promotion management '16
Elizabeth Brandley: MS health promotion management '16
Annessa Bontrager: MS health promotion management '15
Samantha Pavlofsky: MS health promotion management '15
Massa Cressall: MS nutrition education '16
Megan Niegisch: BA public health '15
Laura Barros: BA public health & communication studies '17
Juana Cerna: BS public health '15
Carly Brand: BS public health and health promotion '15
Claire Woosley: BA public health '15
Sarah Moravec: BS public health & international studies '16
Yasmine Yaiche: BS biology '16
Iraj Masud: BS public health '15
Emily Derbyshire: BS health promotion '18
Emily Meyer: BS health promotion '16
Nathan Herman: BA justice and law, secondary education '16
Carey Wolford: BA American studies and education '16
Sunny Massa: BA justice and law, health promotion '17
Brianna Bond: BS health promotion '16
Brittany Rosser: BAelementary education '16
Alexandria Abdalla: BA philosophy '17
Eric Tagliaferre: BS economics and applied mathematics '16
Taylor Hill: BA international studies '18
Pierre Deliso: undecided '17
Gar Meng Leong: BA political science '15
Michael Eyerman: BA communications, law studies, economics and government '16
Isabella Cassinelli: BA psychology '16
Zoey Kim: BA psychology '16
Rose Kehoe: Adjunct Faculty at AU
David Ambrose: Adjunct Faculty at AU