International
Giving Back to the International Community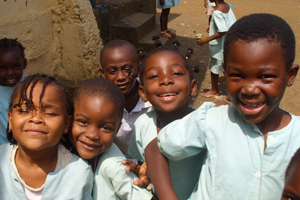 When Caitlin McGee and Amanda Malamut, international training and education MA '12, spent a semester abroad in Equatorial Guinea their junior year at Arcadia University, most of their classes as international studies majors were at night. They needed something to keep them busy during the day, so they volunteered with a friend at a local school as teachers' aides.
But when they showed up at the school for their first day, it was clear that they were in for much more than a supporting role. "The teacher said, 'Oh good, you're here!' and then left," says Malamut. "We had 50 Spanish-speaking children staring at us. The teacher eventually came back and asked if we'd taught the class English yet. We were told that we didn't need to come back if we weren't going to teach English, so throughout the weeks we made up lesson plans."
After a few weeks, McGee and Malamut planned to make Christmas presents with the kids, specifically colorful paper flowers. When McGee and a friend went to the local paper store, they were only able to find a small pack of colored paper that cost the equivalent of $40. They turned to their friends in the United States and asked them to send paper and supplies so they could carry out their flower project.
They spent hours cutting out flower shapes in different colors and brought them to class. The students were beside themselves with excitement and disbelief. "This little girl tapped me on the arm and said, 'I've never seen colored paper before. And we've never, ever been allowed to choose what we want,'" says McGee. "This started to get the wheels turning in our minds."
At the end of their semester, one of their students said that because they were white, they'll leave and it wouldn't make any difference. "If we needed any sign that we should be doing something, that was it," says Malamut.
When they came back to the United States, they started visiting local schools and doing presentations on what it is like to grow up and go to school in West Africa, and they organized a couple of school supply drives, but they weren't sure what they were doing or where they were going with it. "One day, we were in a first grade classroom and a little girl said to us, 'We have so much and they have so little. Why don't we do something?' Her teacher said, 'You're too young to make a difference. Wait until you're older.' And we realized that's why we're doing this, and it evolved from there," McGee explains.
While still undergraduates at Arcadia, McGee and Malamut started a nonprofit organization called Simply Equal Education to show young people that they can make a difference in the world, and that even the smallest action can have a big impact. They continue their presentations in schools, and they help kids design projects like school supply drives to help students in Equatorial Guinea. "We had a kindergartener who collected 500 pounds of school supplies," says McGee. "And we've sent just over a ton of supplies to schools in Equatorial Guinea so far."
The two even arranged a partnership with Marathon Oil's head of social responsibility to support the shipping needs of the organization. "Equatorial Guinea is the only country in the world that has its capital on an island, so it's small. We became friends with the Marathon Oil representative while we were there," explains Malamut.
Getting a major company to agree to ship school supplies for free from the United States to Africa would seem like an almost impossible undertaking to some, but not to McGee and Malamut. "We just didn't think he'd say no, so we kept asking for more," says McGee. "He agreed to pay for shipping from our location in Philadelphia to Marathon's United States shipping headquarters in Houston to Equatorial Guinea, and he said they'd deliver the supplies to the schools and take pictures. People have told us how huge that is, but that just never crossed our minds."
When it came time to make plans for what they would do after graduation, the two found they were both considering AU for grad school. McGee was coming to an ITEP open house, and Malamut asked if she could ride down with her. "I was thinking more of a development track, and I was going to check out SIS," says Malamut. As it turned out, SIS wasn't having the open house that she thought, so she tagged along with McGee to the ITEP overview. "After the orientations, I had a revelation—education and international studies? I didn't know what I wanted to do exactly, but I knew this was a perfect combination."
In addition to the international training and education (ITEP) master's, McGee is pursuing a nonprofit management certificate. Blending her ITEP and certificate studies has been beneficial to furthering Simply Equal Education, the nonprofit she and Malamut started four years earlier. "For my capstone, I'm designing a new service learning exchange program for Simply Equal Education, and, through ITEP, I've learned how to create the program and keep it sustainable," she says.
While in the MA program, Malamut has found that she can reach out to current ITEP students and alumni for help with the nonprofit. "There are people in our cohort who are good at grant writing, and that's not a skill I've developed, so they've offered to help," she says. "And there have been a couple of events where we've gotten really great grant ideas from alumni."
Juggling full-time course load in ITEP, working full-time jobs to pay the bills, and then working full time for the nonprofit can sometimes flag their energy. "But whenever either one of us feels like we're getting worn out, we play videos from the last day we were in the school in Equatorial Guinea, and we're reminded why we're doing this," says Malamut.
No matter how little sleep they get, they're determined to keep their nonprofit moving forward—they're planning a trip to Equatorial Guinea after graduation to expand their network of schools. "We left a part of ourselves there," says McGee. "That is why we do this. It's because of these kids."
Teachers interested in a presentation in their classroom or school by Simply Equal Education should contact Caitlin McGee or Amanda Malamut through their website.