Education
School of Education Launches Dual Enrollment Program for DC Students AU opens doors to first cohort of future teachers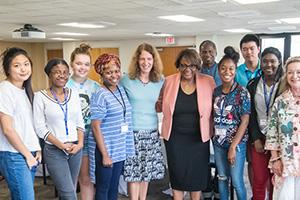 American University's School of Education (SOE) has officially welcomed its first cohort of DC high-school students to the new Dual Enrollment Program, a partnership between SOE and District of Columbia Public Schools (DCPS). The program offers students a pathway to take college-level education courses at American University during their senior year in high school. At the same time, it promises to produce future teachers for the Washington school system.
"We are thrilled to welcome our first cohort of eight extraordinarily talented DCPS 12th graders," says Cheryl Holcomb-McCoy, dean of AU's School of Education. "I am impressed by their passion for education, and I'm excited about the prospect of training them to be teachers. With looming teacher shortages and sharp declines in the number of teachers-of-color, this program has the potential to supply DC with a pipeline of new diverse teachers."
Future Teachers
The program was carefully designed with the intent of preparing future educators. It will introduce teaching as a career option, enable high-school students to accrue early college credit for education degrees, and create a ready-made pipeline of prospective teachers for DCPS. During their senior year, the students can apply to the School of Education to earn a four-year degree in teaching at American University. After graduation, they can pursue teaching opportunities at DC Public Schools.
"We believe that we can recruit new teachers by introducing teaching as a profession early in a student's career development," says Holcomb-McCoy. "In addition, by creating a career pipeline to a local district (such as DCPS), with supports, the perception of being 'isolated and unprepared' are diminished. And, building upon students' commitment to their own community is key."
At AU, students will form a tight-knit cohort and take classes together. They will take one education class each semester, along with SOE students, and they will earn high-school and college credits. In their classes, they will engage in important conversations and assignments about the history of urban education, the challenges of educating an increasingly diverse student population, and new ideas that show potential for increasing learning outcomes of K-12 students.
This fall, the cohort will take Education 205: Schools and Society, says Toks Fashola, program faculty coordinator. This social and intellectual foundation course serves as a basis for studying contemporary education and the issues of racism, sexism, finance, governance, innovations, and the social context of American education.
Orientation and President Sylvia Burwell
The first cohort attended orientation at AU this week. They spent the day on campus, taking tours and learning about college life and all the resources offered by the university. They also had the opportunity to meet Sylvia Burwell, American University's first female president, who encouraged them to use their time at AU to explore their interests and passions.
Burwell told the students that she wants to create a deeper connection between American University and the local DC community. "I'm so excited about this endeavor," she said. "It's a really exciting place for us to engage." She added, "We are going to focus on education for the District, and you are all an important part of this."
College Coursework, College Experience
The students said they are excited and ready for the challenge of college classes. "When I heard about this program from my counselor, I was very interested because it's such a good opportunity to learn about college and what it's really like," said Karla Ascenio, a rising senior at Cardoza High School who is interested in becoming a mathematics teacher.
Ethan Yafet from Woodrow Wilson High School agreed. He first learned about the program from a teacher and other students. "I thought it would great exposure to a college campus and college-level classes," he said. "I've never considered education before, and this is a great way to explore it."
For Raegan Crowe, a senior at Woodrow Wilson, American University is a familiar place. She attended a weekly reading program at AU when she was just four years old. Now, almost 14 years later, she's part of the inaugural cohort. "I'm very excited to take college classes and get exposure to the college experience at American University," she said. Crowe just completed a six-week summer STEM camp and says she is interested in exploring engineering and other STEM fields, in addition to education.
For all of the students, the orientation provided an overview of campus life, study tips and resources, and advice for success at the university level. When Holcomb-McCoy asked the students about their takeaways during the day, the group had their answers ready: Follow your passions, seek out faculty when you need help, focus on new ideas, find your community, and ask questions.