Technology
STEM Students + Distance Resources = Success!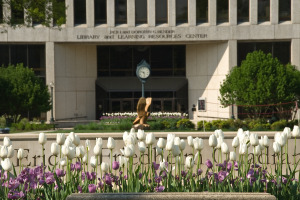 STEM research and study can take you all around the world. We in the Library understand that running over to Bender to pick up a book or ask a question may not be feasible for days or months at a time. But that doesn't mean we aren't still here for you. Distance resources allow you to access materials such as data, literature, and peer-reviewed research, as well as services such as research assistance and interlibrary loan while you are away. Whether you are working in a lab overseas, across town, or through the night, taking online classes, or looking to learn a new skill, the Library's distance resources bring our materials, service, and expertise to you. 
Here are 7 terrific ways to get started: 
1. Electronic Books & Journals 
Let your fingers do the researching with the Library's collection of digital resources. No matter where you are spending your semester, internet access is all you need to utilize the Library. Just use the Search Box on the Library homepage, limit to full text online only items and let the research begin. 
2. Subject Guides 
The abundance of available electronic resources and search engine results can be overwhelming. Librarian-created subject guides (http://subjectguides.library.american.edu) take the guesswork out of finding reliable resources for your topic. These guides will lead you to some of the best material in your subject area, saving you time and effort. Additionally, because research experts vet these resources, the materials are trustworthy and up to date.  
3. Online Tutorials 
Visit the Library website for online tutorials on a wide range of topics, including citation management programs, developing research skills, working with Google Scholar, creating a literature review, and formatting a dissertation or thesis. You can always stop by the Library for in-person assistance as well at the Research Assistance Desk on the 1st Floor of Bender Library.  
4. Distance Research Assistance Services 
We provide distance research assistance services in a variety of ways, allowing you to choose the method that is most convenient for your schedule. Subject Specialist Librarians have expertise in specific fields and can help with the most challenging research questions. The Ask-A-Librarian webpage is the starting point for getting online research assistance.
Chat online with librarians or text a question from a cell phone to (571) 766-6349.
A phone call to the Research Assistance Desk is another option for quick questions: (202) 885-3238.
For more involved research questions, email research@american.edu—the librarian on duty will be able to research an answer or refer it to the appropriate subject specialist.

5. AU Library Knowledgebase 
New and Improved! Find answers to Library questions in the newly updated searchable FAQ database. Topics run from basics like finding a book - to more complex topics, like accessing statistical datasets. With answers to almost 400 questions, the FAQ database is a great place to start. If you cannot find what you are looking for, there is also a form to submit your own question.

6. Article Request Services (CLS & ILL)
You probably already knew that the Consortium Loan Service and Interlibrary Loan are great ways to get your hands on materials that AU does not own. Did you know that when you request articles and book chapters through these two services, the material that you need is scanned and sent electronically via your My Library Account portal? This paperless article and chapter delivery service is convenient and green.  
7. Lynda.com
Learn new skills with this on-the-go resource! Perfect for the self-guided student, the Lynda.com Online Training Library courses include such subjects as Photoshop, Dreamweaver, project management, education training, Web design, and public speaking. There are even tutorials for learning to play the guitar - or ukulele. More than 2,500 courses are available across a range of subjects and ability levels. To log in, use your AU network username and password, rather than your My Library Account credentials.  
With so many ways to access Library materials and resources, it is easier than ever to achieve your research and learning goals.