Science
AU Students Win Prestigious Chemistry Award Sarah Burkhard and Cassidy Hart honored by the Chemical Society of Washington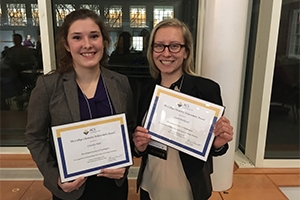 Women have been making huge strides in the science world for centuries, and American University women are no exception. Seniors Sarah Burkhard and Cassidy Hart have been chosen for the College Chemistry Achievement Award by the Chemical Society of Washington. The award annually recognizes outstanding scientists in the District's universities, and Burkhard and Hart were selected from among hundreds of students to receive this honor.
AU's Department of Chemistry is characterized by one-on-one faculty-student relationships, working toward the goal of equipping students to conduct independent research and discovery. Burkhard and Hart have done just that, says Shouzhong Zou, department chair. Burkhard has been interning at the Institute for Science and International Security, and Hart has already published a paper in the Journal of Inorganic Biochemistry. She has several other papers in the works.
"Like many of our high achieving students, Sarah [Burkhard] and Cassidy [Hart] transformed from knowledge receivers to knowledge producers," said Zou. "They are both persistent, proactive, and self-driven."
What stands out about Burkhard and Hart is not only their knowledge of chemistry, but also their passion for the field. Both women understand chemistry's meaning beyond that of the scientific world. Burkhard sees the art in it. "I love that chemistry is creative destruction in the most natural, purest form," she says. "In that respect, chemistry can teach you a lot about life—both scientifically and philosophically." 
Hart says she is inspired by the process of laboratory work. "I love the puzzle of chemistry and the creativity that is used in the lab. Chemistry is about solving problems using the tools you've learned in classes, but it's also about using these tools in new and different ways."
Both students acknowledge the lack of gender diversity in STEM (science, technology, engineering, and mathematics) fields and the importance of fostering the education of young women in these fields. "Diversity is just as important in the sciences as it is in any other field," Burkhard said. "With Marie Curie leading the way as the first female Nobel Prize winner more than a hundred years ago, before women were even granted the right to vote, science was one of the first fields to acknowledge that only talent and devotion truly matter; nothing else."
Hart adds that being a woman in science means being a role model for younger women. "I hope to continue to see women joining STEM fields," she says, "and I think one of the best ways to do that is to provide opportunities for them to learn about science when young."
Both women credit the Department of Chemistry for encouraging young scientists like themselves. Hart says, "I appreciate the size of the department because it has allowed me to get to know many professors and students. I believe this camaraderie is incredibly important in science, because science often involves collaboration and teamwork."

Burkhard also appreciates her relationships with department members as an integral part of her development as a scientist. She says, "What I appreciate the most is the faculty and staff. Professors Fox, Costanzi, Hartings, Zou, and Girard guided me through quantum physics, spectroscopy, and beyond."
With such an engaged Department of Chemistry and such talented female scientists at AU, more discoveries and awards are surely in the near future.