Literature
The Visiting Writers Series: Thirty-seven Years of Literary Inspiration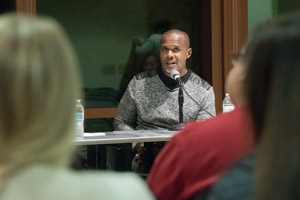 Over the past 37 years, hundreds of renowned writers of poetry, fiction, and non-fiction have shared their work at American University through the university's Visiting Writers Series. Established in 1981 alongside the Creative Writing MFA Program, the series gives students, faculty, and members of the DC community a chance to meet emerging and established writers, hear them read from their works, and discuss the creative process.
A combination of good- will and connections has paved the way for visits from a rich array of writers: Beat poet Allen Ginsberg and former US poet laureates Billy Collins and Robert Hass; Pulitzer-Prize-winning novelists Michael Cunningham and Edward P. Jones; National Book Award winners Tim O'Brien, Jacqueline Woodson, and Alice McDermott—and dozens more. While at AU, the visiting writers host a Q&A session and public reading of their works. All events are open to the public, giving students and community members an opportunity to engage in dialogues with some of the most innovative writers of our time.
In his 29 years as director of the Visiting Writers Series, Professor of Literature Richard McCann has welcomed many writers to AU's campus—including two of his literary idols. "The two great gods for me were Grace Paley and Tillie Olsen. It was vast good fortune, not just for me but for the MFA students and faculty, to have these two loving and august presences among us," he said.
McCann fondly remembers Olsen's sense of humor. One of her best-known short stories, "I Stand Here Ironing," depicts a mother ironing clothes while reflecting on her relationship with her daughter. During Olsen's visit to AU, McCann recalls stopping by her hotel room. Olsen had set up the hotel ironing board in her room and plugged in the iron. When McCann entered the room, she looked up and said, "I stand here ironing!"
"I loved her very much as a person; she was just terrific," McCann said.
One of the Visiting Writers Series co-directors is Associate Professor of Literature Rachel Louise Snyder, an accomplished journalist and novelist herself. She has attended dozens of author events over the years, but says she'll never forget the night Delicious Foods author James Hannaham visited AU. "He came just this year, the day after the elections," Snyder recalled. "It was memorable because regardless of what side you were on, it was a shocking day. I've been to almost every event in the seven years I've been here, but that was a singular night because it was so highly charged, highly emotional."
Snyder noted that while some at the event felt overjoyed with the election results, others, including Hannaham, were upset. "I think there was space in the room for all of that," Snyder said. "There was this feeling like, this is what writing can do, what writing can offer us—a place to go when the world is very confusing and very overwhelming. It was a palpable reminder of the place that art has in our lives."
As for Kyle Dargan, award- winning poet, associate professor of literature, and director of AU's Creative Writing MFA program, there's no single memory of the Visiting Writers Series that stands out above the others. "Having major figures such as Rigoberto González and Terrance Hayes and Claudia Rankine come makes it hard to pull out one particular moment," Dargan said. "It has been an embarrassment of riches that we hope to continue somehow in Richard McCann's absence."
The 2016-17 series marks McCann's last year as a director of the series, and Snyder's first. Both Snyder and McCann view the series as an exceptional opportunity for MFA students to hone their craft and shape their literary careers.
"To me, the Visiting Writers Series is sort of the backbone of the MFA program, because it's an up-close view of the practitioners of our craft," Snyder said.
"Most people, including myself, don't grow up with an idea of a writer's life," McCann noted. "I think it's incredible for MFA students who wish to pursue this art to encounter and come to know practitioners who are living the life of a writer."
For MFA poetry student Jordan Bissell, the Visiting Writers Series has proven an invaluable resource for her studies of literature and creative writing.
"The series gives me the opportunity to connect with poets on a more intimate level," Bissell said. "I now have the unique understanding of how Ada Limón's reading tone informs the interpretation of her poetry, and the way Adrian Nicole LeBlanc's grueling pre- book research process enhances the emotional impact of her nonfiction work."