Alumni
The Road to Broadway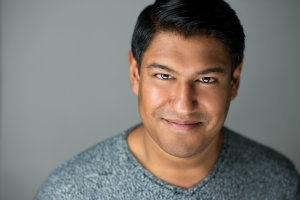 When Vishal Vaidya auditioned for his first role—a spot in his 7th grade school play—he had no way of knowing he would one day land a performance in Broadway's newest hit show Groundhog Day. A lot has changed for the AU alum since then, but one thing has stayed the same—his love for musical theater.
Vaidya didn't waste a moment of his time at American University. In between taking classes for his double major in musical theatre and international relations, Vaidya performed in plays both on and off campus, studied theater abroad at the American University in Cairo, and even sang the national anthem at former President Barack Obama's 2010 speech on AU's campus. After graduating, Vaidya performed on some of DC's most well-known stages, including the Kennedy Center and Ford's Theatre, before moving to New York City in 2012.

Vaidya auditioned for hundreds of shows over the past few years, but Groundhog Day stood out for him. Much of the creative team behind the musical—including director Matthew Warchus and composer and lyricist Tim Minchin—previously worked together on Matilda: The Musical.
"When I saw Matilda, I was floored by how quick-paced and witty and honest and evocative it was," Vaidya said. "So I really wanted to get seen at the Groundhog Day audition."

Groundhog Day is based on the 1993 movie of the same name, and follows weatherman Phil Connors as he covers the annual Groundhog Day event in Punxsutawney, Pennsylvania—and gets stuck living the same day over and over again. Vaidya landed an ensemble role as Phil Connors' cameraman, Larry.

For Vaidya, the best part of the show has been getting to work with the cast and crew. "The cast and the people on the other side—the music director, the director, the stage management team—are all good-hearted, smart, and work really hard," Vaidya said. "The show itself is good, the music is incredible, it's funny— but it also comes from a real place of honesty and heart. I think the people are the most rewarding part of the show. That's why I love theater so much."

According to Vaidya, his professors at AU provided him with the training necessary to take on his role in Groundhog Day. "I was lucky to have an incredible voice teacher in the Department of Performing Arts, Doug Bowles, who really guided me and set my voice free," Vaidya said.
He also credits AU Assistant Professor of Performing Arts Cara Gabriel with inspiring him to take risks as an actor. "Theater is a vulnerable thing. You're put on the spot, and you have to be honest and open, and that's difficult," Vaidya said. "But [Gabriel] does a great job of getting people to do that without it seeming like it's an overwhelming or hard or scary thing. When I was at AU, I did four different shows with her, and each time I learned something about myself and about my form. She shaped how I view performing and how I approach every show."

For AU students considering a future on Broadway, Vaidya notes that while theater is a tough industry, it's also rewarding. "I would encourage musical theater students to keep studying—the studying never really ends, so keep learning, figure out what inspires you, and keep nourishing that," he said. "Be good to your peers, your colleagues, the people you work with, and lead with love."