Alumni
Where Are They Now? Alumnus Matthew Barresi MS health promotion management '11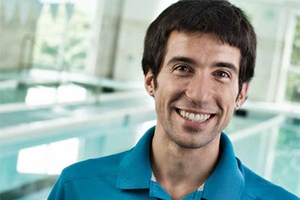 We've asked alumni from across the College of Arts and Sciences to check in with us and let us know what they're doing now. The first in the series is health promotion management graduate Matthew Barresi.
What are you doing now?

Currently, I serve as the fitness and aquatics supervisor at Westminster-Canterbury of the Blue Ridge (WCBR), a continuing care retirement community in Charlottesville, Va. Our 400-resident community is home to seniors from ages 65 to 102. They may live independently here, or in assisted living, or with nursing care, or in our memory care unit. In my role, I oversee the operations and staff of our 16,000-square-foot Fitness and Aquatics Center, where we host group exercise classes, personal training services, and wellness initiatives to help our residents of all ages, fitness levels, and living situations to maintain and improve their health as they get older.
What is the most challenging part of your job?

The most challenging part of my job is promoting, nudging, and encouraging health behavior change in a population whose behaviors and habits have been established for 60, 70, 80, 90, and even 100 years. I work with a population that did not grow up with access to the same research that we have available to us now about the importance of staying active and following a healthy diet for all ages. Nor did they grow up participating in structured exercise programs. That presents me and my team with the challenge of encouraging involvement in fitness programs for many people who have never taken part in structured, intentional physical activity—what we call exercise.
What is the most rewarding?

The most rewarding part of my job is being in a position where I can serve others. The residents at WCBR exercise so that they can live longer, healthier, more functional and independent lives. Even though they are retired, many of them still work and serve others in and around Charlottesville. In my role, I am blessed to get to help them be fit enough to continue contributing towards making WCBR and Charlottesville great communities.
How did AU help you get here?

AU helped me get to WCBR by encouraging me to put knowledge into practice. The Health Promotion Management Program presented me with so many opportunities to bring what I was learning in the classroom into real, professional situations. This was everything from teaching group exercise classes to designing, implementing, and analyzing health promotion programs. I was able to learn the skills to do these things by working with my professors and then being challenged to apply them successfully with real subjects and circumstances – often involving AU faculty, staff, and students from across the university.
Any words of advice for current students?

Find a way to serve others through whatever they are studying or wherever they find themselves working. In my role at WCBR, I am able to connect with people and truly have an impact on how they are going to feel and function each day, week, and even the last years of their lives. It is such a blessing and an honor to be in that position. My advice to students is to seek out the opportunities where they can experience these same joys.