Student Life
Island Matitude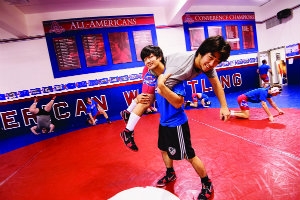 David Terao stands just five feet five, and at age 22, he's unlikely to hit another growth spurt. Yet he still dreams of one day reaching six feet.
That's the size of the photo of Josh Glenn, AU's 2007 national champion wrestler, which now looms large over the wrestling room in Jacobs Fitness Center. As part of the facility's rebranding, annual team pictures line three walls, and large display boards list the Eagles' All-Americans, conference champions, and high academic achievers. The room's new look provides current student-athletes, including Terao, CAS/BS '16, and his younger brother Josh, CAS/BS '18, with something to look up to, literally and figuratively.
"It gives alumni a place to come back to and feel like they're part of a team," says Coach Teague Moore, who's entering his fifth season. "For the guys on the team, it gives them a great roadmap of where they should be aiming. Everyone should want to have a big six-foot photo of themselves in the room."
They have the ability to be national champions. It comes down to how much work they want to put in.
Few wrestlers have ever taken a more circuitous path to AU than the Teraos, who grew up in Honolulu, Hawaii. After David (pictured in blue) proved a little too chippy for soccer ("I was always getting in fights, for some reason," he says), his parents started him in judo. He began wrestling in high school, and his brother-begrudgingly- followed suit.
"I really didn't want to wrestle because I thought it was lame-I didn't like the singlets at all," Josh, 19, says. "But I started liking it because I could use my judo throws."
Their diverse backgrounds (David also knows some Brazilian jujitsu) have proved invaluable at the collegiate level.
"One thing I noticed quickly with David was he was really comfortable in positions where most wrestlers don't ever want to be, which is standing upright, pulling their opponent into them," Moore says. "His ability to use that to his advantage and get big throws or just take his opponents out of their comfort zones is special."
David won a school-record 39 matches last season and qualified for the NCAAs. This year, his sights are set squarely on becoming a national champion. Josh, who wrestles at eight pounds heavier, will follow up his solid freshman season (he placed sixth in the conference) by redshirting while he rehabilitates a shoulder injury.
"It's been really fun watching these guys grow," Moore says. "Their background is just different, and youth wrestling is not as big in Hawaii as it is in the continental United States, but they have embraced that challenge. They have the ability to be national champions. It comes down to how much work they want to put in."
David's resigned to the fact that at least physically, his growing days are mostly over. But his goals remain lofty.
"Conference champion, academic All-American, and national champion," he says when asked about them. "I'd love to have a six-foot picture of me on the wall."
Story appeared in the November 2015 issue of American magazine.