Center for University Excellence
4400 Massachusetts Avenue NW
Washington
,
DC
20016
United States
Through empirical research, cultivated research networks, experimental interventions, and public engagement, the Center for University Excellence (CUE) generates knowledge intended to shape both institutional reforms and national and global conversations about the role of higher education and knowledge production in democratic civil society.
Polarization and Extremism Research and Innovation Lab (PERIL)
PERIL brings the resources and expertise of the university sector to bear on the pressing problem of growing youth polarization and extremist radicalization. Through partnerships, funded research and evaluations, and out-of-the-box design thinking, PERIL empirically tests scalable research, intervention, and public education ideas to reduce rising polarization and hate. What works best to increase youth empathy and cross-cultural understanding? How can media literacy training be made more effective? What intervention approaches work best with youth or with parents, teachers, college advisors and other adults to reduce radicalization and build resilience to extremist narratives? These and other questions are at the heart of PERIL's work across the ideological spectrum. We connect innovative academic expertise with the public.
Learn More
Selected Books
Cynthia Miller-Idriss, The Extreme Gone Mainstream: Commercialization and Far Right Youth Culture in Germany (Princeton University Press)
Cynthia Miller-Idriss, Seeing the World: How US Universities Make Knowledge in a Global Era (Princeton University Press, with co-authors Mitchell Stevens and Seteney Shami)
Cynthia Miller-Idriss, Gender and the Radical and Extreme Right: Mechanisms of Transmission and The Role of Educational Interventions (Routledge, with co-editor Hilary Pilkington)
Cynthia Miller-Idriss, Blood and Culture: Youth, Right-Wing Extremism and National Belonging in Contemporary Germany. Duke University Press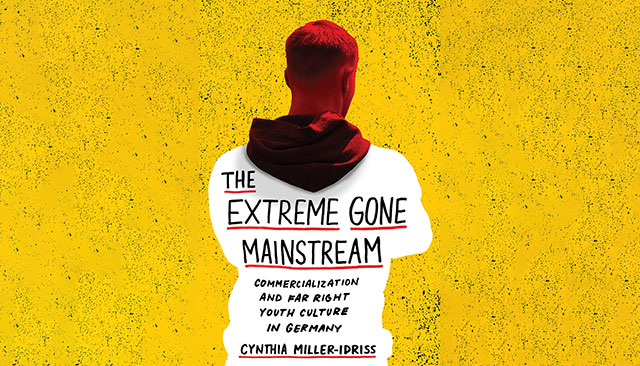 The Extreme Gone Mainstream
Cynthia Miller-Idriss' book examines the commercialization of extremism in far right German youth subculture.