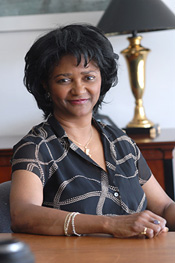 When applying to law school, Jacqueline Jackson, WCL/JD '74, looked for a small university located in her hometown of Washington, DC. She found it at American University's Washington College of Law, where she received a full scholarship.
"The Washington College of Law was not like some of the other schools in the area, where it was all about competition," said Jackson. "The whole idea was to help you get what you needed to learn and succeed as a lawyer." After two summers working at area law firms and federal agencies, she gravitated towards government and tailored her coursework accordingly. "I received a firm foundation in the most important skill, legal writing," she recalled.
Jackson went on to work at the Department of Treasury for 33 years. Throughout her career, and into retirement, she has continued to give back to her alma mater. She has served on the Dean's Advisory Council, co-founded the WCL Black Alumni Association, and sustained her annual giving for nearly four decades. "I have appreciated seeing how the law school has expanded through the years," said Jackson, who donned a hard hat for the Tenley Campus groundbreaking. "There has also been a growth in international studies and other programs. Many of these are now among the top in the nation."
Recently, Jackson established a bequest to provide scholarship funds for well-qualified candidates, especially African Americans, women, and those serving those communities. Scholarships like this are a key component of the Change Can't Wait campaign, which seeks to promote a diverse, inclusive environment where all students can thrive.
"I have seen law students graduate with exorbitant student loan debt that I was fortunate enough to avoid. This is my way of paying forward. I am a Black American female, and I want to continue to help law students who share common ground graduate successfully," said Jackson.
In the early 1970s, black students at AU pushed for greater visibility and inclusivity—and they made inroads. The Organization of African and Afro-American Students at American University (OASATAU) united students in common purpose, and in 1971, they created a newspaper and radio program.
When Jackson began law school in 1972, out of 450 law students, there were three black students in the third-year class, six in the second-year class, and 12 in her first-year class. Since then, there have been significant increases. "It was a matter of going from there," said Jackson, who helped form WCL's nascent Black Law Student Association (BLSA). "My class started doing things. We went to conventions, held meetings, and hosted the first alumni reception." Now the BLSA organization at WCL boasts over 6,600 members and was named the top Mid-Atlantic chapter for two consecutive years.
Jackson's efforts on behalf of WCL students and alumni continues. She helped establish and continues to work with the Black Alumni Association (BAA), and for more than 30 years, she has hosted the annual BAA reception in her home. "It's an opportunity for students to converse with alumni, professors, and administrators in a social setting and get advice on how to successfully negotiate law school." After years of building community, Jackson is working with younger alumni who are "interested in carrying the torch and continuing these efforts."
"I loved going to the Washington College of Law," she said. "What limited resources I can now provide, I am happy to do so." Through her leadership and legacy, Jackson is ensuring a bright future for WCL students and alumni.
Support Change Can't Wait by making a gift to the Washington College of Law today.