Community Relations
4400 Massachusetts Avenue NW
Washington
,
DC
20016-8033
United States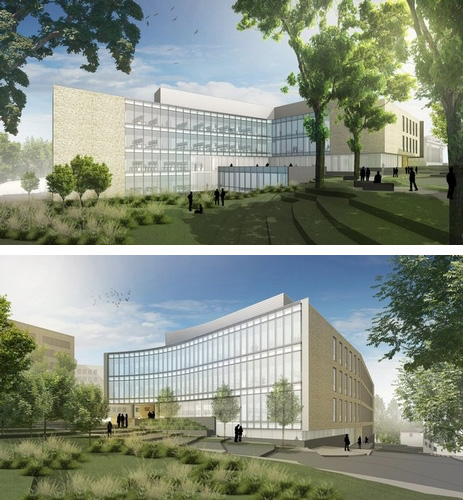 Work will commence soon on AU's new Hall of Science, a three-story, 95,000 Gross Floor Area (GFA), state-of-the-art facility that relocates the university's biology, environmental sciences, chemistry, and neuroscience departments to a modern, centralized location. By bringing together these programs, the project will foster collaboration across various disciplines through shared space and research laboratories. The building is on track to receive Leadership in Energy and Environmental Design (LEED) Gold certification, a benefit to the campus, neighborhood, and District of Columbia.
Visit this page for periodic updates on construction.
Updates
December 2019
Progress
Exterior façade is substantially complete.
Interior fit-out is ongoing.
3-Month Look Ahead
Interior fit-out will continue.
System start up
Work on the site's hardscape is expected to commence.
September 2019
Progress
Exterior façade is nearing completion.
Interior fit-out is ongoing.
3-Month Look Ahead
Work will continue on the exterior façade.
Work will continue on the interior fit-out.
June 3, 2019
Building structure is complete.
Tower crane has been removed.
Work on exterior facade has commenced.
Interior fit-out has commenced.
October 30, 2018
H-pile installation and placement of timber lagging for support-of-excavation is complete.
Excavation for the two floors below grade is complete.
Installation of temporary power to the construction site is complete.
Tower crane foundation is complete. The tower crane was installed and is operational.
Foundation work for the building walls and columns continues.
Site utilities continue to be installed.
August 9, 2018
Soil erosion control measures have been put in place.
Drilling and installation of steel H-piles for the support-of-excavation (SOE) is in progress.
As part of the SOE, timber lagging installation is in progress, as well as the drilling and grouting of tie-backs.
Excavation and hauling continues.