December 2018

Community Relations
4400 Massachusetts Avenue NW
Washington
,
DC
20016-8033
United States
Neighbors Invited to Town Hall with President Burwell & New Year's Reception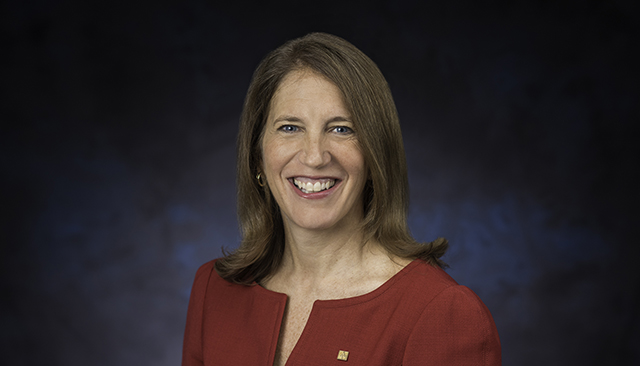 American University invites neighbors to the annual Town Hall meeting with President Sylvia Burwell on January 14, 2019. A New Year's reception will follow the meeting.
The Town Hall will begin at 7 p.m. in Rooms 1 – 3 of Constitution Hall on AU's East Campus. Parking for the event will be available on the East Campus surface parking lot.
Both events are open to the entire community.
Meeting of Community Liaison Committee Slated for December 10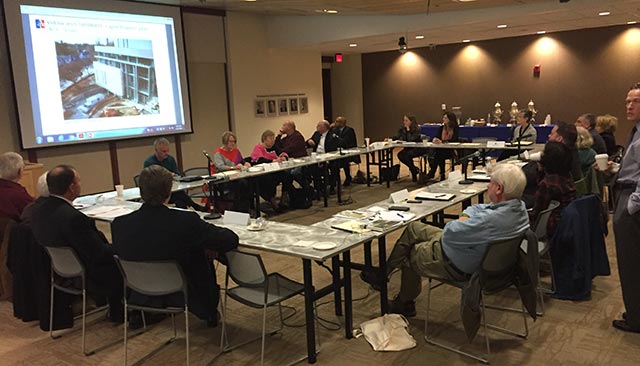 American University's Community Liaison Committee (CLC) will hold a quarterly meeting on Monday, December 10.
The meeting will begin at 7 p.m. in Rooms 1 and 2 of Constitution Hall on AU's East Campus. Neighbors are invited to join AU staff at 6:30 p.m. for pre-meeting coffee and conversation. Parking for the meeting is available on the East Campus surface parking lot.
The CLC was established to foster positive relations and to maintain regular communication between the university and its neighbors. As specified in the D.C. Zoning Commission Order for AU's 10-year Campus Plan, the CLC comprises individuals from neighboring community organizations and representatives from the university.
Additional information on the CLC, including meeting agendas and minutes can be found at http://www.american.edu/communityrelations/clc/index.cfm.
Fall Commencement December 16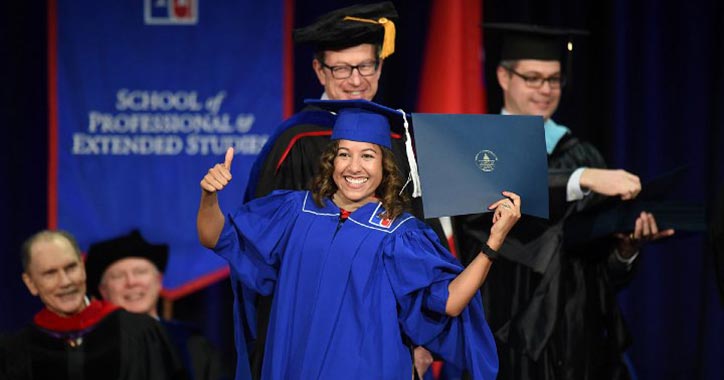 American University's fall commencement ceremony will take place on Sunday, December 16 at 10 a.m. in Bender Arena on main AU's campus. The university anticipates increased activity around campus, as families and friends visit for the occasion.
All parking areas on campus will be open for commencement and participants have been encouraged to use public transportation and reminded of AU's Good Neighbor parking policy.
American University awarded its first degrees (two doctorates and one master's degree) in 1916 at a commencement ceremony held in the university's amphitheater. AU commencements have grown over the years as the university has become larger and more diverse. More than two thousand students from AU's six schools and colleges participate in commencement ceremonies each year.
For additional information on AU's fall commencement, please visit https://www.american.edu/events/commencement.  
AU to Close for Winter Break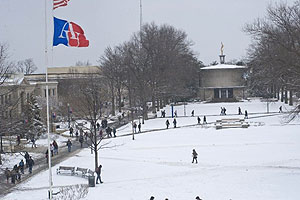 American University will be closed for eleven days during the winter holiday season. Offices and buildings, including Bender Library, will be closed from Sunday, December 23 through Tuesday, January 1, 2019. The university will reopen on Wednesday, January 2.
During the break, AU Police will provide emergency services and continue routine patrol of the campus. The AU Shuttle also will not operate during the break.
Generation Change: AU Student Uses Rap Music to Combat Old Customs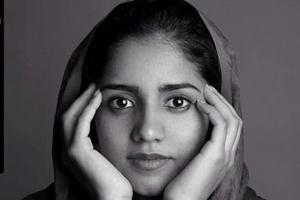 The MTV Europe Music Awards recently honored five people with a Generation Change Award, and American University student Sonita Alizadeh was among the young leaders recognized. Alizadeh traveled a remarkable path to attend AU. She now takes classes in the English Language and Training Academy at AU's School of Professional & Extended Studies. Yet it was not so many years ago that she faced an uncertain future.
Alizadeh is a rapper and activist against forced marriages. Her career may be just beginning, but the MTV award made her appreciate some early accomplishments.
"I feel really happy because MTV valued the importance of my music. And I feel very proud because I was among so many other young, incredible activists who are using their own talent, in a unique way, to raise awareness about global problems," said Alizadeh.
Aside from MTV, others have been inspired by Alizadeh. There even is a 2015 documentary about her titled Sonita.
Alizadeh was born in Afghanistan during Taliban rule. Her family left the country to live in Iran, though they moved back and forth during Alizadeh's formative years. When Alizadeh was 10 years old, she faced a potential forced child marriage, though at such a young age she barely understood the ramifications. At age 16, when her family again considered forcing her into marriage, she grew quite alarmed.
A forced marriage, essentially, meant being offered to marry a man in exchange for money. The practice is a function of poverty and custom, and Alizadeh said her mother felt compelled to follow longstanding tradition. However, Alizadeh soon sought help.
"I saw my dreams disappear for a moment when this was happening," she said. "But the power of my dreams was stronger than my fears."
Alizadeh discussed the issue with teachers, mentors, and her documentary filmmaker, Rokhsareh Ghaemmaghami. They intervened with Alizadeh's mother – then back in Afghanistan – who gave her daughter time to finish schooling in Tehran. During this period, Alizadeh discovered rap and hip hop.
As a teenager, Alizadeh worked as a cleaner at a gymnasium where she first became aware of rapper Eminem's music. Eminem also had starred in the semi-autobiographical movie 8 Mile, about a working-class Detroit youth who used music to change his life. While Alizadeh does not recall the specific Eminem song she heard, she was hooked by its sonic and sociopolitical possibilities.
"I had heard rap before, but I never thought that I could use it. At that moment, I wanted to find a way to share my feelings through the music," she said.
To express her emotions about forced marriages, she recorded Brides for Sale. Alizadeh had little familiarity with social media, so Ghaemmaghami helped her post the song to YouTube. However, she never could have foreseen the video's impact.
"I didn't know it was going to be heard all over the world. After a few days, I realized that it was playing on TV in Afghanistan and my family saw it," she recalled. "I was scared because a woman singing in Afghanistan is considered a sin. But my mother was actually OK with it."
Her video went viral and caught the attention of a nonprofit called Strongheart. The group helped her secure a scholarship to attend high school in Utah. Even while living in the US, the issue of child marriage continued to gnaw at her.
"I had the best life. I was living my dream. Yet I remembered my friends back in Iran who were still fighting to avoid child marriage," she said.
Alizadeh became a global activist, performing everywhere from the United Nations to the Clinton Foundation. Alizadeh noted that the forced marriage problem extends far beyond Central Asia and the Middle East.
"I am hopeful. When I came to the US, the number of girls forced into marriage was like 15 million a year, but now it's 12 million. I didn't save a lot of lives. But I'm trying to bring a solution to this problem – to saves the lives of the next generation."
Alizadeh has been at AU for only four months, taking classes and sharpening her language skills. "I am very proud to be here in the US to continue my education," she said.
In addition to her global outlook, Alizadeh helps people close to her. She is the first person in her family to graduate high school and attend college, and she encourages her siblings to expand their horizons. Eventually, she would like to study law, but she has not decided in what capacity.
"I am pretty sure that I will continue my music. And I want to keep raising awareness about child marriage and other global problems like refugees and child labor," she said. "I think I will be a lawyer who can rap."
Hall of Science Maximizes Interdisciplinary Discovery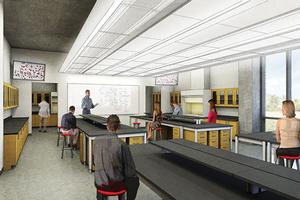 Construction is underway on the new Hall of Science with a generous $5 million gift from Board of Trustees member Gary Abramson and his wife, Pennie Abramson.
The airy and modern facility will embody the university's commitment to support the sciences – the fastest growing area of undergraduate study at AU. Conceived to maximize collaborative research and foster discovery, the center will serve as a catalyst for success for students and faculty and enhance the university's impact on the sciences. 
AU is poised for a new level of scientific achievement, as The College of Arts and Sciences has seen a 116-percent increase in research grants over the past five years, securing 48 unique awards from the National Institutes of Health (NIH) and National Science Foundation. In 2018, its faculty received a total of $8.3 million in new research funding. The upgraded facilities will position the university to receive more funding grants, as opportunities arise for researchers utilizing the facility's advanced labs and infrastructure. 
"This state-of-the-art facility brings together students and faculty across disciplines to support the highest caliber of research and teaching, and foster innovation inside and outside the classroom," said Victoria Connaughton, professor of biology. 
The three-story building, with its expansive 95,000-foot gross floor area, will transform how the sciences are taught and learned and how research is conducted at AU. The biology, environmental science, chemistry, and neuroscience departments will be housed in the new facilities to encourage interdisciplinary interaction and spur partnerships. Functional lab groupings will cluster scholars for optimal efficiency and academic interchange. Designed with an eye on the future, the facility will have the capacity to adapt to advances in and changing requirements of scientific research. 
"We are building an integrative scientific culture, as opposed to a collection of individual laboratories," said Terry L. Davidson, director of the Center for Behavior Neuroscience. "We are uniquely supportive of diverse research interests." 
The Hall of Science will be a hub of innovation where award-winning scientists and students can optimize their research on issues from hunger to national security to climate change, and where they will have the opportunity to collaborate with scientists from such prestigious organizations as the NIH, National Institute of Standards and Technology, and National Aeronautics and Space Administration. To honor the Abramsons' generosity, and in the tradition of creating spaces to foster discovery through community, the Hall of Science auditorium will be named the "Gary and Pennie Abramson Discovery Hall." 
The building, on track to be LEED Gold-certified, will stand as another mark of sustainability on AU's carbon-neutral campus. 
The university's investment in the sciences will enhance the student experience, encourage innovative problem solving, launch new academic programs, and promote the shared exploration of the most challenging concerns of our time. 
An initiative to raise $40 million for the Hall of Science is underway.
Finding a Path Emilie Brzezinski and Dalya Luttwak: A Conversation
Now – December 16, 11 a.m. – 4 p.m.,
Katzen Museum 1st & 2nd Floors Exhibition
 Emilie Brzezinski and Dalya Luttwak have much in common as artists, yet they have never shown their works together. Brzezinski's massive, rough-hewn, wood sculptures embody the vital energy of trees as archetypes of being. Luttwak's brilliantly colored metal creations are inspired by another essential aspect of universal growth and decay in nature – plant roots. This site-specific installation is a conversation on their approaches to nature as a means of understanding one's path through the world, and life itself.
Jim Sanborn - Without Provenance: The Making of Contemporary Antiquity
Now – December 16, 11 a.m.nbsp;– 4 p.m.
Katzen Museum 3rd Floor Exhibition
In Without Provenance, Jim Sanborn gives a rare gift of artistic provocation. There is an abundance of beauty in this exhibition, but it is beauty that provokes thought and reflection. The takeaway from this extraordinary show is a very different vision for an art-collecting world.
Selections from the Artery Collection
Now – December 16, 11 a.m. - 4 p.m.
Katzen Museum 1st & 2nd Floors Exhibition
The Artery Organization Collection was conceived as a corporate collection in the early 1980s to support Washington-area artists and enhance the real estate offices of the company. CEO Henry H. Goldberg and his wife, artist Carol Brown Goldberg, worked with curators and galleries to ensure the broadest possible outreach and diversification of artistic styles. The energy reflected in the variety of art chosen over two-plus decades captures the spirit and inspiration of The Washington Color School and reflects the cooperation of artists, dealers, and collectors. The collection is the largest private assemblage of Washington-area artists.
Ian Jehle: Dynamical Systems
Now – December 16, 11 a.m. – 4 p.m.
Katzen AU Museum
Ian Jehle, a DC-based artist and American University faculty member, has long been known for his sensitive, large-scale portraits of members of the Washington art community. This exhibition uses those graphic portraits as the introduction to a new body of abstract drawings, based on mathematical algorithms. These complex, linear systems will be installed as site-specific wall drawings throughout the Alper Gallery, extending into the lobby area. Dynamical Systems combines Jehle's unusual combination of skill sets as a visual artist, teacher, and mechanical engineer. Curated by Laura Roulet.
Tribe: Contemporary Photography from the Arab World
Now – December 16, 11 a.m. – 4 p.m.
Katzen AU Museum
This exhibition highlights a selection of artists published within the eight editions of Tribe – a magazine founded in Dubai that is dedicated to covering developments in photography and new media from the Arab World. The exhibition contextualizes an expansive field of image-based work through various themes, while celebrating artists both internationally acclaimed as well as those whose practices have been recognized recently. At times, artists poetically deploy hues, shadows, and partial images to nuance aspects of Arab culture. By expanding our appreciation and understanding, the variety of photographic practices deployed creatively by artists from throughout the Arab World, Tribe aims to place these accomplished artists on a global stage within the larger sphere of contemporary photography.
Glazunov Menagerie
December 1, 7:30 – 9 p.m.; December 2, 3 – 4:30 p.m.
Abramson Family Recital Hall
The AU Symphony Orchestra will perform Alexander Glazunov's Symphony No. 5, as well as works by both well-known and lesser-known composers who were students and teachers at the Saint Petersburg Conservatory during Glazunov's tenure. As director of the conservatory for more than 20 years, he mentored a whole generation of Russian musicians, including composers such as Prokofiev, Shostakovich, and many others. Ted Chaffman, student winner of the 2017 Concerto and Aria Competition, will play the first movement of Prokofiev's Piano Concerto No. 2 in G minor.
Between Antiquity and Modernity: Can the Hebrew Language Survive Its Own Revival? With Meir Shaley
December 3, 7 – 8:30 p.m.
Abramson Family Founders Room, SIS Building
Celebrated Israeli novelist Meir Shalev will speak about the sustainability of the revival of the Hebrew language. Winner of the Bernstein Prize, Shalev's books have been translated into 26 languages. A dessert reception, book sale, and signing by Shalev will follow the discussion.
Center for Environmental Filmmaking – Celebration Event
December 4, 6 – 8 p.m.
Doyle Forman Theater
The event will be a celebration the Center for Environmental Filmmaking. Anyone passionate about wildlife and environmental filmmaking is welcome. This is a chance to meet the new executive director Maggie Burnette Stogner, and hear about the future of the Center. Reservations are required: https://cefcelebration.eventbrite.com
Men's Basketball vs. St. Francis (PA) University
December 4, 7 – 9 p.m.
Bender Arena
Yoga in the Galleries
December 5, 12, 19, 10 a.m.American University Museum at the Katzen Arts Center
Led by certified Kripalu Yoga teacher Eva Blutinger, this yoga class provides mental clarity and relaxation in the peaceful surroundings of our art galleries. Please bring a mat. Cost is $10 for non-members, $5 for museum members, and free for members at the Associates level and above. www.tinyurl.com/aumtickets.
Faces Places Film Screening
December 5, 7 – 9 p.m.
Doyle Forman Theater
6:30 pm Reception; 7 pm Film Screening.
In Faces Places, legendary filmmaker Agnès Varda and photographer/muralist J.R. enjoy a series of meandering road trips through rural France in this poignant and charming documentary. Along the way, they create unique cross-generational portraits of the people and places they encounter. Seating is on a first-come, first-served basis. The event is free, but reservations are recommended: https://facesplacesfilmsacrossborders.eventbrite.com
Musical/Theatre Senior Capstone
December 6, 8 – 9:30 p.m.; December 7 – 8, 8 – 10 p.m.
Katzen Studio Theatre
Graduating theatre and musical theatre students present original works, culminating their performing arts education. Cost $15. RSVP: http://auartstix.universitytickets.com/user_pages/event.asp?id=323&cid=47
Brzezinski/Luttwak Tour at the Kreeger and AU Museum
December 15, 1:30 – 3 p.m.
Katzen AU Museum
Grab your mittens and join curator Aneta Georgievska-Shine as she untangles the poetics of nature in the work of sculptors Emilie Brzezinski and Dalya Luttwak at both the American University Museum and The Kreeger Museum. This event starts at the Katzen Arts Center, where Georgievska-Shine will discuss Finding a Path, a site-specific, collaborative installation by Brzezinski and Luttwak. Participants then will board a shuttle to The Kreeger Museum where Georgievska-Shine will lead a conversation about the outdoor works by Brzezinski (Lament) and Luttwak (Poison Ivy). Dalya Luttwak and Emilie Brzezinski will be in attendance to answer questions about their artwork, process, and collaboration. Free parking will be available in the Katzen Arts Center parking garage. Participants will board shuttle to The Kreeger Museum at the Katzen at 2:10 p.m.; the shuttle will return to the Katzen at 3 p.m. Seating on shuttle will be limited. This is an outdoor program, so please dress appropriately for the weather. RSVP required: http://events.r20.constantcontact.com/register/event?oeidk=a07efuogzvxfc3309ea&llr=76ie6yzab
Men's Basketball vs. Mount St. Mary's
December 18, 7 – 9 p.m.
Bender Arena
Men's Basketball vs. UMES
December 22, 12 – 2 p.m.
Bender Arena
Women's Basketball vs. Ohio University
December 29, 2 – 4 p.m.
Bender Arena