January 2018
Community Relations
4400 Massachusetts Avenue NW
Washington
,
DC
20016-8033
United States
Town Hall and New Year's Reception  - POSTPONED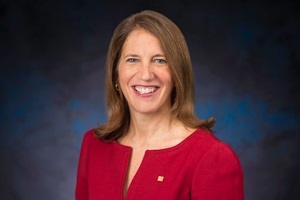 Due to projected extreme cold and sub-zero wind chill temperatures, tonight's planned Town Hall and New Year's Reception with President Burwell is postponed. We are working on an alternative date and time in the next month that will bring more people out for the event. We will communicate this as soon as possible. Please also feel free to check this page for updates.
Neighbors Invited to Martin Luther King, Jr. Week of Service Activities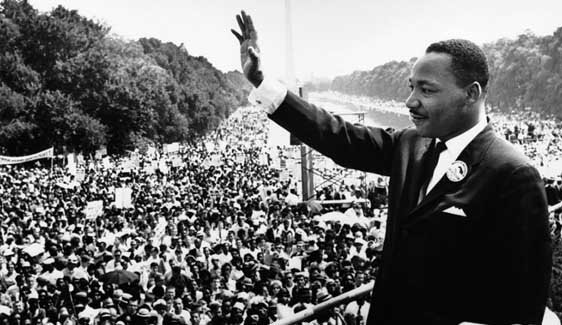 The AU Center for Community Engagement and Service celebrates the life of Dr. Martin Luther King, Jr. and his commitment to service from January 14 - 19, and invites neighbors and community members to join.
MLK Week will provide attendees the opportunity to learn more about Dr. King and the Civil Rights movement through lectures, panel discussions, performing arts, music, workshops, and volunteer engagement in Washington, DC communities. It also is a great way to engage with our students while volunteering for a worthwhile cause. This is a campus-wide initiative with direct support from a variety of campus and community partners. We look forward to having you support by attending our events.
On Monday, January 15, AU will celebrate the Martin Luther King, Jr. Day of Service to honor Dr. King's vision of a community. All are encouraged and welcome to join in the event. Volunteering high school students also will receive community service hours for their participation. Volunteer hours run from 8 a.m. - 3:30 p.m. with a light breakfast and lunch provided. Service locations include:
BGCGW George M. Ferris Jr., Clubhouse
Bread For The City
City Year
American University "The Market" Food Pantry
A Wider Circle
Seabury Age-In-Place Program
Iona Senior Services
Martha's Table
Neighbors also are invited to sign up for one of our many other activities arranged throughout the week:
Sunday, January 14: Trip to MLK Memorial
Monday, January 15: MLK Day of Service
Tuesday, January 16: Dr. King's Legacy Panel Discussion
Wednesday, January 17: MLK Chapel Service
Thursday, January 18: MLK Reception
For full details and to register, please visit:
http://www.american.edu/ocl/volunteer/OneDayServiceEvents.cfm.
For additional information on volunteering, please contact Jose Cadiz at 202-885-3627 or jcadiz@american.edu.
AU's Martin Luther King, Jr. Day of Service is co-sponsored by Student Activities, Fraternity & Sorority Life, the Office of Sustainability, Eagle Endowment and Kay Spiritual Life Center.
AU is committed to advancing social justice and civic responsibility. The Center for Community Engagement & Service (CCES) leads the AU community into the world to serve. From projects around D.C. to trips abroad, CCES stands with a university dedicated to improving lives in our global community.
Community Audit Program Registration Open for Spring Semester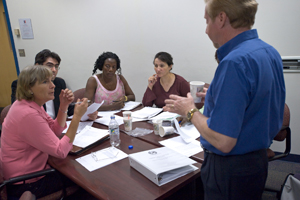 Although it is winter break at American University, now is the perfect time to consider enrolling in a class for the spring semester as part of AU's Community Audit program.
Modeled after the Alumni Audit Program, the Community Audit Program offers adults ages 60 and older, who live in the 20016 Zip Code, the opportunity to attend university courses on a non-credit basis for a modest charge. Auditors may listen to the same lectures and work from the same texts as enrolled students.
For just $100, neighbors have the opportunity to enhance their professional skills, take classes with popular professors, or delve into a new hobby and pursue a commitment to lifelong learning. Seventy-five dollars of the fee serves as a donation to the Alumni Association Scholarship Fund which benefits an AU freshman legacy student biennially.
"The community audit program is another great benefit for those who live close to the university," said Andrew Huff, AU's Director of Community Relations. "Our neighbors have some very interesting experiences and life stories, so I believe our students and professors will learn just as much from the neighbors as our neighbors will learn from the classes."
Registration for the spring semester is open now. For additional information, please visit http://goo.gl/XEA13 or contact Emily Walrath at 202-885-5962.
The Community Audit Program is coordinated by the Office of Alumni Relations in conjunction with the Office of Community Relations.
Davenport Coffee Lounge serves up rich aromas and a rich history
The Davenport Coffee Lounge is a School of International Service (SIS) institution. Its coffee fuels everyone from the early riser adding final touches on a paper to the professor prepping for classes, and serves caffeine aficionados in the neighborhood who are in search of a much-needed cup of cappuccino on campus.
Affectionately known as "the Dav" across campus, this student-run coffee shop has a storied history nearly as old as SIS itself, but it's only the Dav's most recent incarnation that serves coffee, tea, and pastries.
When AU first established the SIS in 1956, the school's first dean, Ernest Griffith, approached his mother-in-law, Edith Andrews Davenport, about bestowing the newly-conceived school with an endowment. Davenport agreed and requested that a chapel be built in the school in honor of her late husband, AU professor of political science Frederick Davenport.
The Davenport Memorial Chapel opened in 1959 and served the AU community until Kay Spiritual Life Center was established in 1965. The Davenport Chapel then was used briefly for storage before it was converted into the Davenport Memorial Lounge. Originally situated near the main entrance of what is now the East Quad Building, the Davenport Lounge housed a large world map, marble tables that once served as the chapel's altar, shelves stuffed with newspapers and magazines, and a vast array of books. It served as a place for SIS students to study, read, and meet with peers and professors. The space also hosted student group meetings and academic lectures.
In 1980, the undergraduate and graduate student councils sought and received approval from then-Dean William Olson to sell coffee in the lounge. The Davenport Coffee Lounge had arrived. An entirely student-run initiative, the Dav sold coffee and tea at cost and relied on student volunteers for staffing. Patrons poured their own coffee or tea and paid as little as $.30 into a tin can. All proceeds went directly towards keeping the operation stocked with coffee, tea, cream, sugar, cups, and filters. Over time, the Dav evolved into a full-service, non-profit coffee lounge that employed work-study students.
The Dav fell on rocky times in 2000 when the university considered turning it into a licensed coffee shop that would operate as a business and pay full salaries. For a period of time, the Dav was not permitted to make any sales, and self-serve coffee became available for free. Finally, AU President Benjamin Ladner allowed the Dav to reopen with a non-profit organization license.
In 2010, the Dav migrated to its current location in the new SIS building. "Business took off when we moved to the new space," said manager Becky Regan.
Entirely self-sustained, the Dav receives no money from the university or SIS and uses all its profits to purchase products and pay the work-study students behind the counter.
Some interesting statistics regarding the Dav:
Faculty, staff, students, and visitors consume about 300 pounds of locally-roasted coffee per week.
In 2017, more than 27,000 cups of coffee were served; 33,000 fresh pastries from local vendors; 18,000 chais; 15,200 iced coffees; and 12,200 lattes.
"The mission of Davenport is to have a space on campus for faculty, students, staff, and visitors to come together," said Regan. "We feel lucky to be part of the university and local community which has always been so supportive of the Dav."
American University Uses Innovative Software To Boost Energy Savings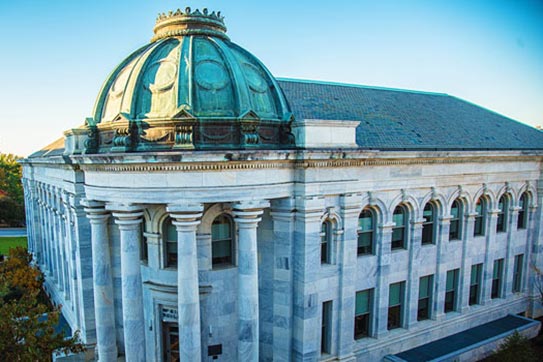 One of American University's goals is to be carbon neutral by 2020. AU's Energy and Engineering (E&E) team utilizes a wide array of strategies to increase energy efficiency in each building on campus, and recently began a year-long pilot program using innovative software technology designed by the German-based company, MeteoViva.
Meteoviva's software determines a building's future needs for heating and cooling to reduce its energy costs. The software incorporates data from a building's heating and cooling usage and needs, and calculates the optimal settings for its Heating Ventilation Air Conditioning (HVAC) systems.
The Energy and Engineering team chose the McKinley Building to launch its pilot, as it was renovated and commissioned to current energy code requirements and had been LEED certified already. It also was an ideal location to test the software's capabilities and limitations because of the different types of spaces and energy needs within the building. McKinley's unique floor plan comprises first and second floors that receive an abundance of daylight while the third and fourth floors receive limited natural light and house many classrooms, office spaces, and a 150 seat-theater. Additionally, the building contains various types of equipment and systems including air handler units, fan coil units, and more than 200 other "data points" to be factored into the software's calculations.
McKinley was divided into 25 distinct zones, and energy usage data was collected for each area. Using the MeteoViva software, the building's HVAC system was monitored and adjusted for optimal usage in each of the 25 zones. Improvements in energy consumption and savings also were measured. After collecting a year's worth of data using the software and subsequent to the improvements made based on the information, the cost of running the building's HVAC system decreased by 36 percent, and there was a 473-ton reduction in its carbon footprint - the equivalent of removing 100 cars off the road for a year. Occupants also reported that the overall temperatures in the building felt more comfortable.
With the success of the pilot, E&E now is looking to expand its use of the MeteoViva software to other buildings throughout campus. For more information on E&E's energy-saving efforts and the MeteoViva software, contact David Osborne at (202) 885-1150.
Men's Basketball vs. Colgate University
January 2, 7 - 9 p.m.
Bender Arena
Women's Basketball vs. United States Naval Academy
January 5, 7 - 9 p.m.
Bender Arena
Men's Basketball vs. Army West Point
January 8, 7 - 9 p.m.
Bender Arena
Men's Basketball vs. Loyola (MD) University
January 11, 7 - 9 p.m.
Bender Arena
Women's Basketball vs. Lehigh University
January 14, 3 - 5 p.m.
Bender Arena
AU Farmers' Market
January 17, 24, 31, 11 a.m. - 4 p.m.
Quad by Mary Graydon Center
Every Wednesday, students, faculty, staff, and neighbors may browse goods ranging from farm-fresh vegetables to homemade breads and desserts at the AU Farmers' Market in the quad space around the Mary Graydon building. The market is a coordinated effort between AU and Pennsylvania-based Agora Farms. Girardot's Crumbs Bakery also offers a variety of fresh breads, including raisin pecan, harvest grain, pain de campagne, jalapeno cheddar, sourdough, challah, whole wheat, focaccia, black Russian, NY rye, artisan baguettes, and tea breads, as well as chocolate chip cookies, mini pies, and cobblers.
Women's Basketball vs. Boston University
January 17, 7 - 9 p.m.
Bender Arena
Men's Basketball vs. Lafayette College
January 20, 2 - 4 p.m.
Bender Arena
Men's Basketball vs. College of the Holy Cross
January 22, 7 - 9 p.m.
Bender Arena
Global Game Jam
January 26, kickoff 5:30 p.m. - January 28, 6 p.m.
Don Myers Technology & Innovation Building: Collaboration Lab 111
The Global Game Jam showcases the creative talents of more than 36,000 inspired programmers, artists, and designers at 700 sites in 95 countries around the world.
The Global Game Jam is a hack-a-thon focused on game development. It is the growth of an idea that in today's heavily connected world, we could come together, be creative, share experiences and express ourselves in a multitude of ways using video games. The weekend stirs a global creative buzz in games, while at the same time explores the process of development - programming, iterative design, narrative exploration, and artistic expression. It all is condensed into a 48-hour development cycle. The GGJ encourages people with all backgrounds to participate and contribute to this global spread of game development and creativity.
Register before January 10. Tickets cost $20. To register for the event, visit https://www.eventbrite.com/e/washington-dc-global-game-jam-american-university-game-lab-tickets-38738229086?aff=affiliate1
Website: https://globalgamejam.org /
Women's Basketball vs. Colgate University
January 27, 2 - 4 p.m.
Bender Arena
Men's Basketball vs. United States Naval Academy
January 31, 7 - 9 p.m.
Bender Arena
"An Outrage" Film screening and discussion
Wednesday, January 31
Malsi Doyle and Michael Forman Theater, McKinley Building
This 33-minute documentary film is about lynching in the American South. Following the screening, SOC Professor Leena Jayaswal will moderate a Q&A discussion with filmmakers Hannah Ayers and Lance Warren.
This event is sponsored by the School of Communication, Center for Media & Social Impact, and Center for Diversity and Inclusion. For more information, visit: http://www.american.edu/soc/calendar/index.cfm?id=7649804