May 2018

Community Relations
4400 Massachusetts Avenue NW
Washington
,
DC
20016-8033
United States
AU Commencement Ceremonies Slated for May 12, 13, and 20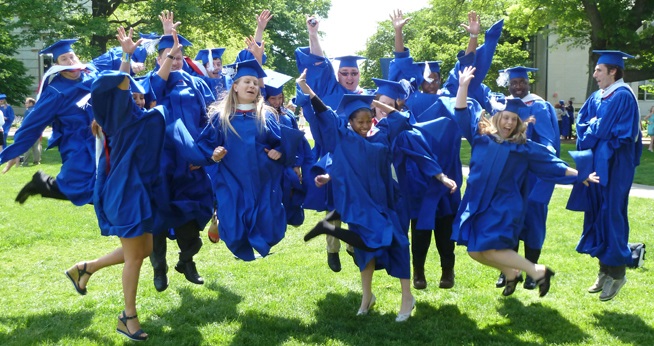 AU schools and colleges will hold their 2018 graduation ceremonies in Bender Arena on Saturday, May 12 and Sunday, May 13. The Washington College of Law commencement will take place on Sunday, May 20, also in Bender Arena. The university anticipates increased activity around campus, as families and friends visit for the occasion.
All parking areas on campus will be open for commencement with extra shuttle buses added from the Tenleytown metro and Washington College of Law. All participants have been encouraged to use public transportation and reminded of AU's Good Neighbor parking policy.
AU Public Safety will assist with traffic control at several key locations including the Katzen Arts Center garage, the intersection of Nebraska and New Mexico Avenues, NW, and Ward Circle.
American University awarded its first degrees (two doctorates and one master's degree) in 1916 at a commencement ceremony held in the university's amphitheater. AU commencements have grown over the years as the university has become larger and more diverse. More than two thousand students from AU's six schools and colleges participate in commencement ceremonies each year.
For additional information on AU's 2018 commencement, please visit https://www.american.edu/commencement/.
American University Achieves Carbon Neutrality
AU: The First Carbon Neutral University in the US>
2:08
 American University achieves carbon neutrality two years ahead of schedule, becoming the first university in the US to do so.
On April 25, President Sylvia M. Burwell announced that American University has achieved carbon neutrality. In other words, the university has net zero carbon emissions by managing its carbon footprint through reduction and carbon offsets. In 2010, AU pledged publicly to become carbon neutral by 2020. Now, as a result of the commitment, leadership, and innovative strategic planning of the university's staff, faculty, and students, AU has reached its goal two years early.


AU becomes not only the first carbon-neutral university in the nation, but it also is the first urban campus and first research university to achieve this important milestone. To reach this goal, AU met the guidelines set by Second Nature - a nonprofit organization dedicated to accelerating climate action in and through higher education - to become a carbon neutral university.
"Our community joined together to accomplish this important goal," said President Burwell. "We wanted to demonstrate leadership and innovation in addressing the serious social, economic, and environmental issues associated with global warming. Having a net zero carbon footprint reflects our commitment to acting on our values and leading into the future."
Concerns about the increasing pace and intensity of global climate change and the potential for unprecedented harmful effects on the world are important to the AU community and have led to the university's continued action and leadership in this effort. President Burwell further solidified that commitment when she signed the "We Are Still In" pledge to work towards the goals of the Paris Climate Accord.
"Climate change is one of the most urgent issues of our time," said Megan Litke, AU director of sustainability programs. "Each organization and individual has a responsibility to act to reduce their environmental impact. I'm proud to be a part of a university that takes this responsibility seriously and has acted to achieve carbon neutrality."

AU's innovative approach to reducing emissions using green power and purchasing strategic offsets helped it meet its commitment to neutrality. The university concentrated on measures that have direct impact on its footprint. AU works to reduce energy use per square foot and produce renewable energy on campus and within its electricity grid. The university purchases renewable energy and offsets to balance the greenhouse gas emissions it produces. Fifty percent of AU's electricity comes from solar power sources.
The university hopes to be a model for other institutions looking to drive down their carbon footprints and become carbon neutral.
WAMU Community Council Meets May 9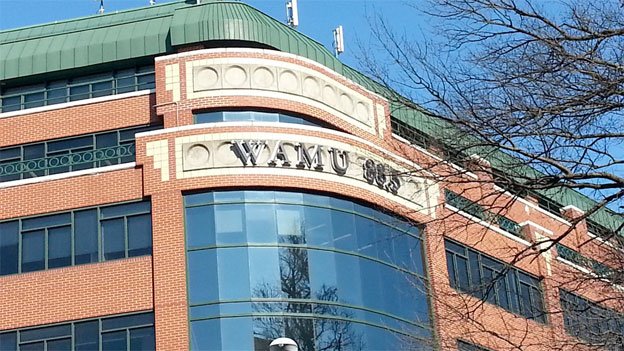 The WAMU Community Council will hold its next quarterly meeting May 9. The meeting will take place at 7 p.m. in the community room at WAMU's Media Center at 4401 Connecticut Avenue, NW.
The WAMU Community Council is the radio station's community advisory board, serving as the station's "eyes and ears" in the greater D.C. area. The Council meets four times a year to review the station's programming goals and decisions. They also advise station management on whether the station continues to serve the interests and needs of its listening audience. Community Council meetings are open to the public, and listeners are encouraged to attend.
The Council comprises up to 21 individuals who live within the coverage area of the station. The contributing members' goal is to preserve, promote, and strengthen the public radio service provided by WAMU 88.5. The composition of the Council reflects the diversity of the community served by the station. The Council also provides assistance to station staff in carrying out community outreach activities. The role of the Community Council is solely advisory in nature.
For more information, please contact Dawnita Altieri at daltieri@wamu.org. If you are a WAMU member and would like to be considered for membership on the Council, please submit your bio and a statement of interest to the above email address.
AU Receives Commuter Program Award
American University is one of the latest recipients of the District Department of Transportation's (DDOT) second annual goDCgo Employer Ambassador Awards. The awards recognize DC employers who demonstrate exceptional commitment to sustainable transportation.
AU won in the category of Most Creative or Innovative Commuter Program. The award recognizes the university's commitment to providing viable commuting alternatives that are tailored to meet the needs of its students, faculty, and staff. It also recognizes AU's distinction for being the first university to begin the University Pass (U-Pass) program in partnership with WMATA. Following AU's lead, eleven other local universities have adopted the program.
"Institutions and companies who receive the award have robust commuter benefits programs and promote active transportation like biking, walking, and taking public transit to their employees," said DDOT Director Jeff Marootian. "With the help of engaged employer ambassadors, the District is becoming a less congested and healthier place to live, play, and visit."
For more information on the goDCgo Employer Ambassador Awards and for a list of all the recipients, visit info.goDCgo.com/AmbassadorAwards
Carol Brown Goldberg: Entanglement
April 3 - May 27, 11 a.m. - 4 p.m.
Katzen Museum Third Floor Exhibition
Carol Brown Goldberg's exhibition offers vivid evidence of her artmaking as the convergence of intellect, emotion, and technique. Her paintings in the current exhibition - marked by images of dense, imagined foliage - are rooted in a unique interplay of tightly packed philosophical concepts and more ethereal poetic imaginings.
Francisco Toledo: Toledo Multiple
April 3 - May 27, 11 a.m. - 4 p.m.
Katzen Museum Third Floor Exhibition
As Mexico's most prolific and influential graphic artist, Francisco Toledo has been exploring the fantastical and expanding the expressive range of his printmaking for more than 50 years. This exhibition encompasses a wide range of Toledo's work, revealing the progression and creative process evidenced in his printmaking. The exhibition also includes 21 works by both Mexican and foreign printmakers as part of Toledo's collection for the Instituto de Artes Graficas de Oaxaca (IAGO). These works have been influential in developing Toledo's creative vision and serve to contextualize the medium in a global art history.
Jiha Moon: Double Welcome, Most Everyone's Mad Here
April 3 - May 27, 11 a.m. - 4 p.m.
Katzen Museum First Floor Exhibition
Jiha Moon's works address the intersection of imagery native to Korea, Japan, and China, and elements of the West to explore cross-cultural perceptions. Originally from Korea and presently based out of Atlanta, Moon's work addresses the nature of our current global identity as influenced by popular culture, technology, racial perceptions, and folklore. By melding the artistic traditions and iconic imagery of both East and West, Moon's work explores ideas of both the foreign and the familiar. This exhibition is presented as part of the Visiting Artist Program organized by AU Studio Art.
Kumo: Miya Ando
April 3 - May 27, 11 a.m. - 4 p.m.
Katzen Museum First Floor Exhibition
Miya Ando's artwork ranges from monochrome to subtle color palates, offering a glimpse of the immense calming energy of the infinite. Ando creates an immersive work that engages the viewers, bringing nature to mind, reminding the viewers of their own connection to - and place within - nature and nature's cycles. Her works bring attention to the fragility, the deep power, and the uncompromising force of nature via experiential art installations that create environments of reflection and wonder. Distinctive in her highly adept presentation of subtle realities, Ando's work has given her an international reputation as one of the most innovative working artists.
Michael Clark: Washington Artist
Now - May 27, 11 a.m. - 4 p.m.
Katzen Museum First Floor Exhibition
Michael Clark (a.k.a. Clark Fox) has been an influential figure in the Washington, DC art world for more than 50 years. Dividing his time equally between the capital and New York City, Clark was not only a fly on the wall of the art world as the last half-century played out - he was in the middle of the action, making innovative works that draw their inspiration from movements as diverse as Pop Art, Op Art, Conceptual Art, Minimalism, and the Washington Color School.
Yoga in the Galleries
May 2, 9, 16, 23, 30, 10 a.m.
American University Museum at the Katzen Arts Center
Led by certified Kripalu Yoga teacher Eva Blutinger, this yoga class provides mental clarity and relaxation in the peaceful surroundings of our art galleries. Please bring a mat. Cost is $10 for non-members, $5 for museum members, and free for members at the Associates level and above. www.tinyurl.com/aumtickets.
The Sustainably Clothed Body
May 6, 13, 1 - 3 p.m.
Katzen AU Museum
Artist Kate Kretz teaches clothing embroidery and embellishment Sunday afternoons in the Alper. Cost is $200 for the 4-week class, materials not included. Registration and more information online: www.tinyurl.com/AUMtix.
Visions Awards Ceremony 2018
May 9, 7 p.m.
AU Greenberg Theater
The School of Communication's 20th annual Vision Awards celebrates outstanding visual work from undergraduate and graduate students. The ceremony celebrates the best in documentary, fiction, digital and new media, screenwriting and photography. For more information: https://www.american.edu/soc/film/visions.cfm.
Alma de Cuerdas Concert
May 15, 7 - 8:30 p.m.
Katzen AU Museum
An evening of traditional Mexican music at the AU Museum in honor of the exhibition Toledo Múltiple. The Alma de Cuerdas Ensemble was founded in 2015 by violinist Octavio Zárate. Comprising eight professional musicians hailing from the state of Oaxaca, Mexico, the group has developed both a national and international presence by participating in a diverse range of festivals, quartets, and orchestras. The Alma de Cuerdas Ensemble is committed to fostering the arts among the youth, and to bringing the music that identifies Mexico as a nation of great cultural diversity to all regions within and outside the country. Free and open to the public. RSVP to museum@american.edu.
Gallery Talk: Miya Ando
May 24, 6 - 7 p.m.
Katzen AU Museum
Curator Aria Gannon will discuss the creation of Miya Ando's celestial works rendered in painting and glass sculpture. Free and open to the public.