November 2017
Community Relations
4400 Massachusetts Avenue NW
Washington
,
DC
20016-8033
United States
Meeting of Community Liaison Committee Slated for December 5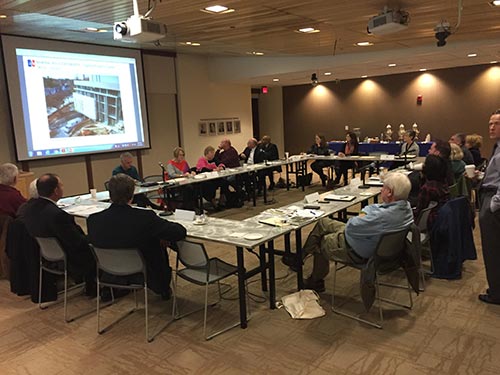 American University's Community Liaison Committee (CLC) will hold a quarterly meeting on Tuesday, December 5.
The meeting will begin at 7 p.m. in the Abramson Family Founders Room in the School of International Service (SIS) building on the university's main campus (4400 Massachusetts Avenue, NW). Neighbors are invited to join AU staff at 6:30 p.m. for pre-meeting coffee and conversation. Parking for the meeting is available in the SIS garage.
The CLC was established to foster positive relations and to maintain regular communication between the university and its neighbors. As specified in the D.C. Zoning Commission Order for AU's 10-year Campus Plan, the CLC comprises individuals from neighboring community organizations and representatives from the university.
Additional information on the CLC, including meeting agendas and minutes can be found at http://www.american.edu/communityrelations/clc/index.cfm.
Celebrate the Season at Tenleytown Winterfest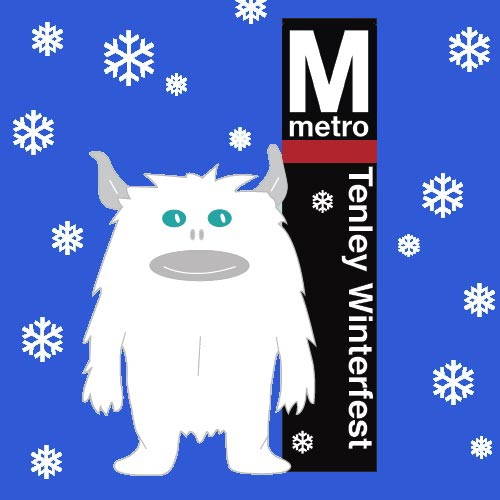 Start your holiday celebrations off right with the sixth annual Tenley WinterFest, Friday, November 24 through Saturday, December 2. Enjoy the Yeti Scavenger Hunt at local merchants, Winter Feast restaurant specials at more than 12 different eateries, the Winter Market with 100+ vendors, a neighborhood walking tour, special holiday film screenings, live music, and more. Events will take place throughout Tenleytown at more than 30 businesses and community institutions.

"American University is proud to once again join with a host of community partners to support this great Tenleytown event," said Andrew Huff, AU Director of Community Relations. "I hope to see all of our Tenley neighbors at this year's Winterfest."
For additional information and a complete schedule of events, visit http://www.tenleywinterfest.org/.
AU Presents Authors of Chocolate City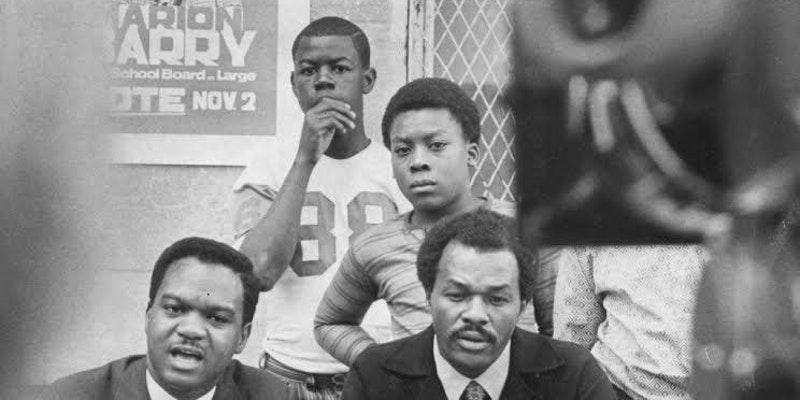 American University's Metropolitan Policy Center (MPC) will present authors Chris Myers Asch and George Derek Musgrove as they discuss their book Chocolate City on Thursday, November 9 from 9:30 a.m. - 11:30 a.m.
Chocolate City tells the tumultuous, four-century-old story of race and democracy in our nation's capital. Emblematic of the ongoing tensions between America's expansive democratic promises and its enduring racial realities, Washington, DC often has served as a national battleground for contentious issues, including slavery, segregation, civil rights, the drug war, and gentrification.
The authors also will be joined by discussants Robert McCartney, Howard Gillette, and Brandi Summers for a conversation about the District.
The event is free of charge and will be held in the Butler Board Room, located on the top floor of Butler Pavilion, accessible via the elevator located next to the American University Campus Store. Breakfast will be provided. To register, visit: https://www.eventbrite.com/e/chocolate-city-book-talk-tickets-38661806504 .
The Metropolitan Policy Center is part of the School of Public Affairs at AU, and serves as the metropolitan and urban research hub on campus. Its mission is to create knowledge and propose solutions to 21st century metropolitan and urban challenges. The insights gained through the Center are disseminated to policy makers, think tanks, foundations, nonprofits, community groups, and academic and mainstream media outlets.
AU Opens Antiracist Research and Policy Center
American University's Ibram X. Kendi recently presented his vision for the much-anticipated, first-of-its-kind Antiracist Research and Policy Center at AU. He spoke to an overflow crowd of students, faculty, and community members.   
Kendi, a New York Times best-selling author and one of the nation's leading scholars of racism, joined AU in August as the founding director of Antiracist Research and Policy Center. He is a professor of history and international relations at the College of Arts and Sciences and School of International Service.
Kendi's latest book, Stamped from the Beginning: The Definitive History of Racist Ideas in America, won the National Book Award for nonfiction in 2016. The book's central and distinctive finding is that racist policies produce racist ideas – not the other way around, as many people were taught to believe. This finding forms Kendi's vision for the Antiracist Research and Policy Center as a central hub to identify inequalities, determine the discriminatory policies behind these inequalities, and ultimately change these policies in the U.S. and across the world.
The Center will support six teams focused on key policy areas: justice, economy, education, environment, health, and politics. The teams will comprise scholars from AU and around the world, as well as journalists, policy experts, and advocates. Kendi said, "We want to bring these people together on teams where each person can do what he or she does best, as part of an intellectual assembly line where problems of inequity become policy solutions, and where solutions become change."
The Center's first major educational initiative is building and maintaining the world's largest virtual and user-friendly library of data on racial inequality.  The Center's second initiative will feature a series of debates on race, "bringing together thinkers from two sides of the intellectual equation to debate the most serious and critical racial issues of the day."
Kendi acknowledges that the Antiracist Research and Policy Center has its work cut out for it. However, he's confident that the timing is right and that the Center is poised to make a real difference in the U.S. and around the world.
"The world's racial problems are quite big. Discrimination is rather bold," he says. "We need big ideas, and we need bold centers. We need serious research, practical policies, and innovative ways of bringing about change, and we can't wait. We can no longer sit on the sidelines of history, as inequality passes on to another generation. This center will not sit on the sidelines. We will be a force of change."
AU Commemorates National News Engagement Day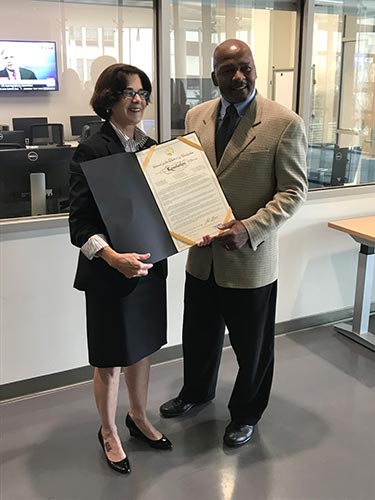 For the fourth consecutive year, the American University School of Communication has commemorated National News Engagement Day by challenging students with a fun way to engage with the news and rewarding them with prizes for their efforts.
This year's observance rose to further prominence as D.C. Ward 3 Councilmember Mary Cheh presented a Ceremonial Resolution establishing October 3, 2017 as "News Engagement Day" in the District of Columbia.  The Ceremonial Resolution recognized and honored the role that the free and responsible press plays in the maintenance and strengthening of democracy. It also emphasized each person's civic responsibility to stay up-to-date with local, national, and international news and cited the benefits of having an informed public.
Each year during the first week of October, journalism schools throughout the United States, Canada, and a half-dozen other countries craft programs to highlight the importance of young people staying informed of current events. "We believe this year's program was particularly important because of the increased hostility toward the news media around the world," said Professor John C. Watson, director of SOC's Journalism Division.
Each participating university chooses its own way to mark News Engagement Day. Many arrange panel discussions, forums, or discussions about the First Amendment. Watson has opted for the News Games at American University since 2014 when the observance was started by the Association for Education in Journalism and Mass Communication, the largest and oldest association of journalism professors in the United States.
Patterned on the TV game show Jeopardy! and The Hunger Games movie, the News Games competition pits students in teams of two to answer news-related questions. The winner gets $500 provided for the last two years by anonymous donors. This year's game was emceed by SOC alumna Markette Sheppard, host of Great Day Washington from local station WUSA-9. The program was recorded live before an audience of students and faculty in the studio at the Media Innovation Lab in the McKinley Building. Members of the WUSA-9 news team and AU President Sylvia Burwell provided video-recorded questions for the student competitors. 

The grand prize is a trophy featuring the American University Eagle carrying a #2 pencil. The trophy is on display year round in the McKinley Building and is inscribed with the names of every winning team. Other prizes were contributed for the runners-up by NBC-4, the Newseum, WAMU, Politico, and NPR. These included included caps, t-shirts, and tote bags. The annual event has become so popular that participation has quadrupled just within the last two years and has extended beyond the School of Communication, according to Watson. In fact, this year's winners were Isaac Pokryska and Tanner Mecham – forming Team North Trunk Trivia – both of whom attend the School of International Service.                   
Yoga in the Galleries
November 1, 8, 15, 22, 29, 10 a.m.
American University Museum at the Katzen Arts Center
Led by certified Kripalu Yoga teacher Eva Blutinger, this yoga class provides mental clarity and relaxation in the peaceful surroundings of our art galleries. Please bring a mat. Cost is $10 for non-members, $5 for museum members, and free for members at the Associates level and above. www.tinyurl.com/ aumtickets.
AU Farmers' Market
November 1, 8, 15,1, 1 a.m. - 4 p.m.
Every Wednesday, the quad space around the Mary Graydon building buzzes with activity as students, faculty, staff, and neighbors browse goods ranging from farm-fresh vegetables to homemade breads and desserts at the AU Farmers' Market. The market is a coordinated effort between AU and Pennsylvania-based Agora Farms. Girardot's Crumbs Bakery also offers a variety of fresh breads, including raisin pecan, harvest grain, pain de campagne, jalapeno cheddar, sourdough, challah, whole wheat, focaccia, black Russian, NY rye, artisan baguettes, and tea breads, as well as chocolate chip cookies, mini pies, and cobblers.
Arab Modern and Contemporary Works from the Barjeel Art Foundation
Now through December 17, 11 a.m. - 4 p.m.
Katzen Museum First Floor Exhibition
This exhibition, Between Two Rounds of Fire, The Exile of the Sea, draws on a diverse selection of works from the collection of the Barjeel Art Foundation, United Arab Emirates, that illustrates an array of technologies of conflict. Conflict is defined in a wider sense and refers to what takes place on either a sociological or psychological plane, through assertions of language, between histories or between peoples, and the body itself. The exhibition explores mechanisms of power and of the power of artists to employ them in their work.
Tethered To The Cradle: Kinetic Work by Christopher Carter
Now through December 17, 11 a.m. - 4 p.m.
Katzen Museum First Floor Exhibition
Christopher Carter's substantial and important sculptures are intended to invite viewer interaction, reflection, and contemplation. The ready-made forms draw on Carter's experiences and memories of his adolescence for their inspiration. The individual pieces comprising the totality of the work resonate and interact with each other, eliciting viewers to reflect on the weight and meaning of their own experiences of growing up. Carter is a contemporary American artist and sculptor of African-American, American Indian, and European descent who was born in New Mexico, grew up in Massachusetts, and lives and works as a full-time artist in Miami.
William Woodward: The Seven Deadly Sins
Now through December 17, 11 a.m. - 4 p.m.
Katzen Museum Third Floor Exhibition
For the past two decades, William Woodward has delved into the rich history and aesthetic possibilities of the seven deadly sins as a subject matter for our own time. The master drawings and narrative paintings in this exhibition continue the artist's fascination with painting figures and animals, which began more than 25 years ago while painting his landmark 880-square foot circus mural at the Ringling Museum in Sarasota, Florida. Woodward's version of the sins owes a great deal to the films of Federico Fellini, Charlie Chaplin, Buster Keaton, and the commedia dell'arte tradition. The artist tries to imagine, had these directors and actors been painters, how they might have depicted their subjects in whimsical and elusive ways rather than strident and explicit interpretations. In creating The Seven Deadly Sins, Woodward is not preaching about sin. Rather, he paints pictures that no one, including himself, had ever seen before.
Opulence and Influence: Lives of the Last Empresses of China (1644-1912)
November 1, 4 - 5 p.m.
Abramson Family Recital Hall
In advance of an exhibition opening in March 2019 at the Freer|Sackler, the Smithsonian's Museum of Asian Art's Jan Stuart and Curator of Chinese Art Melvin R. Seiden will give a lecture examining the lives of empresses in China's last dynasty, explicating their role in court politics, art, and religion, and their efforts to reclaim their presence and influence.
Friday Gallery Tours
November 3, 10, 17, 24, 11:30 a.m. - 12:30 p.m.
Katzen AU Museum
Free, docent-led tours of the Fall Exhibitions are held every Friday through December 15. Tours highlight themes of the current exhibitions and last 45 minutes to one hour. Tours meet at the museum front desk at 11:30 a.m. No RSVP required. For more information, visit http://www.american.edu/cas/museum/events.cfm .
Men's Soccer vs. United States Military Academy
November 4, 4 - 6 p.m.
Reeves Field
ChoreLab 2017
November 8, 8 - 10 p.m.
Greenberg Theatre
AU's student choreographers present an exciting evening of concert dance, directed by Dance Program Faculty Erin Foreman-Murray. You will see an array of works in progress by emerging choreographers. Following the performance, you will have an opportunity to hear the choreographers discuss their artistic choices. Tickets: $5. RSVP Required:
http://auartstix.universitytickets.com/user_pages/event.asp?id=201&cid=34
What Goes Around….
November 9, 10, 8 - 10 p.m.; November 11, 2 - 4 p.m., 8 - 10 p.m.
Katzen Studio Theatre
This modern adaptation of Arthur Schnitzler's nineteenth-century play La Ronde is directed by Carl Menninger. The performance chronicles a series of ten affairs, focusing on the power struggles between the characters and the lies they tell themselves as they move from one encounter to another. Tickets: $10-15. RSVP Required:
http://auartstix.universitytickets.com/user_pages/category.asp?id=31
Museum Member's Preview of Late Fall Exhibitions
November 10, 5:30 - 7:30 p.m.
Katzen Museum
Museum members are invited to preview three new exhibitions opening in the late fall with Museum Director and Curator Jack Rasmussen. At 6 p.m., artist Christopher Carter and curator Aria Gannon will give a tour of Tethered to the Cradle, the artist's latest sculptural works of youthful wonder and self-reflection. To become a member to attend, call 202-885-3656 or visit:
http://www.american.edu/cas/museum/index.cfm?hardrefresh
Women's Volleyball vs. Colgate University
November 10, 7 - 9 p.m.
Bender Arena
Fall For Jazz
November 10, 7:30 - 9:30 p.m.
Abramson Family Recital Hall
The AU Jazz Orchestra brings the swing. The university's very own big band jazzes up the fall with an evening of classic swing, bebop, funk, and blues. Tickets: $5-10. RSVP required:
http://auartstix.universitytickets.com/user_pages/event.asp?id=210&cid=33
Radix: The Eternal Feminine
November 11 - December 17, 11 a.m. - 4 p.m.
Katzen Museum Third Floor Exhibition
RADIX is a painting and assemblage collaboration of three Washington, DC artists Cianne Fragione, Pat Goslee, and Anne Marchand, who all worked with the common concept of the "Eternal Feminine." Seen as an original dynamic and cosmic force, "Eternal Feminine" may be understood as a spiritual being or essence that gives hope and light in dark times. Defying simple definition, this concept has different but analogous meanings for each artist. Each found a means to express the "Eternal Feminine" in contemporary and abstract terms, and from her own perspective.
Recent Acquisitions to the Rothfeld Collection of Contemporary Israeli Art
November 11 - December 17, 11 a.m. - 4 p.m.
Katzen Museum Second Floor Exhibition
The Rothfeld Collection of Contemporary Israeli Art, part of the American University Museum's permanent collection, inspires dialog about political and cultural issues involving Israel through the paintings, sculptures, and mixed media work of prominent and emerging Israeli artists. The collection was gifted to the AU Museum by Donald Rothfeld in 2011 and has been growing ever since.
The Trawick Prize
November 11 - December 17, 11 a.m. - 4 p.m.
Katzen Museum First Floor Exhibition
The Alper Initiative for Washington Art celebrates an award that has become synonymous with Washington, DC-area artistic talent: The Trawick Prize for Contemporary Arts. One of the first regional competitions that annually recognizes visual artists, The Trawick Prize was established by Carol Trawick, a longtime community activist in Montgomery County. The Trawick Prize exhibition features new works by the Best in Show recipients of the award over the last 15 years: Lauren Adams, Richard Cleaver, Larry Cook, Neil Feather, Mia Feuer, Lillian Bayley Hoover, Gary Kachadourian, Maggie Michael, Jonathan Monaghan, Jiha Moon, David Page, James Rieck, Jo Smail and Rene Trevino.
Gallery Talk: Best In Show, The Trawick Prize
November 11, 5 - 6 p.m.
Katzen AU Museum
This season's salon-style conversation in the Alper Initiative for Washington Art takes a different approach to celebrating Washington, DC artists by recognizing the recipients of the Trawick Prize over the past 15 years. Each of the Trawick Prize-winning artists will speak about their process, and one will be awarded with the Ruby Award for Best in Show that night. This event is free and open to all. Space is limited. RSVP:
https://www.eventbrite.com/o/alper-initiative-for-washington-art-8646070783
Opening Reception at the AU Museum
November 11, 6 - 9 p.m.
Katzen AU Museum
Join fellow museum patrons, artists, and curators for the opening of three new exhibitions: RADIX: The Eternal Feminine, The Trawick Prize, and The Rothfeld Collection of Contemporary Israeli Art. Free and open to all.
Kids@Katzen
November 12, 1 - 3 p.m.
Katzen AU Museum
Bring the whole family to an artist-led workshop with sculptor Christopher Carter. Learn more about his ready-made forms and playful, gravity-governed games on view in Tethered to the Cradle and make your own sculptures. The class includes an age-appropriate tour of the exhibition and a hands-on workshop with the artist. Recommended for ages 5-12. Cost is $10 per child. Advanced registration requested. All materials provided.RSVP:
http://auyoga.tix.com/Event.aspx?EventCode=1013649
Women's Volleyball vs. Bucknell University
November 12, 2 - 4 p.m.
Bender Arena
The Winds Of Time
November 12, 3 - 5 p.m.
Abramson Family Recital Hall
Join the AU Symphonic Band for a sweeping program of new classics and old favorites. This performance will musically transport audiences through the ages with a bit of variety for everyone. Tickets: $5-10. RSVP:
http://auartstix.universitytickets.com/user_pages/event.asp?id=211&cid=33
Women's Basketball vs. LaSalle University
November 13, 7 - 9 p.m.
Bender Arena
Gallery Talk: The Seven Deadly Sins
November16, 6 - 7:30 p.m.
Katzen AU Museum
Artists William Woodward and Clarice Smith, author Katherine Neville, and Museum Director Jack Rasmussen discuss the inspiration and technique behind the narrative paintings in The Seven Deadly Sins.
Eventide
November 17, 18, 7:30 - 9:30 p.m.
Abramson Family Recital Hall
The AU Chorus explores themes of darkness, sleep, and dreams with music from rising stars in the world of choral composition. Enjoy serene compositions by choral innovator Eric Whitacre, transcendent pieces by Norwegian songwriter Ola Gjeilo, and other musical celebrations. Tickets: $5-10. RSVP: http://auartstix.universitytickets.com/user_pages/category.asp?id=33
Movement Speaks: Conversations About Dance
November 187, 8 - 10 p.m.
Katzen Dance Studio
Movement Speaks is a series featuring dance artists discussing their work as choreographers, researchers, scholars, and performers. Kicking off the 2017-18 season is AU Dance Faculty Erin Foreman-Murray. As the culmination of a week-long residency with American University Dance Company, Foreman-Murray opens the dance laboratory to discuss her choreographic process, as well as give a sneak peek of her new work on the company.
Artists Lecture with the James Renwick Alliance
November 19, 2 - 3 p.m.
Katzen AU Museum
In conjunction with the James Renwick Alliance's (JRA) Distinguished Lecture series on local artists, Sonia King discusses her mosaic techniques of using both a micro and macro approach to create organic forms. The lecture is free and open to the public. Additional programming with the JRA is open to Museum Members at the Associate's Level and above in conjunction with the artist's lecture. More information, visit: https://www.jra.org/
Men's Basketball vs. Virginia Military Institute
November 25, 4 - 6 p.m.
Bender Arena
Gallery Talk: Radix: The Eternal Feminine
November 30, 6 - 7 p.m.
Katzen AU Museum
Curator Claudia Rousseau and artists Anne Marchand, Pat Goslee, and Cianne Fragione discuss the "feminine energy" in their collaborative exhibition of paintings and assemblages. Free and open to all.