November 2018
Community Relations
4400 Massachusetts Avenue NW
Washington
,
DC
20016-8033
United States
2018-19 Basketball Tickets on Sale Now
Secure your 2018-19 basketball season tickets today. Packages are priced as low as $56 and only $224 for the best chairback seats along the sideline for all 27 men's and women's basketball home games in Bender Arena. Season ticket holders receive savings off the individual game price, guaranteeing fans the same great seats for all Men's Basketball games in Bender Arena.
Also available for purchase are 2018-19 Women's Basketball season tickets. General admission season tickets for the Patriot League Champion AU Women's Basketball team are $80 for adults, $50 for youth (17 and below) / seniors (65+) – a savings of more than 23 percent off face value for 13 home games.
Benefits for all season ticket packages include the full exchange for games you cannot make, as well as discounts and special benefits throughout the year. All season ticket holders receive priority ticketing for all national postseason tournament games. Home basketball games are free of charge for all AU students with a valid AU ID.
Also available:
Starting Five Mini-Plan – Secure your seats for AU Men's Basketball opening night (Nov. 16 vs. New Hampshire) and for four other games of your choice. Receive the same sideline-reserved (sections 101-106) tickets for five games at the low price of $85.
Group Tickets – Group tickets are available for advance purchase and start at just $2 per ticket.
For further inquiries on season ticket packages, mini-plans, group, or individual game tickets, call (202) 885-TIXX (8499) or e-mail clawed@american.edu. Tickets also can be purchase in person at the Bender Arena Box Office from 10 a.m. to 5 p.m., Monday through Friday. 
For further updates, news, and to purchase tickets head to AUeagles.com/Tickets.
The Kojo Nnamdi Show Celebrates 20 Years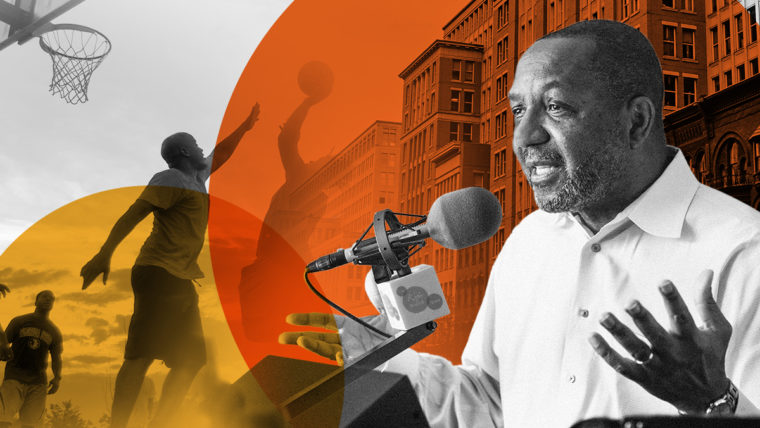 When Kojo Nnamdi was named WAMU's new midday host in 1998, he told The Washington Post that he wanted to expose listeners to "the city's young intelligentsia, to its writers and poets."
Twenty years later, The Kojo Nnamdi Show is doing exactly that and much more. It has evolved into a program that delves into critical conversations about society, community, race, housing, education, and politics and the arts in the Washington, D.C., metro area.
Over the years, Kojo has taken listeners on both intellectual and emotional journeys around the region and across the globe. Whether with ordinary citizens or polished politicians, The Kojo Nnamdi Show continues to generate thoughtful and productive dialogue on the topics at the heart of our region.
"Kojo has always made it a priority to meet people where their lives happen – in the community," said Andi McDaniel, WAMU's senior director of content and news.
"So it's only fitting that we celebrate this milestone in a way that allows us to share it with Washingtonians."
The 20th anniversary of The Kojo Nnamdi Show will be marked by a series of editorial coverage and live events focused on showcasing how the region has changed during the past 20 years, important topics of today, and where the future will take us.
Listeners are invited to participate in the 20th anniversary by taking part in important conversations about the area's past, present, and future on social media with #Kojo20.
To get news and updates about the show, visit kojoshow.org/20.
Celebrate the Season at Tenleytown Winterfest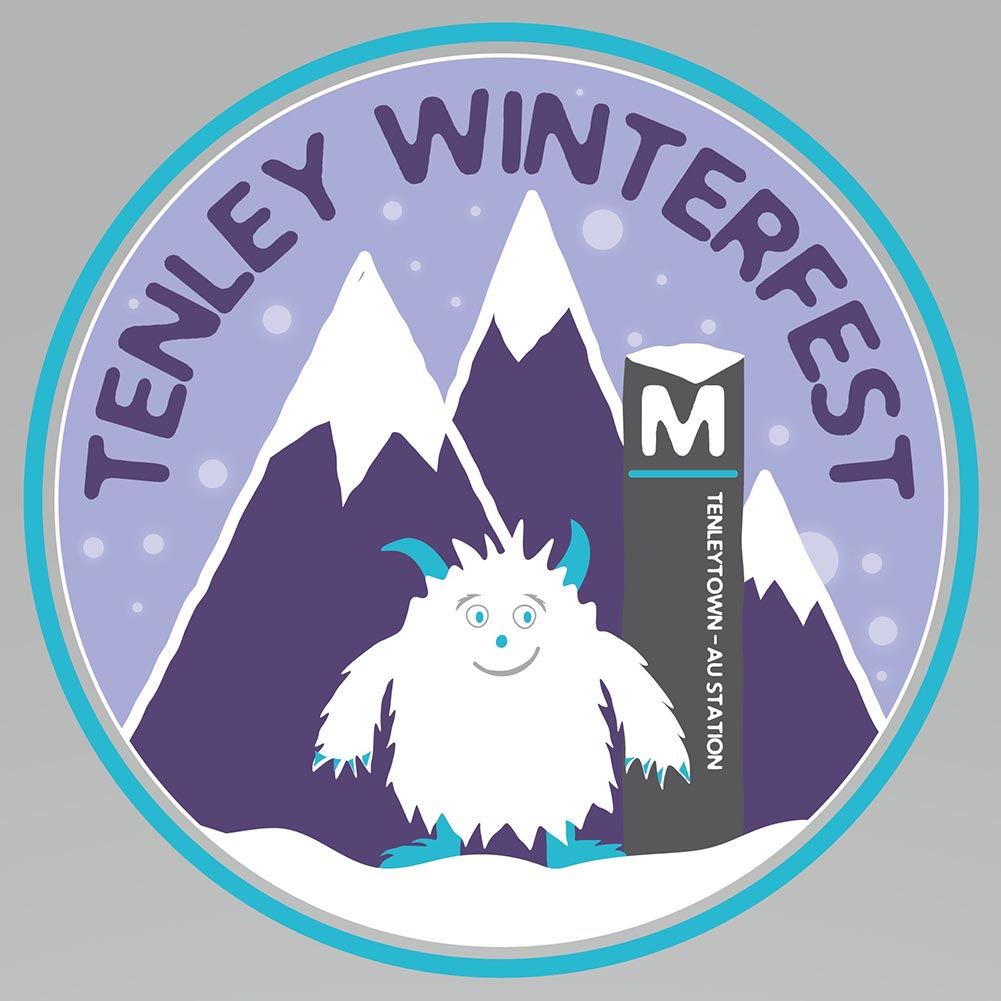 Start your holiday celebrations off right with a visit to the 2018 Tenley Winterfest from Friday, November 23 through Saturday, December 1. Enjoy a craft and food market, Yeti scavenger hunt, live music, the Janney 5k Race, special deals from Tenleytown merchants, a neighborhood walking tour, special holiday film screenings, live music, and more. Events will take place at Janney Elementary School (4130 Albermarle Street, NW) and the Tenley-Friendship Library (Wisconsin and Albermarle Streets, NW).
"American University is proud to once again join with a host of community partners to support this great Tenleytown event," said Andrew Huff, AU Director of Community Relations. "I hope to see all of our Tenley neighbors at this year's Winterfest."
For additional information and a complete schedule of events, please visit http://www.tenleywinterfest.org. 
George Hawkins Aims to Inspire Policy Passion at the Local Level
Whether with water, roads, policing, or affordable housing, new SPA Professor of Practice George Hawkins says students interested in public policy can make a difference helping cities deliver services directly to people who need them.
"In my view, having been at various levels of government over the years, local government is where the action is these days," said Hawkins.
Hawkins, a Harvard Law School graduate, worked in senior positions with the Environmental Protection Agency (EPA) and the Occupational Safety and Health Administration (OSHA). He served former Vice President Al Gore on the National Performance Review, playing an integral role in strengthening environmental protection programs at EPA and OSHA.
Hawkins moved to the municipal level of government and became the head of the District of Columbia Department of the Environment in 2007, where he enjoyed seeing and measuring the outcome of his work. He was general manager of the District of Columbia Water and Sewer Authority from 2009 to 2017. Prior and during his work in government, altogether Hawkins spent 18 years teaching environmental law and policy at Princeton University.
At SPA, Hawkins is developing a new course for the spring semester that will focus on migration to cities and infrastructure policies. Students will explore case studies drawn from recent headlines and will act out the roles of key players to enhance their critical thinking and public speaking skills. Hawkins hopes it will encourage a new generation of young leaders to bring their creativity to local government. He would also like to create a professional training program for municipal officials to enhance their exposure to the latest technology to solve local problems.
"Coming to AU allows me to force multiply the lessons I've learned in 25 years of public service at both ends of the spectrum — to share it with folks coming in with enthusiasm and those grizzled veterans trying to do their best," says Hawkins, adding how he loves teaching and learning from students.
Improving cities is a matter of leadership, and Hawkins wants the next step in his career to focus on education.
"All over the United States, cities are coming back," says Hawkins. "As that happens, we need to make cities greener, affordable, and inclusive…It's where the jobs are."
According to Hawkins, the need to understand how to deliver water to growing cities and manage services in times of drought is a growing concern. He currently is writing a book about the story of the transformation of District of Columbia Water into a customer-oriented enterprise. He also runs a company called Moonshot that consults with utilities nationwide.
Hawkins began his career practicing law in Boston but was drawn to the nonprofit world and public service. "Purpose is everything to me," Hawkins said. "Whether humankind is going to be able to survive on this planet in a way that's sustainable is still an open question. Survival of people – and all other species – is well worth our attention."
Finding a Path Emilie Brzezinski and Dalya Luttwak: A Conversation
Now – December 16, 11 a.m. – 4 p.m.,
Katzen Museum 1st & 2nd Floors Exhibition
 Emilie Brzezinski and Dalya Luttwak have much in common as artists, yet they have never shown their works together. Brzezinski's massive, rough-hewn, wood sculptures embody the vital energy of trees as archetypes of being. Luttwak's brilliantly colored metal creations are inspired by another essential aspect of universal growth and decay in nature – plant roots. This site-specific installation is a conversation on their approaches to nature as a means of understanding one's path through the world, and life itself.
Jim Sanborn - Without Provenance: The Making of Contemporary Antiquity
Now – December 16, 11 a.m. – 4 p.m.
Katzen Museum 3rd Floor Exhibition
In Without Provenance, Jim Sanborn gives a rare gift of artistic provocation. There is an abundance of beauty in this exhibition, but it is beauty that provokes thought and reflection. The takeaway from this extraordinary show is a very different vision for an art-collecting world.
Selections from the Artery Collection
Now – December 16, 11 a.m. – 4 p.m.
Katzen Museum 1st & 2nd Floors Exhibition
The Artery Organization Collection was conceived as a corporate collection in the early 1980s to support Washington-area artists and enhance the real estate offices of the company. CEO Henry H. Goldberg and his wife, artist Carol Brown Goldberg, worked with curators and galleries to ensure the broadest possible outreach and diversification of artistic styles. The energy reflected in the variety of art chosen over two-plus decades captures the spirit and inspiration of The Washington Color School and reflects the cooperation of artists, dealers, and collectors. The collection is the largest private assemblage of Washington-area artists.
Friday Gallery Tours
November 2, 9, 16, 23, 30 11:30 a.m. – 12:30 p.m.Katzen AU Museum
Free, docent-led tours of the fall exhibitions are held every Friday. Tours highlight themes of the current exhibitions and last 45 minutes to one hour. Tours meet at the museum front desk at 11:30 a.m. No RSVP required. For more information, visit http://www.american.edu/cas/museum/events.cfm.
In Our Hands
November 3, 7:30 – 9 p.m.; November 4, 3 – 4:30 p.m.
Abramson Family Recital Hall
Choral music of the New World is a vast and diverse landscape. In preparation for their spring European tour, the American University Chamber Singers have collected an anthology of choral music from across the Americas for In Our Hands: Music Shaped By The New World. They will round out their performance with To the Hands by Pulitzer Prize-winner Caroline Shaw – a modern response to Dietrich Buxtehude's Membra Jesu Nostri. Cost: $10. RSVP: http://auartstix.universitytickets.com/user_pages/event.asp?id=363&cid=50.
Women's Volleyball vs. Lehigh University
November 6, 7 – 9 p.m.
Bender Arena
Yoga in the Galleries
November 7, 14, 21, 28, 10 a.m.American University Museum at the Katzen Arts Center
Led by certified Kripalu Yoga teacher Eva Blutinger, this yoga class provides mental clarity and relaxation in the peaceful surroundings of our art galleries. Please bring a mat. Cost is $10 for non-members, $5 for museum members, and free for members at the Associates level and above. www.tinyurl.com/aumtickets.
AU Farmers' Market
November 7, 14, 21, 28, 10 a.m. Quad Space in front of Mary Graydon Center
Every Wednesday, the quad space around the Mary Graydon building buzzes with activity as students, faculty, staff, and neighbors browse goods ranging from farm-fresh vegetables to homemade breads and desserts at the AU Farmers' Market. The market is a coordinated effort between AU and Pennsylvania-based Agora Farms. Girardot's Crumbs Bakery also offers a variety of fresh breads as well as chocolate chip cookies, mini pies, and cobblers.
Women's Basketball vs. University of Tulsa
November 9, 7 – 9 p.m.
Bender Arena
Choreolab 2018
November 9 – 10, 8 – 10 p.m.
Greenberg Theatre
Choreolab is an annual workshop for emerging student choreographers who approach their work as though in a laboratory: experimenting with methods of dance making, upending assumptions, and recognizing the process as equally valuable to the results. Join us for a concert of works-in-progress with a post-show conversation with the choreographers and cast. We will celebrate the bravery of the creative act, the joy of risk-taking, and the pleasure of artistic dialogue.
Post-show discussion will occur both nights. Cost: $5. RSVP: http://auartstix.universitytickets.com/user_pages/event.asp?id=388&cid=62.
Ian Jehle: Dynamical Systems
November 10 – 16, 11 a.m. – 4 p.m.
Katzen AU Museum
Ian Jehle, a DC-based artist and American University faculty member, has long been known for his sensitive, large-scale portraits of members of the Washington art community. This exhibition uses those graphic portraits as the introduction to a new body of abstract drawings, based on mathematical algorithms. These complex, linear systems will be installed as site-specific wall drawings throughout the Alper Gallery, extending into the lobby area. Dynamical Systems combines Jehle's unusual combination of skill sets as a visual artist, teacher, and mechanical engineer. Curated by Laura Roulet.
Tribe: Contemporary Photography from the Arab World
November 10 – 16, 11 a.m. – 4 p.m.
Katzen AU Museum
This exhibition highlights a selection of artists published within the eight editions of Tribe – a magazine founded in Dubai that is dedicated to covering developments in photography and new media from the Arab World. The exhibition contextualizes an expansive field of image-based work through various themes, while celebrating artists both internationally acclaimed as well as those whose practices have been recognized recently. At times, artists poetically deploy hues, shadows, and partial images to nuance aspects of Arab culture. By expanding our appreciation and understanding, the variety of photographic practices deployed creatively by artists from throughout the Arab World, Tribe aims to place these accomplished artists on a global stage within the larger sphere of contemporary photography.
Tribe Gallery Talk
November 10, 5 – 6 p.m.
Katzen AU Museum
Join Curator Janet Bellotto and co-curator Dr. Woodman Taylor in conversation with several artists featured in our late fall exhibition Tribe: Contemporary Photography from the Arab World. This talk will explore broad, culturally-specific themes as well as innovation by the individual artists featured in the photography magazine Tribe. The talk is free and open to all, please RSVP. http://www.tinyurl.com/AUMuseumKatzen.
Late Fall Opening Reception
November 10, 6 – 9 p.m.
Katzen AU Museum
Mix and mingle with artists, curators, and fellow patrons at our Late Fall reception. View our two new shows, Ian Jehle: Dynamical Systems in the Alper space, and Tribe: Contemporary Photography from the Arab World. Then take a second look at three ongoing exhibitions, Finding a Path, Emilie Brzezinski & Dalya Luttwak: A Conversation, Selections from the Artery Collection, and Jim Sanborn's Without Provenance: The Making of Contemporary Antiquity.
Rejoice!
November 10, 7:30 – 9 p.m.; November 11, 3 – 5:30 p.m.
National United Methodist Church
The first half of the 20th century saw the flourishing resurgence of English choral music. Join Casey Cook and the American University Chorus for an exploration of some of England's most beloved composers, including works by Gerald Finzi, Herbert Howells, Benjamin Britten, and Ralph Vaughan Williams. Free and open to the public. 
Naila and the Uprising
Film Screening
November 14, 7 – 9 p.m.
Doyle Forman Theater
Naila and the Uprising chronicles the remarkable journey of Naila Ayesh, a young woman in Gaza during the First Intifada, whose story weaves through the most vibrant, nonviolent mobilization in Palestinian history. When a nationwide uprising breaks out in the Occupied Territories, Naila must choose between love, family, and freedom as she joins a clandestine network of women in a movement that forces the world to recognize the Palestinian right to self-determination. A reception will be held at 6:30 p.m., and a post-screening Q&A session. The event is free, but reservations are recommended. Seating will be on a first-come, first-served basis. https://nailaandtheuprisingfilmsacrossborders.eventbrite.com.
Women's Basketball vs. George Mason University
November 14, 7 – 9 p.m.
Bender Arena
Men's Basketball vs. New Hampshire
November 16, 7 – 9 p.m.
Bender Arena
Sine Nomine with the Experiential Orchestra
November 17, 7:30 – 9 p.m.
Katzen AU Museum
In a singular collaboration between the American University Museum at the Katzen Arts Center and Experiential Orchestra (EXO), audience members will be invited to experience the provocative art of Jim Sanborn through a curated soundscape that pairs the simulated antiquities in Without Provenance: The Making of Contemporary Antiquity with millennia-old musical compositions, all of which are "sine nomine," or "without a name." These anonymous compositions will each be paired with a contemporary Cambodian replica of ancient Khmer art, creating a dialogue about art and identity, maker and craft when confronted with creativity that bears no title. To learn more about EXO, click here. Tickets are $25 per person, and free for all students with valid ID.
Kids@Katzen
November 18, 1 – 3 p.m.
Katzen AU Museum
Join in the fun for an age-appropriate tour and hands-on artmaking workshop inspired by the right-left brain synthesis in Ian Jehle's Dynamical Systems, which combines insightful portraiture with elements of mathematics and engineering. Recommended for ages 5 – 12. Cost is $10 per child. Free for up to 2 children for members at the Family Level and above.
Women's Basketball vs. UMBC
November 28, 7 – 9 p.m.
Bender Arena
Free Parking: Ian Jehle
November 29, 5:30 – 6:30 p.m.
Katzen AU Museum
Join us for a conversation with Ian Jehle and Curator Laura Roulet to discuss Ian Jehle: Dynamical Systems, a site-specific installation that combines insightful portraits of DC art figures with elements of mechanical engineering. Free and open to all, please RSVP. 
Men's Basketball vs. Wagner College
November 30, 7 – 9 p.m.
Bender Arena