November, 2020

Community Relations
4400 Massachusetts Avenue NW
Washington
,
DC
20016-8033
United States
American University Releases Latest Campus Plan Draft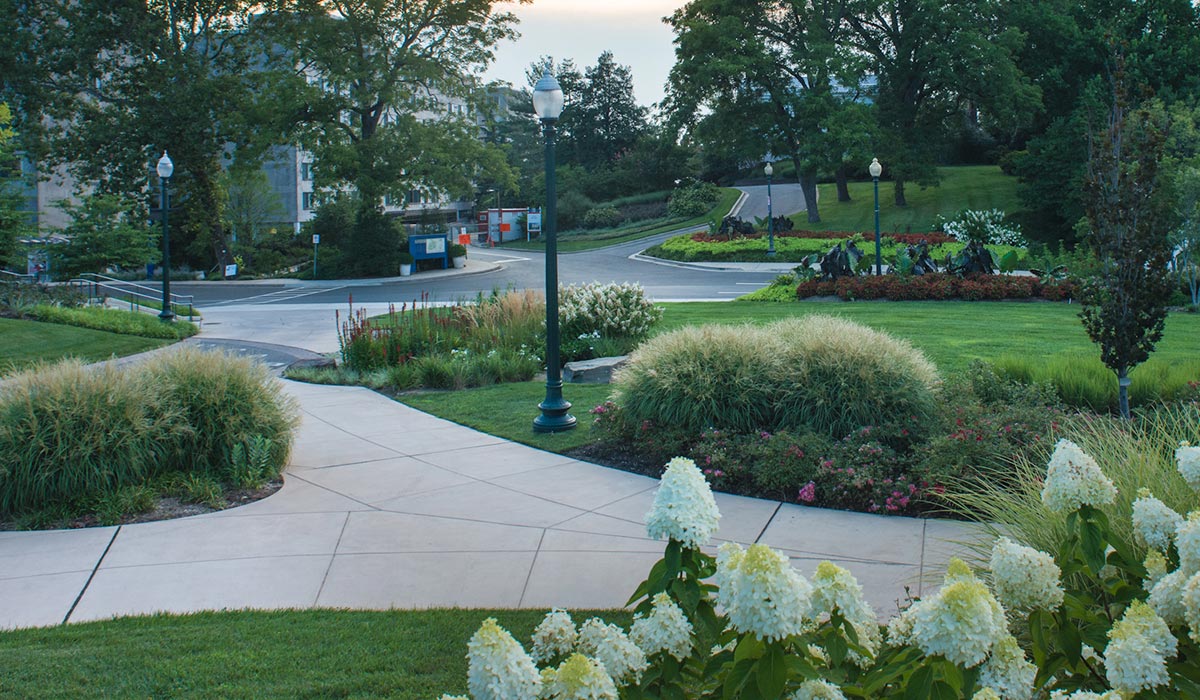 Dear Neighbors,
American University has released the latest draft of the 2021 Campus Plan. This latest draft best reflects what the university intends to file with the Zoning Commission later this month. It incorporates public comments and suggestions received from the community input portal, Community Liaison Committee, and ANC 3D/ANC 3E meetings since the release of the September 8th draft. We also have included a document that highlights the key updates that were made.
We thank you for your continued participation in this process.

Maria Barry
Director of Community Relations
American University
Donate Clothing and Other Goods To Benefit Local Charities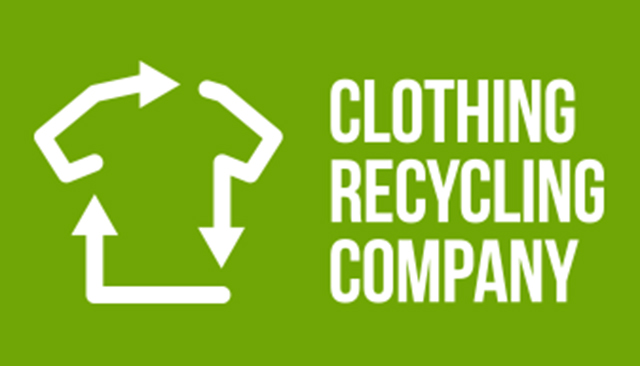 American University's Staff Council and Zero Waste Management are excited to announce a new partnership with the Clothing Recycling Company (CRC), a local organization dedicated to responsibly recycling clothing and other goods to local charities in the DMV area. The CRC supports Martha's Table, Arlington Street People's Assistance Network, and the Downtown Day Service Center.  
Beginning Monday, November 16, donations can be dropped off in the hunter green-colored AU donation bin located on the East Campus parking lot, on the corner of Nebraska Ave NW and Massachusetts Ave.
Any item you wish to donate - aside from perishables - may be dropped off throughout the remainder of the academic year. You also may request a tax receipt for your donation.
If you are unable to come to campus, you may donate at other locations near you. 
For more information about donations and the donation bin, contact council@american.edu.  
AU Faculty and Staff Double Down to Help Students Succeed Online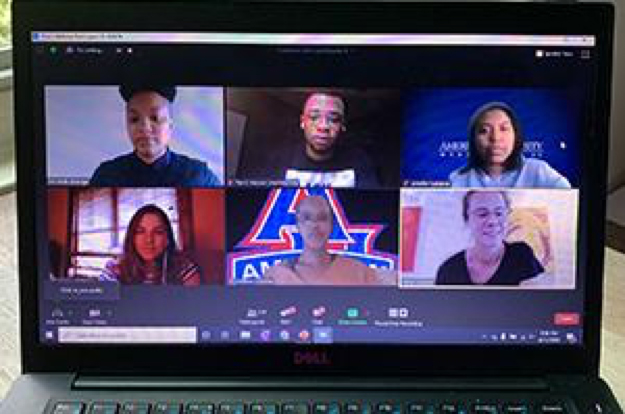 This past August, as American University prepared for its first full semester of remote learning, the annual Student Success Summit, sponsored by the offices of Campus Life (OCL) and Undergraduate Education and Academic Student Services (UEAS), focused on how faculty and staff can help students succeed in an online learning environment. 
The virtual event attracted 240 staff and faculty members who expanded their understanding of the needs of students as online learners, heard directly from students who navigated the transition to online learning this past spring and were preparing for the fall semester, and increased their awareness of strategies to support students as online learners.
Helping students feel supported and connected to services and faculty was the main premise of the summit. Factors once taken for granted during in-person classes – like fostering participation and engagement and creating a sense of community – suddenly take on even greater importance. With students learning from all over the world, the university had to address not only technical concerns but also time zone differences, cultural considerations, and individual student circumstances.   
"We considered factors such as students studying from across the globe, and the different needs of international students versus students based in DC and across the United States. The goal of the 2020 Online Learning Summit was to prepare staff and faculty for the unique needs of students as online learners," says Ashley Rozendaal, director of student success and student-athlete support, UEAS.  Five students – Noor Coenen, Tamir Harper, Jennie Saldana, Josiane Umulisa, and Claire Whitman – shared their challenges, concerns, and recommendations for online instruction and engagement during the student panel. They agreed overwhelmingly that their best experiences were with faculty who took the time to make their virtual classrooms inviting, open, and more centered around students' needs and with staff who remained engaged and easily accessible. 
Whitman said she was most concerned about establishing expectations for both students and faculty and the lines of communication between them. "Transitioning on the fly between in-person classes and online last spring proved to be a learning curve for both professors and students," Whitman recalled. "Initially, professors were trying to replicate the in-class experience and not sufficiently recognizing the new challenges that the sudden online environment posed. Everything felt like it took twice as long to accomplish." 
Umulisa said the summit demonstrates that the university is doing its best to address students concerns about online learning. She said she is most concerned about not being able to get the quality of education she expected when she came to AU. "Being in graduate school means you have limited time to not only get your degree, but also build personal relationships with your professors and attend networking events that could further your career," she said. "Online learning can feel particularly impersonal and hard to adjust to given how much time we spend in front of a computer, whether it's for readings or attending a lecture."
Michelle Strange, assistant director of educational and support programs in the Center for Diversity and Inclusion (CDI) in OCL, and the panel's moderator, said she is concerned about the online transition's impact on students' abilities to engage across social issues and examine their beliefs and values inside and outside the classroom and their need to feel seen and build affinity and intergroup community. 
"The online learner student panel provided invaluable insights to faculty and staff seeking tools for inclusive practices and deeper virtual engagement. The panel was especially beneficial as it allowed faculty and staff to ask students directly about their experiences to help us make more informed choices," said Strange. 
Strange said CDI has adjusted its offerings to exist virtually through real-time and anytime modes of learning and developed a resource for virtual facilitation strategies for staff, faculty, and student leaders who seek deeper engagement as they adjust to online learning and navigate the complexities of the world's current climate. These offerings include Intergroup Dialogue, anti-racism workshops and a new facilitator training, virtual community building with First Fridays, and new series-based programs that explore anti-Semitism, white supremacy culture, anti-racism, and more. 
Jess Edwards, program manager of supplemental instruction and tutoring, and Stacey Miles, coordinator of academic coaching, both UEAS, introduced faculty and staff to the resources available to support students' needs, including the Learning Support Services Technology Hub, Academic Coaching resources, tutoring services, and AU's Supplemental Instruction program. Edwards and Miles shared potential solutions for 11 challenging scenarios – involving access, motivation, learning strategies, task management, class management, varying class modalities, mental health and wellness, faculty communication, and engagement with peers – with faculty and staff may encounter in their work with students online. 
Seeing an increase in questions and concerns from students and parents about student accounts, registration, and veterans services as the university transitioned to an online environment, Gene Logan, associate director of AU Central, said he attended the summit to learn how his staff of student service counselors can best engage with and be accessible to students and their families.  Since the summit, AU Central has emphasized regular updates to the content on Help.American.edu, so that students and parents can access the information they need at any time, Logan explained. "We also have embraced our role as campus navigator when students and parents contact us with questions that concern multiple offices and services on campus. AU Central has begun to take ownership of many of these cases and provide a comprehensive response to students from many sources within the university," said Logan.  
Logan, an instructor for American University Experience (AUx), a course for first-year students, said he wants to ensure that he is utilizing all available resources to engage fully with his students and build community, both key tenets of AUx.  For example, Logan has begun breakout rooms, discussion boards, and virtual office hours to help students engage more with him and other students.  Adelaide Kelly-Massoud, director for the special education program at the School of Education, said she found direct feedback from students to be eye-opening. She said she was especially struck by students' concerns about the lack of flexibility sometimes shown by faculty during online learning.  
"Students perceived increased workloads and did not feel that the faculty was showing empathy to their individual circumstances. They also voiced a need for faculty to understand the challenges they may be facing outside of instruction. Not only were students dealing with the effects of a global health pandemic, they also were feeling the impacts of the rising divisions over social injustice and equity issues," said Kelly-Massoud.   
On the recommendation of summit participants, the work will continue with a series of brown bag lunches throughout the fall semester to discuss current trends, revisit what continued challenges students face in an online environment, and to provide strategies and support for the entire university community.  
"I suspect we need continued help in knowing how to create an environment for students to feel safe, where their experiences can be heard, and where they can be supported.," said Kelly-Massoud. "We always need to keep in mind how critical it is for our students to feel engaged with faculty and staff, while maintaining the deep desire we all have to provide high-quality educational experiences." 
AU Combined Heat and Power System Reuses Waste Heat, Saves Campus Energy, Money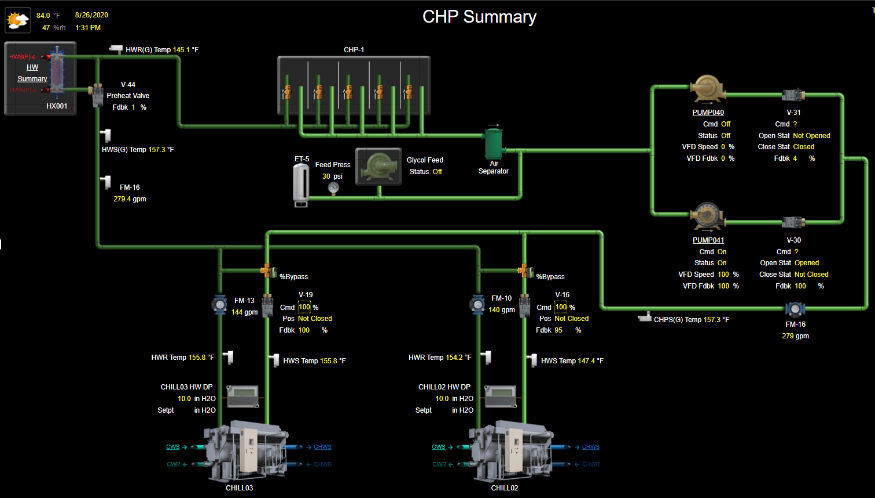 By now, you may have seen or heard about the microturbines installed on top of the Asbury building and the heard about the energy savings they provide to AU. The turbines are part of a larger campus energy conservation plan, called "combined heat and power."
AU's new combined heat and power, or "CHP" plant, uses five natural gas-fired microturbines on the rooftop of Asbury building to generate roughly one megawatt of electricity locally on-campus. The combusted natural gas exhaust leaves the turbines at a relatively high temperature of about 535 °F. Rather than sending this hot exhaust gas out to the atmosphere, the plant uses a heat exchanger to extract the thermal energy exhaust gases and put it into the campus heating hot water system (which runs at about 150 °F). This process recovers much of the heat that otherwise would be wasted.
There are multiple environmental and financial benefits to CHP on campus. AU uses this electricity to decrease our dependence on the electrical grid, which reduces strain on the local utility. Energy efficiency is improved in the process by reducing source energy (energy consumption that includes losses from the transportation and production processes) since the energy is converted on campus. Finally, the university can avoid costly extras on power bills such as charges for using energy from the grid during peak demand hours. In a CHP system, there are no peak demand charges, since the energy is generated by the university and can be utilized whenever.
The five microturbines generate enough electricity to power the main campus resident halls. The thermal heat recovery system further optimizes onsite electric generation by heating campus buildings during the winter or to provide cooling in the summer.
During winter operation, the CHP also uses waste heat to produce hot water. This water is then added to the campus heating system. This efficient collection and reuse of waste heat allows for a reduction in the number of boilers used to heat the campus during the winter heating season, saving natural gas as well as producing electricity.
This state-of-the-art system combines the benefits of onsite electrical production with the efficient collection of the waste heat. Coupling that with the efficient campus heating system, everyone at AU can be proud of the positive environmental impact this new system has achieved, not to mention the positive fiscal impact on the utility budget.
AU Offers Virtual Discussions and a Musical Performance in November
American University may be mostly shuttered for the moment as a result of the COVID-19 pandemic, but that doesn't mean there aren't a host of virtual activities that you can participate in and attend. Below is a calendar of events that will take place virtually in November:
Promoting Government Awareness and Transparency in the Fight Against Flooding in Bangadesh
November 4, 9 – 10:30 a.m.
How can people be given a greater awareness of who is responsible for offering climate adaptation projects?  How might these be distinguished from disaster management? How can government accountability be developed? Professor Todd Eisenstadt of School of Public Affairs' Center for Environmental Policy (CEP) convenes a discussion moderated by American University's David Simpson, and featuring Professor Tawfique M. Haque of North-South University (Bangladesh), Sharaban Tahura Zaman, senior research fellow with the Centre for Climate Justice-Bangladesh (CCJ-B), and Associate Professor Teresa Kramarz of the Environmental Governance Lab at the University of Toronto. RSPV required: https://american.swoogo.com/lessons.
Understanding Justice Systems and Moving to a World Without Prisons
November 5, 12 – 1:15 p.m.
Understanding justice systems globally is the first step to envisioning and implementing true criminal justice reform. Join the virtual conversation on incarceration and what the world could look like without prisons. The discussion will feature Dr. Baz Dreisinger, professor at John Jay College of Criminal Justice and the Executive Director of the Incarceration Nations Network (INN). Dreisinger also is the founder of the Prison-to-College Pipeline program which offers college courses and re-entry planning to incarcerated and formerly incarcerated students. Prof. Dreisinger, a Global Fulbright Scholar and Fulbright Specialist, also writes for such publications as The New York Times and Forbes, and is the author of Incarceration Nations: A Journey to Justice in Prisons Around the World and Near Black: White-to-Black Passing in American Culture. Register for free: https://www.eventbrite.com/e/understanding-justice-systems-and-moving-to-a-world-without-prisons-tickets-118652660301.
A Conversation with the Minister of Foreign Affairs of Ecuador
November 10, 5 – 6 p.m.
AU professor Eric Hershberg, director of the Center for Latin American and Latino Studies, who will host a virtual discussion with Ambassador Luis Gallegos, Minister of Foreign Affairs of Ecuador. They will discuss Ecuador-US relations as well as Ecuador's response to COVID-19, especially as cases have been trending up again over the past few weeks. Dean Emeritus Louis Goodman will make introductions, and an audience Q&A follows the discussion. To attend, register at: https://ambluisgallegos.eventbrite.com. Registrants will receive an email from Eventbrite containing the Zoom webinar link.
Seven Days After the Election: What Happened?
November 10, 6 p.m.
Join AU's School of Communication (SOC) and School of Public Affairs (SPA) for a virtual panel that will examine and assess the outcome of the U.S. election one week after election day. Panelists will include Candy Nelson of SPA, Lenny Steinhorn and W. Joseph Campbell of SOC, and Amrutha Chatty, director the student-run Kennedy Political Union lecture series. The programs will be on convened on Zoom and moderated by Ron Elving of National Public Radio, who also is an executive in residence and professorial lecturer in SPA. RSVP: https://seven-days-after.eventbrite.com/.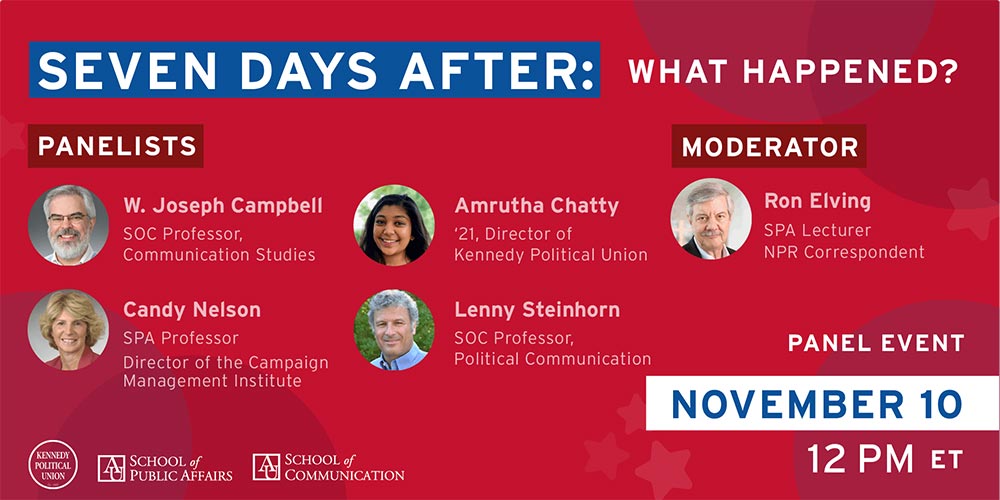 Films Across Borders: Stories of Resilience and Hope Virtual Panel Discussion on "The Serengeti Rules" 
November 10, 6 p.m.  
Join us for a live virtual panel discussion about the award-winning film The Serengeti Rules. AU School of Communication Professor Maggie Burnette Stogner, also the executive director, Center for Environmental Filmmaking, will moderate a discussion with Kiho Kim, AU College of Arts and Sciences professor; Sean Carroll, head of studio, HHMI Tangled Bank Studios; and Fred Tutman, clean water advocate and Patuxent Riverkeeper. RSVP: https://fab-serengeti-rules.eventbrite.com/.
Post-Election Discussion with Janet Rodriguez & Ed O'Keefe
November 10, 7:30 – 8:30 p.m. 
The Sine Institute brings back American University alums Janet Rodriguez (White House Correspondent, Univision) and Ed O'Keefe (Political Correspondent, CBS News) for a post-election virtual discussion. To register: https://american.swoogo.com/Post-Election.
Diversity in Entertainment: The Time is Now
November 12, 5:30 p.m.
Join the School of Communication and the Entertainment and Media Alumni Alliance for a virtual panel discussion to take a comprehensive look at the importance of diversity in entertainment. Experts from across the industry will share the changes they have seen throughout their career and how the shift in story telling has impacted representation. Panelist will share their personal experiences, thoughts on the future of the industry, and provide career advice. 
RSVP online.
Eco-Comedy Awards Celebration
Tuesday, November 17, 5:30 p.m.
Join the Center for Environmental Filmmaking virtually for the annual Eco-Comedy ceremony to celebrate the 2020 winners. Executive Director, Maggie Burnette will offer introductory remarks and Professor Caty Borrum Chattoo, Executive Director of the Center for Media and Social Impact will speak about the role of comedy and social/environmental justice. RSVP: https://eco-comedy-awards.eventbrite.com/.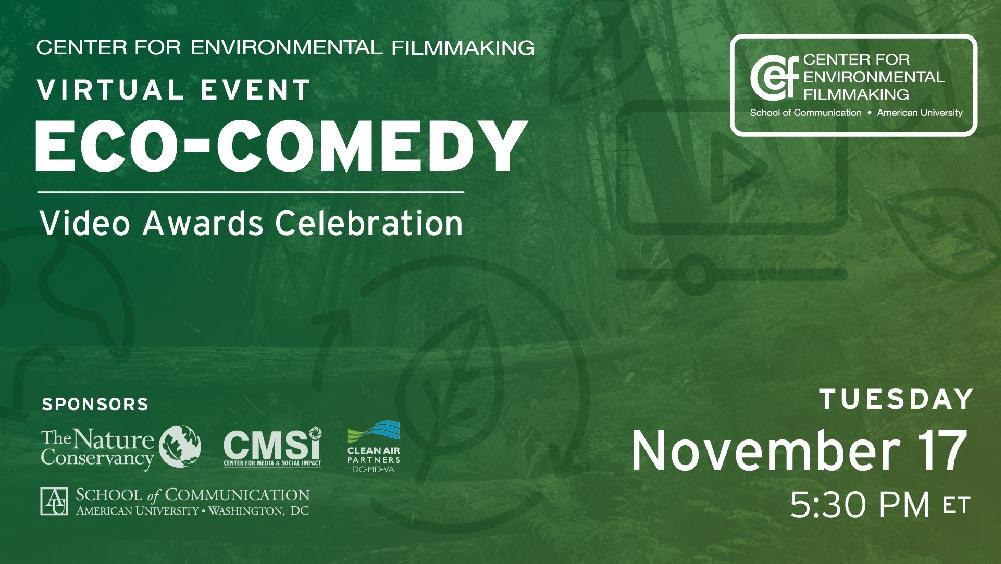 Global Insights Panel
November 19, 11 a.m. – 12 p.m.
Part of U.S. International Education Week, Global Insights is a weekly live-streamed, moderated panel series which provides different national and regional perspectives on big questions currently facing researchers, policymakers and planners worldwide in light of the Coronavirus pandemic. The panel will feature experts from BSIA (Canada), the Department of Politics & International Studies at the University of Warwick (UK), the School of International Service at American University, the Institute of Strategic Affairs in Addis Adaba (Ethiopia), the Department of Politics & Public Administration at the University of Konstanz (Germany), and Ritsumeikan University (Japan) – all leading institutions in the study of international affairs. To register: https://www.balsillieschool.ca/global-insights/.
AU Workshop Jazz Concert
November 20, 7:30 – 9 p.m.
The Workshop, AU's experimental jazz group, will focus on the extraordinary times we are living in by exploring modes of musical expression used by composers – past and present – that have been marginalized. The virtual performance will include works by George Lewis and American University alum Inti Figgis-Vizueta. Fee: $5. RSVP to register: https://www.american.edu/arts.