On Campus
AU Arboretum: Digging into the Glories of the Garden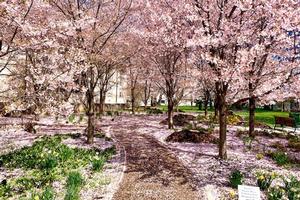 American University's campus is far more than bricks and mortar—it's an 84-acre accredited and award-winning arboretum and public garden. AU's Arboretum & Gardens plays a significant role in creating a campus community, fostering teaching and learning opportunities, reinforcing AU's commitment to be a leader in sustainability, and a good steward of the environment.
In the 2019-2020 academic year, AU completed several significant improvements to campus and the arboretum. Chief among them was the completion of the two-year campus-wide utility upgrade. The improvements reflect AU's deep commitment to sustainability. The utility upgrade will improve the university's energy efficiency by 40 percent, reduce its water consumption by 4.3 million gallons, and decrease electricity use by 27 percent. The upgrades required digging trenches to every building on campus to install new heating and water connections necessitating temporary pedestrian detours and construction fencing. Now, with the utility upgrade improvements in place, the landscape in areas disturbed by the digging is being restored with new turf, trees, shrubs, and perennials.
A once underutilized space in the center of Letts-Anderson Quad is being transformed into a student-centered flexible outdoor gathering area. President Burwell christened the new resource by hosting a pop-up study break in December 2019. Seating and exterior lighting are nearly complete, providing an inviting space for residence hall occupants. Moveable furniture offers options for different outdoor events while new curb cuts and paving provide important accessibility improvements.
Construction on the new Hall of Science has continued throughout the year and is anticipated to open by fall 2020. In addition to state-of-the-art classroom and lab space, the project includes beautiful outdoor areas for student study and enjoyment—a fitting connection to the biology department and other science disciplines that will have their new home within the Hall of Science. The completion of the project also means the beloved "beach"—an open grassy space below the McKinley Building—will be restored for student use.
In a typical spring, the arboretum is the backdrop of bustling campus life. However, this spring has been quieter as AU shifted to online classes and telework arrangements to ensure the health and safety of the community during COVID-19. As essential employees and in compliance with government guidelines, the arboretum staff are on campus at limited times to sustain and protect the university's resources. Even in this time of disruption, the persisting beauty of AU's Arboretum & Gardens remains evident on the quiet campus as it bursts forth with greenery and colorful blossoms.
View photos of our progress this past year in our Arboretum & Gardens Flickr album.
Learning by Leading in the Garden, on Campus, and Beyond
The Learning by LeadingTM program at AU uses the resources of the arboretum and campus gardens, plus a partnership with Smithsonian Gardens, to build the leadership skills of the next generation of sustainability, horticultural, and public garden experts and help students tackle critical environmental issues through hands-on, community-based projects.
The Learning by Leading (LxL) program is part of a national university network first developed by the American Public Garden Association and the University of California at Davis Arboretum.
In its first full year at AU, more than 50 students are working to transform the campus and its relationship with the environment through several student-run initiatives. LxL students work with professor Jerri Husch, the AU facilities management team, and the Smithsonian Gardens on projects ranging from urban resilience to agricultural work to campus spaces.
Its signature project is the AU Edible Campus. The group maintains two gardens—the Community Garden near Reeves Field that produces fruits and vegetables, and the Companion Garden located between the Bender Library and the McKinley Building that focuses mostly on herbs with some fruits and vegetables. Both gardens use sustainable, organic, pesticide-free practices. The gardens serve as a laboratory for teaching about food and the cultural, historical, nutritional, and medicinal role of plants.
Additional LxL community-based campus projects include Rally in the Alley to create a sense of community with an outdoor tailgate-style celebration before games in Bender Arena, and the Comfortable Campus that seeks to integrate more recreational uses to AU's outdoor spaces. The student Beekeeping Society and Zero Waste Compost Crew work in tandem with Learning by Leading.
The partnership with Smithsonian Gardens offers paid internship opportunities and a chance to develop curriculum and tour materials for groups visiting the garden and habitat areas that serve as a "museum without walls" to extend the Smithsonian experience.
In March, as AU moved online in response to COVID-19, LxL suspended its outdoor projects and refocused its Learning by Leading activities by forming a rapid response research team. Called the "Socio Lab: COVID-19," the focus of this project is to document and share the social context of the evolving pandemic and show how shifts in human behavior can have an impact on both human and planetary health.
Meanwhile on campus, the onions, spinach, mustard greens, and cilantro planted by the group in the fall are thriving this spring. Perennials and fall-planted garlic are peeking out from the mulch. Blueberries, elderberry, and pomegranate are beginning to bud as Learning by Leading takes root in many ways.
Garden Inspiration at AU and at Home
At the AU Arboretum & Gardens, the many flowering trees strategically placed across campus announce the arrival of spring. Perhaps the most admired are the grove of cherry trees along Nebraska Avenue. These trees are similar to those found along the Tidal Basin, the heart of DC's famous Cherry Blossom Festival. In addition to the cherries, the AU arboretum features spring-blooming saucer magnolias, eastern redbud, dogwoods, Japanese snowbells, serviceberry, and stewartia.
The campus is also awash with flowering bulbs each spring. The arboretum plants thousands of bulbs each fall, usually in November. AU has shifted from featuring tulips to planting more daffodils. "We have found that our increasingly tame deer population favors delectable tulips in their diets, but do not care for daffodils," says Mike Mastrota, arboretum manager. "The daffodils prove to be a more reliable choice that returns each spring."
Mastrota encourages friends of the arboretum and the AU community to take inspiration from the AU's gardens. Gardening is safe, open, and becoming more popular as people spend more time at home. Mastrota says that planting a container, pulling weeds, and mowing the lawn can get people outside, help them relax, and provide a bit of exercise. "This is a great time for planting before it gets hot," Mastrota says. Perennials featured in the AU gardens include Russian sage, which is suitable for DC's hot summers, and sedum 'Autumn Joy' that reliably comes back every year. Black-eyed Susan and coneflower, which bloom in the summer, are great for pollinators and attract yellow finches in the fall.
For those who admire the tulips and daffodils like those blooming at AU, Mastrota says to mark the fall calendar for planting bulbs to enjoy a spring tapestry. With hundreds of types of tulip and daffodil bulbs available—in a range of different colors, height, and bloom times—now is a great time to begin planning a bulb display for next year.
The AU Arboretum & Gardens relies on community investment to serve as both as a valued educational resource and horticultural showplace with a national reputation for excellence. You can make a gift to support the AU Arboretum & Gardens today.