Alumni
Eagles Provide Food and Support During the Crisis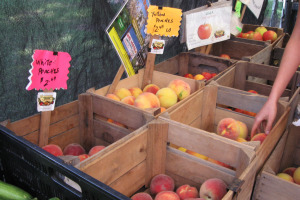 The AU family is rolling up its sleeves, donning masks and gloves, and making sure our community can access food and necessities. AU students, faculty, staff, and alumni are known for taking action and giving back. Eagles' response to the current COVID-19 crisis is no exception.
Here are just a few ways our community is bringing resources and expertise to make sure others are fed and supported through these challenging times:
Sandy Wood, WCL/JD '01, is CEO and co-founder of One Eight Distilling in DC's Ivy City. While the business is best known for its District-made spirits using local ingredients, in recent days the company has shut down normal operations and devoted all its resources to producing hand sanitizer. "We began small scale experiments before digging into WHO formulas, FDA requirements, and all the logistics involved. There are supply chain shortages unlike anything we'd seen before," Wood explains. One Eight now makes sanitizer by the gallon. The DC government has placed several orders and One Eight is prioritizing sales to first responders, government agencies, hospitals, and healthcare professionals. The company is also donating sanitizer to smaller non-profits performing critical services in vulnerable communities. Part of the mission of One Eight Distilling is to give back to its community—in pre-COVID days that included donating a portion of sales to Habitat for Humanity to hosting Humane Society adoption events. And, the support has been mutual. "It's been very heartening to see awareness around DC about how this situation is devastating to small businesses," Wood says. "We've seen a lot of love and support, both directed to us and to the food and beverage community. We're grateful for that support."
In mid-March restaurateur and co-founder of the acclaimed DC-based steak restaurants Medium Rare, Mark Bucher, SPA/BA '90, began delivering meals to area seniors and soon expanded to include health professionals, first responders, and young students who no longer receive free meals at school. In response to Bucher's original Twitter post putting out a call for those over 70 in need of a meal, the restauranteur also heard from strangers volunteering to deliver meals. Others have contributed to a GoFundMe campaign. One young recipient wrote, "you make a lot of great steak dishes, but we think your best dish is kindness and generosity with a side of secret sauce!"
Danielle Vogel, WCL/JD '07, launched Glen's Garden Market on Earth Day in 2013 with a commitment to sustainability. The DC market is also dedicated to advancing other small businesses—Glen's Garden Market has given 89 food entrepreneurs their very first chance to sell their products. Throughout the current health crisis, Vogel and her team, who say "hope is not a strategy," have evolved a range of actions to maintain safety—from strictly limiting the number of people in the store, to assigning non-overlapping staff teams to avoid cross-contamination, to continually sanitizing shopping baskets and register areas. They offer curbside service and delivery service. Although the market has temporarily curtailed the deli and café, they offer groceries and prepared foods including their beloved breakfast burritos. "I am extraordinarily proud of my team," says Vogel. "They have come together in a way that's truly inspiring, to provide critical community service. They have been resilient as they have innovated, they have remained kind in the face of extreme adversity, and they have acted with urgency while displaying superhuman positivity. This COVID crew is a band of superheroes, as far as I'm concerned."
Melody Powers, CAS/MA '10, and her husband, Kevin, run Powers Farm and Brewery in Fauquier County, VA, where they sustainably grow hops, vegetables, fruit, herbs, and beneficial flowers. Powers has seen an uptick in interest in their farm. Already their community supported agriculture (CSA) shares are at capacity—many are new members. There is space for visitors to walk around the farm while still observing social distancing. "These obviously aren't the circumstances we would ever wish for, but one silver lining is that we've seen a lot of our farming peers getting an influx of local customers who might have previously been shopping exclusively at bigger box stores," Powers says. "The disruption in the supply chain at those places sent people looking at local options and we hope that has long term benefits for the local farming economy as well as helping to support the sustainable and high qualify farm products that are being produced here locally. I think people are more interested than ever in knowing where their food comes from." 
Alexa Bottura, KSB/BS '18, was behind the idea—and is now behind the camera—of the Instagram series Quarantine Kitchen. Her father, Massimo Bottura, the Michelin star chef of the award-winning Osteria Francescana, provides basic cooking instruction while Alexa, brother Charlie, and mom Lara Gilmore take part. Massimo Bottura and Gilmore founded Food for Soul, a global organization to help combat food waste and hunger. Quarantine Kitchen continues the family's community spirit by providing fans with lessons and updates straight from the family kitchen via Instagram. Filmed in Italy, one of the countries hardest hit by the pandemic, the series emphasizes community and nourishment.
On the AU campus, The Market, AU's food pantry, has expanded its food supply and hours. In pre-coronavirus days, a student survey showed that 18 percent of respondents had inadequate food supply three to four times a semester. With the additional stresses of the pandemic, now all students in emergency housing have 24/7 access to The Market, and access is also available to students living off-campus in the greater Washington area. Tony Hollinger, director of military-affiliate support and special initiatives, says the new campus operations have helped strengthen AU's relationship with the Capital Area Food Bank both in its food inventory and in partnering on additional nutrition and wellness offerings. Additionally, Hollinger is grateful that supporters on campus and beyond have made donations to ensure The Market remains adequately stocked.
Looking for ways to help AU students? The university established a Student Emergency Relief Fund to support students who have faced unexpected financial hardships because of COVID-19. Gifts to this fund allow the Office of Campus Life and the Office of Financial Aid to quickly and effectively help students who need financial assistance. Additionally, the AU Fund for Excellence directs vital support to address the ongoing needs of our students, faculty, and staff. To make a gift, please visit go.american.edu/eaglesupport.