Alumni
Renowned Alumnus Gary Cohn Drives Impact with Investments in AU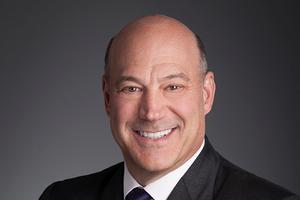 Gary Cohn, Kogod/BSBA '82, forged a distinguished career on Wall Street, managed the nation's economic policy from the White House, and is now sought after for his business and financial acumen. An experienced leader, Cohn speaks the language of global business and politics and has steered complex organizations in both the private and public sectors. But ask Cohn to name one of his most formative accomplishments, and he will tell you about his time at American University.
"AU took a chance on me," he said. "They accepted me. Back then few people thought I could ever get into college."
The Kogod School of Business was the right fit for Cohn, and not just because they recognized his potential. AU was one of few universities at the time to offer a finance and real estate development degree, which matched his interests. Cohn's classes were led by faculty who were full-time business practitioners, and he learned "a lot about the realities of business opportunities and the way companies—both big and small—operated."
And Washington, DC, was a living laboratory for Cohn, who took advantage of the numerous opportunities the city offered. Like many Eagles, Cohn developed a passion for public service and sought ways to make an impact on the world around him. His time in the nation's capital awakened his interest in politics, which eventually lead to his appointment in 2017 as director of the National Economic Council at the White House.
"At AU, Gary turned challenges into opportunities, and his hard work and passion is reflected in his many achievements in the private and public sectors," said AU President Sylvia M. Burwell. "His bold leadership and commitment to impact and service epitomizes what it means to be an Eagle."
Cohn is a nationally recognized expert on global markets and economic security issues. In addition to his time in the White House, Cohn spent more than 25 years at Goldman Sachs, including 11 years as its president and chief operating officer. He shares his expertise as a board member for several companies, is an active venture capital investor, and has served as a resident fellow at the Harvard Kennedy School Institute of Politics.
The opportunity to attend AU was a fundamental steppingstone in Cohn's life, and his gratitude is one of the reasons he has generously supported the university since his graduation in 1982. Cohn served on the AU Board of Trustees for several terms, weighing in on the university's campus plan to develop East Campus, among other facility and footprint enhancements.
"I got a good education and felt I owed it to the school to give back, not just financially but with my time," he said.
Cohn's philanthropic contributions to AU include two endowments that support the Kogod School of Business in perpetuity: the Gary D. Cohn Goldman Sachs Chair in Finance and the Gary D. Cohn Scholarship.
"Gary's support of world-class faculty and talented students elevates the Kogod School's emphasis on engaged learning, facilitating creation of pathbreaking scholarship and delivering experiences that equip future leaders with the practical skills needed to deliver meaningful change," said Kogod School of Business Dean John Delaney. "We are grateful for his leadership and enduring commitment to his alma mater."
Cohn said he established the Gary D. Cohn Goldman Sachs Chair in Finance to attract a high-impact academic with a financial markets background, which would augment the expertise of Kogod's finance and real estate faculty and expose students to a highly regarded professional with real-world experience in the area.
The current Gary D. Cohn Goldman Sachs Chair in Finance, Jeffrey Harris, has an extensive background in market microstructure and regulatory issues and recently served as chief economist and division director for the Division of Economic and Risk Analysis at the US Securities and Exchange Commission. Harris also has a history of pathbreaking research. His first published paper examining conflicts of interest between market traders and regulators led to a major restructuring of the NASDAQ stock market in the mid-1990s.
Holding a named endowed position is one of the greatest honors in academia. At AU, these positions amplify the university's commitment to excellence in teaching and scholarship by supporting thought-leaders and practitioners engaged in meaningful work and providing a unique learning experience for students.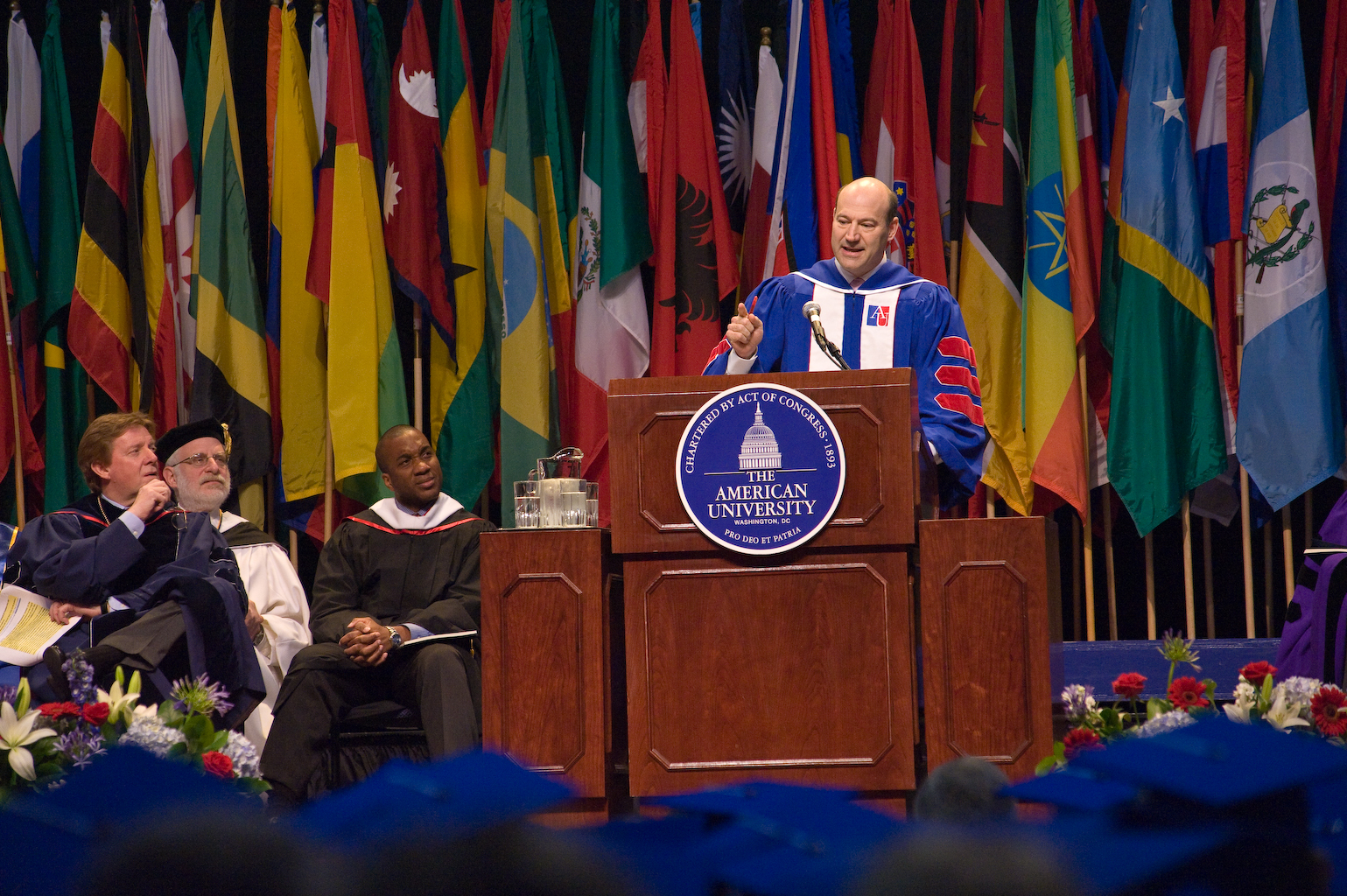 Gary Cohn, Kogod/BSBA '82, at the 2009 KSB Spring Commencement. Courtesy of American University/Jeff Watts.
The Gary D. Cohn Scholarship already has supported dozens of promising students at the Kogod School of Business. Recipients are engaged in a variety of opportunities at Kogod and are active scholars, working with professors on studies ranging from forecasting foreign exchange to exposure to risk in global operations. For Cohn, this scholarship is another way he can pay it forward.
"My business school education at AU had a big impact and helped develop my critical thinking skills," he said. "I want AU to attract great students who might not be able to afford it otherwise."
As for the future, Cohn is excited for AU's path forward. He cites the university's strategic vision, the vibrancy of its faculty and students, continued campus enhancements, and its prime location in the nation's capital as distinctive advantages that will advance the institution to new heights.
"AU is in a unique position to offer all these things," he said, "and has a very bright future ahead."