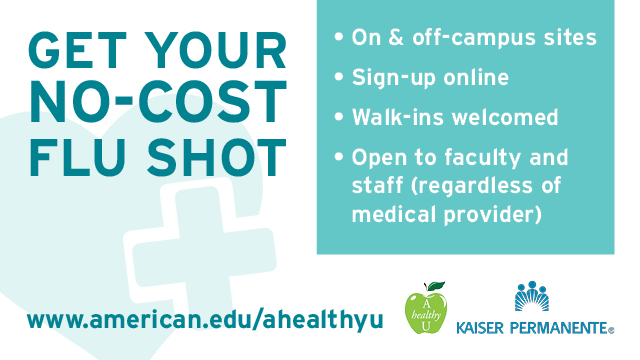 With healthy habits and a flu shot, everyone can do their part to avoid getting the flu - and spreading it to coworkers and loved ones.

Appointments for no-cost flu shots are open to all AU faculty and staff (regardless of medical provider) and will be held on select dates from October 15 through November 8. Advanced registration is encouraged, but walk-in visits are welcomed. 
Dates and Locations
Monday, October 15 | 10am – 2pm | MGC 200

Monday, October 22 | 10am – 2pm | Spring Valley Building, Room 609

Tuesday, October 23 | 10am – 2pm | WCL, Room N100B

Wednesday, October 24 | 10am - 2pm | MGC 200

Thursday, October 25 | 10am – 2pm | 4401 Connecticut Ave., Lower Level Conference Room

Thursday, November 8 | 9am – 2pm | MGC 2 – 5 (Benefits and Wellness Fair)

Points to AhealthyU Game Player
Earn a point stamp for getting your flu shot! Get started today and download the game sheet at www.american.edu/points.
Get your flu shot and protect yourself against common strains.

Boost your immune system with healthy habits like washing your hands.

Keep your germs to yourself and stay home from work when you're sick.