Arts
"Twisted Teenage Plot" and Additional Washington Art at American University Museum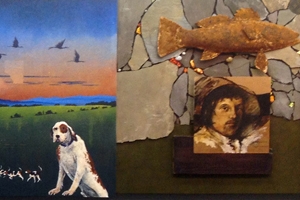 Spring exhibits at the American University Museum at the Katzen Arts Center are open April 2 through May 29. 
Popular and critically acclaimed Washington artist, Kevin MacDonald, gets a posthumous career retrospective in Kevin MacDonald: The Tension of a Suspended Moment. Created out of unorthodox materials like coffee and tea, representational paintings, lithographs and silkscreens, capture unpeopled interiors, still-lifes, industrial landscapes, and cubist and surrealist representations of daily life.

At the time of his death from cancer in 2006, MacDonald, 59, was at the height of his artistic powers and planning an ambitious body of work related to the shared, unwritten, and personal history of Silver Spring, Maryland, where he had spent most of his life. MacDonald's work is in the permanent collections of The National Gallery of Art, the Hirshhorn Museum and Sculpture Garden, The Phillips Collection, the Smithsonian American Art Museum, The Metropolitan Museum of Art, and the Baltimore Museum of Art.
Coinciding with the retrospective of Kevin MacDonald, the Alper Initiative for Washington Art (AIWA) presents Twisted Teenage Plot. Besides being an excellent artist, MacDonald also played in bands, most notably Twisted Teenage Plot. Twisted Teenage Plot will showcase the work of visual artists who played in bands in Washington in the late 70s and early 80s, including Dick Bangham, Michael Baron, Jay Burch, Kim Kane, Clark Vinson Fox (aka Michael Clark), Steve Ludlum, Michael McCall, JW Mahoney, Michael Reidy, Robin Rose, Judith Watkins Tartt, and Joe White. Sound recordings, posters, videos, and memorabilia are also featured. 
Free Parking, a new series of salon-style conversations, will host its second session in the AIWA space on the museum's first floor at 5:30 p.m., Thursday, May 5. AU Museum Curator and Director Jack Rasmussen will lead a review of the life and art of musicians in 1970s and 80s D.C. The event, free and open to the public, features special guests Bill Warrell and Michael Olshonsky. RSVP is required: www.tinyurl.com/Alpertickets.

William Dunlap: Look At It – Think About It is a survey exhibition of paintings, works on paper, constructions and sculpture by the artist from the 1970s through the present. Both found and fashioned objects reflect Dunlap's interest in the narrative tradition in visual arts and modernist concerns with remote association and conceptualism. The exhibition coincides with the release of Dunlap's book of short stories, Short Mean Fiction, Words and Pictures (Nautilus Press).

Elsewhere: Southern Constellations is the third exhibition in Transformer's four-part 'Do You Know Where Your Art Comes From?' series, presented in partnership with American University Museum. Southern Constellations profiles the work of Elsewhere Museum and Residency and highlights a curatorial initiative to extend experimental practices and creative networks in the South. 
Elsewhere Museum and Residency is an artist-run non-profit contemporary art organization set in a former thrift store in downtown Greensboro, NC. Six artists, born or based in the Southern United States, are brought to the living museum and residency each year to create new site-specific works that explore the museum, its collection and communities. 
Connecting a regional network of experimental artists and arts spaces, Southern Constellations considers the conditions and context for experimentation in the south, as well as the resources that sustain and engage practitioners in the region. Victoria Reis, executive & artistic director of Transformer, is curator, in collaboration with Tim Doud, associate professor of art and coordinator of the Visiting Artist Program at American University.

MASTER OF FINE ART FIRST YEAR AND THESIS EXHIBITIONS features the work of Master of Fine Art candidates in American University's Department of Art. The First Year MFA exhibition will run April 2 through 20, and the MFA Thesis exhibition will run from April 30 through May 29.