Arts
AU Museum Winter Exhibits Open Jan. 25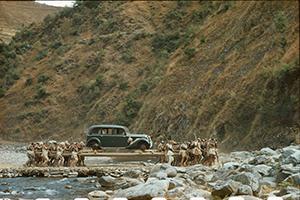 Winter shows at the American University Museum at the Katzen Arts Center will open Jan. 25. Opening Reception: 6 to 9 p.m., Jan. 25. Free and open to all.
Robert Franklin Gates: Paint What You See showcases an adventurous artist who greatly influenced the course of Washington art from his arrival from Detroit in 1930, at the age of 24, until his death in 1982 as an AU Professor Emeritus. He was a muralist, painter, printmaker, draftsman, and professor at the Phillips Gallery School and then AU for over 40 years. His watercolors earned him early acclaim, signaled by their inclusion in the very first exhibition held at the National Gallery of Art upon its opening in 1941. Gates' paintings can be found in The Phillips Collection, the Baltimore Museum of Art, Dumbarton Oaks, the Smithsonian American Art Museum, and AU Museum's Corcoran Legacy Collection and Watkins Memorial Collection. Curated by AU Museum Director and Curator Jack Rasmussen. Gallery Talk: Robert Franklin Gates, 5 to 6 p.m., January 25. Rasmussen will present a lecture on Paint What You See. Free and open to all; please RSVP to tinyurl.com/aumuseumkatzen
Heroes & Losers: The Edification of Luis Lorenzana features paintings and drawings by self-taught Filipino artist Luis Lorenzana (b.1979). Lorenzana's background in politics has infused his work with a cynicism that belies his longing for a kinder, more equitable world. The exhibition thus touches on the themes of a desperate kind of selfless heroism—and the all-too familiar failure of a democratic political system. These are works that have relevance to the current American landscape; indeed, to anywhere in the world.
Lorenzana was born and raised in inner-city Manila and was a scholar in one of the Philippines' elite schools whose graduates were destined to take public office. He took a position with a prominent senator at the Philippine Senate, where he remained for four years (2001–2004). By 2005, he had become disillusioned by the inner workings of the so-called "corridors of power." It was this fall from idealism that would inform the content of his works from this period onward.
A suite of four painted portraits from 2006 memorialize four national heroes from Filipino history, individuals who were each persecuted by corrupt government systems, usually at the behest of colonial powers, for their efforts to liberate the Philippines from colonized rule. These heroes are depicted by Lorenzana as secular icons, albeit rendered in the vernacular style of street art posters. Closes March 15. Co-curated by Lisa Guerrero Nakpil.
Communicating Vessels: Ed Bisese, Elyse Harrison, Wayne Paige features recent artwork by three Washington, D.C.-area artists. Harrison and Bisese's work are acrylic paintings and Paige's includes oil paintings and pen and ink drawings. While their work shows continuity with Surrealist ideas of the 1930s and 40s, it is also related to the Chicago Imagists of the 1960s and 70s and reflects the prevalence of surrealist imagery in contemporary visual art.
For Harrison, the paintings in this exhibition represent a departure from much of her previous work, both in style and content. While there will be three large paintings by Bisese from his ongoing series featuring the "Bunnyman" character, the exhibit will be a first exposition of a series of smaller, more abstract paintings with a bird-like creature personifying various characters. Paige continues working with his "celestial inkwell" in small drawings selected from different series that represent his signature "clothespin" figures in a strange and dangerous world. Closes March 15. Presented by the Alper Initiative for Washington Art and curated by Claudia Rousseau, Ph.D. Free Parking: Communicating Vessels, 5:30 to 7 p.m., March 5. Curator Claudia Rousseau will join the three D.C.-based, Surrealist-inspired artists in conversation. Free and open to all; please RSVP to tinyurl.com/AlperTickets
Landscape in an Eroded Field brings together three women artists, Carol Barsha, Heather Theresa Clark, and Artemis Herber, whose work reflects the evolution of the pictorial landscape tradition in the Anthropocene era. This exhibition spans landscape painting—that takes no social or political stance—to multi-media painting and sculpture that puts climate change at the center of its meaning. The work ranges from watercolor painting to largescale reliefs to a multi-media installation incorporating industrial scaffolding, water, wind and sound, tracing the evolution of the landscape tradition in art from an emphasis on formal concerns to a socio-political focus on the environment.
Today, artists are responding to climate change in a wide variety of ways. In this exhibit, Barsha takes a non-political, formalist approach to the domesticated landscape of the garden, a closely-observed, intimate environment. Herber delves into ancient Greek mythology to frame her monumental, stormy relief paintings, which reflect her concerns about life in the Anthropocene age. Clark is trained as a green builder. She uses the tools and materials of the construction industry to create an immersive environment, using sound, water and wind to encourage innovative thinking about climate change. Closes March 15. Curated by Laura Roulet. Gallery Talk: Eroded Field, 4-5:15 p.m., Saturday, Feb. 29. Free and open to all; please RSVP to tinyurl.com/aumuseumkatzen
Volkmar Wentzel is an exhibition of documentary photography. Wentzel (b. Dresden, 1915) arrived in Washington, D.C in the early 1930s. When the Great Depression led to prohibitive housing costs in D.C., he moved to Aurora, West Virginia, to join a community with Robert Franklin Gates and several other artists. In 1937, back in Washington, architect Erik Menke introduced Volkmar to a book titled Paris De Nuit (1933) by Brassaï, a French photographer. Volkmar purchased a new camera and began photographing the series "Washington by Night." First Lady Eleanor Roosevelt, out for a stroll one evening, encountered Volkmar and purchased several of his Washington pictures. Volkmar completed his Washington photographs and brought them to National Geographic. He was hired immediately. The event led to his 48-year photographic career as a National Geographic photographer. At the time, Wentzel's photographs offered a look at remote peoples and places inaccessible to Americans. His curiosity and ingenuity, combined with his compassionate nature, enabled him to deliver photographs that inspired wonder. Presented by the AU Museum Project Space. Closes May 24. Curated by Leah Bendavid-Val. Gallery Talk: Volkmar Wentzel, 4 to 5 p.m., February 8. AU Museum Director Jack Rasmussen and Curator Leah Bendavid-Val discuss the life and work of Wentzel. Free and open to all.
Good Form, Decorum, and in the Manner: Portraits from the Collections of Washington Print Club Members comprises many works that could be thought of as conventional portraits of individuals in a wide range of media, including woodblock and wood engravings, intaglio prints, mezzotints, monoprints, photography, collage, and an assemblage made with found objects. The show also pushes the boundaries of portraiture by including works that capture the likenesses of animals, places, memories, and events. Featuring work by Milton Avery, Leonard Baskin, Elizabeth Catlett, Currier and Ives, Albrecht Dürer, Anthony Van Dyck, Max Weber, Grant Wood, Joyce S. Scott, and Renée Stout. Curated by Tim Doud. Closes March 15. Gallery Talk: Washington Print Club, 3 to 4 p.m., February 1. Free and open to all.