AU SPA Ranked Tenth Overall, Remains Top Ranked in D.C., in New U.S. News & World Report Rankings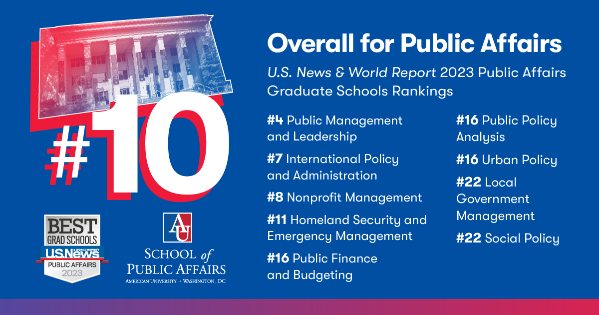 The School of Public Affairs at American University is ranked No. 10 overall among all public affairs institutions in the United States in the 2023 edition of U.S. News & World Report's Public Affairs Graduate Schools rankings. For the second year in a row, AU SPA is the highest ranked public affairs school in Washington, D.C., and this new ranking marks upward movement of four places over the last three years. AU SPA also received rankings in nine specialty areas, highlighting the depth and breadth of the school's expertise across many disciplines within public affairs.
Specialty areas include: No. 4 for Public Management & Leadership (the highest ranked program of its kind in Washington, D.C.); No. 7 for International Policy & Global Administration; No. 8 for Nonprofit Management (up one place from last year); No. 11 for Homeland Security & Emergency Management; No. 16 in Public Financing and Budgeting; No. 16 in Public Policy Analysis; No. 16 in Urban Policy (up one place from last year); No. 22 in Social Policy; and No. 22 for Local Government.
"This ranking from U.S. News confirms that the hard work of SPA is recognized and valued by our peers," said SPA Dean Vicky M. Wilkins. "We are gratified to receive this recognition from this publication and our peers across the country. At a time when we are concerned about the health of our democracy, SPA recognizes the responsibility and privilege associated with doing this work in our nation's capital. We remain committed to adding the perspectives and experience of faculty from diverse backgrounds, attracting and preparing high-achieving students with a desire to serve the public good, and, through our scholarship, demonstrating a path forward."  
The U.S. News & World Report rankings are compiled through peer assessment surveys. Deans, directors, and department chairs representing 270 master's programs in public affairs and administration were surveyed in the fall of 2021 and early spring of 2022. Respondents were asked to rate the academic quality of a master's program on a scale of marginal to outstanding. Rankings of specialty areas are based on ratings by educators at peer schools.