American University Celebrates 143rd Commencement with Seven Dynamic Changemakers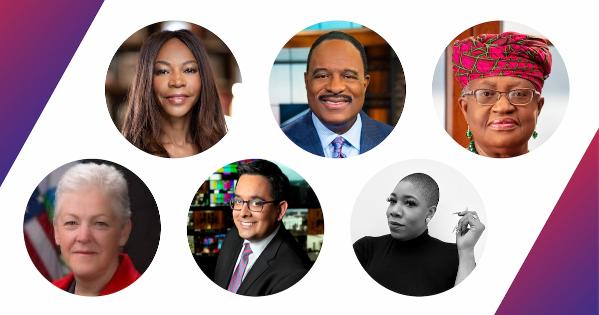 Global leaders in journalism, public policy, sports, business and climate change will come together beginning May 7 to celebrate American University's 143rd Commencement and honor approximately 3,200 graduates across seven schools. This year's commencement speakers include World Trade Organization Director-General Ngozi Okonjo-Iweala; Climate Change Leader Gina McCarthy; NFL Broadcaster James Brown; Deputy Attorney General of the United States Lisa Monaco; CBS News Senior White House and Political Correspondent Ed O'Keefe; Economist and New York Times bestselling author Dambisa Moyo; and MSNBC Host Symone Sanders.
Ceremonies run May 7 and 8 and May 21 and 22 at AU's Bender Arena, including a special ceremony on May 21 for 2020 and spring 2021 graduates who missed traditional in-person ceremonies during the pandemic. The Washington College of Law holds its commencement on May 22.
"American University graduates are changemakers in their career fields and their communities, and we are excited to welcome seven giants of their professions to celebrate them," said President Sylvia M. Burwell. "Our commencement speakers have dedicated their lives to service and accepting big challenges without hesitation. Bringing together such a distinguished group is a unique feature of AU's commencement and a culmination of the experiential learning that prepares our graduates to pursue their purpose."
Graduates will gather in-person, guests will be in attendance, and the playing of the bagpipes, an AU tradition, will kick off the ceremonies. The ceremonies will also be streamed live and graduates unable to attend in person will be recognized online on the commencement website.  
Speakers on May 7 & 8:
The three-time Emmy award winning broadcaster, James Brown, is the current host of "The NFL Today" on CBS and "Inside The NFL" on Paramount +. He is also a special correspondent for CBS News. He will address graduates from AU's School of Communication and School of Education on Saturday, May 7 at 9:00 a.m.
On Saturday, May 7 at 1:30 p.m., double Eagle (CAS/BS '91, Kogod/MBA '92) Dambisa Moyo will address graduates from Kogod School of Business and Office of Professional Studies. She is an economist, New York Times bestselling author, and coprincipal of Versaca Investments, a family office focused on growth investing on a global scale.
Ngozi Okonjo-Iweala, global finance and international development expert, economist, former Nigerian Finance Minister and the first woman and African to serve as Director-General of the World Trade Organization, will address School of International Service graduates on May 7 at 6:00 p.m.
On Sunday, May 8 at 10:00 a.m., MSNBC Host and former Chief Spokesperson for Vice President Kamala Harris Symone Sanders will deliver an address for graduates from the School of Public Affairs.
Climate change leader Gina McCarthy will address graduates from the College of Arts and Sciences on Sunday, May 8 at 2:30 p.m. McCarthy is the White House Climate Advisor, served as the 13th Administrator of the U.S. Environmental Protection Agency, and was the President and Chief Executive Officer of the Natural Resources Defense Council. At the state level, she served five Massachusetts Democratic and Republican administrations and was Commissioner of the Connecticut Department of Environmental Protection. 
Speakers on May 21 & 22:
On May 21, AU will welcome back 2020 and spring 2021 graduates for a special in-person commencement ceremony. The graduates will join President Burwell and other AU leaders for a full traditional commencement ceremony to celebrate their graduation. AU alumnus (SPA/BA '05) and CBS News Senior White House and Political Correspondent Ed O'Keefe will address the graduates at 10:00 a.m.
The Washington College of Law will celebrate its graduates on Sunday, May 22 at 1:00 p.m. The 39th Deputy Attorney General of the United States Lisa Monaco will deliver an address to WCL graduates. A 15-year veteran of the U.S. Department of Justice and a career federal prosecutor, Monaco previously served as Homeland Security and Counterterrorism Advisor to President Barack Obama from 2013 to 2017.