Research
Fear of Law Enforcement High Among D.C.-Area Blacks and Latinos American University surveys D.C.-area residents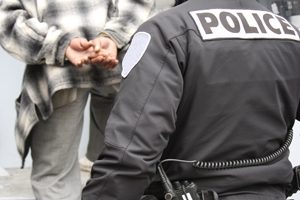 With concerns about policing a national issue, a new survey shows that fear of the police affects the daily lives of more than half of black and Latino residents in the most racially diverse neighborhoods in the Washington metropolitan area. 
American University has released a report that provides the survey results from 1,200 households and includes policy recommendations for lawmakers and community groups.
As diversity in Washington suburbs continues to grow, AU researchers sought residents' views on policing, crime, health, ethnic relations, trust in local government and business, and neighborhood perceptions. Residents in racially diverse and predominantly Latino neighborhoods were surveyed in both Spanish and English. Survey respondents came from D.C., Montgomery, Price George's, Arlington, and Fairfax counties, and the cities of Alexandria, Fairfax City and Falls Church.  
"Residents of all races are satisfied living in diverse neighborhoods and generally agree about many aspects of life. But the fear of questioning or arrest by the police affects the lives of blacks and Latinos far more than it does the lives of whites or Asians," said Michael Bader, principal survey investigator and assistant professor of sociology at AU. 
The fear of police doesn't equal distrust in local police, Bader said. The vast majority of blacks and Latinos think that police officers are keeping them safe in their neighborhoods, and blacks and Latinos were as likely as whites and Asians to endorse that view. Still, blacks were six to seven more times likely than whites to report that their daily lives were affected "somewhat" or "a lot" by the fear that they or their loved ones would be arrested or questioned by the police, the survey shows. 
Nearly a quarter of Latinos reported that the fear of police affected their lives "a lot." Latinos living in predominantly Latino neighborhoods, in particular, reported a strong fear of crime, as well as a fear of deportation. Survey questions did not ask residents about the fear related to specific law enforcement agencies.  
Other key conclusions of the survey: 
•  Regardless of economic status or racial background, residents are generally satisfied with their neighborhoods, which gives hope these neighborhoods maintain their racial diversity over the long-term.
•  Residents have high levels of trust in nonprofit organizations; however, low-income residents with children feel that nonprofit services are not available to serve their needs.
•  Residents view local government positively overall; yet they have lower levels of trust in their local government than they have in businesses or nonprofits.
Among the recommendations the report makes to improve policing strategies are that policymakers consider reducing routine surveillance and enforcement of minor violations; and create racially diverse groups to observe police policies, protocols, and actions. To reduce the fears among Latinos, municipalities could adopt a practice already in place in Montgomery and Prince George's counties and D.C.: refusal to enforce detaining orders issued by U.S. Immigration and Customs Enforcement. The report also discusses the ways to address a perceived lack of nonprofit services and suggests that nonprofit organizations should expand their outreach to diverse D.C-area neighborhoods, particularly those in the suburbs where the problems associated with poverty receive less attention. 
"This survey is the first of its kind in the D.C. area, and it provides a detailed snapshot of the social realities and inequalities that exist within the region's most diverse communities," said Derek Hyra, director of the School of Public Affairs' Metropolitan Policy Center. "We hope this information helps to stimulate policy efforts aimed at creating more equitable neighborhood environments that better meet the needs of all residents."
The School of Public Affairs' Metropolitan Policy Center convened a group of 12 scholars from across American University to create "Diversity in the D.C. Area: Findings from the 2016 D.C. Area Study." In addition to the School of Public Affairs, support for the project came from AU's Office of the Provost, Center for Latin American and Latino Studies, Kogod School of Business, and the Center for Health, Risk and Society. 
The report is available for download here: http://ssrn.com/abstract=2846003